V3D Nena for Genesis 8 and Genesis 8.1 Female
Daz Celebrity 3D Model
Attention, all aspiring pop stars! Do you dream of being the next big thing? Look no further than V3D Nena – the latest addition to your virtual entourage of Daz Celebrity 3D Models. She's got a face that could launch a thousand albums, and with detailed skin and real iris morphs, you'll swear you're staring into the eyes of a real person…or at least a very convincing wax figurine.  This beautiful creation has been brought to us by Vicey3D.  We have a number of their character in our database that you can check out below.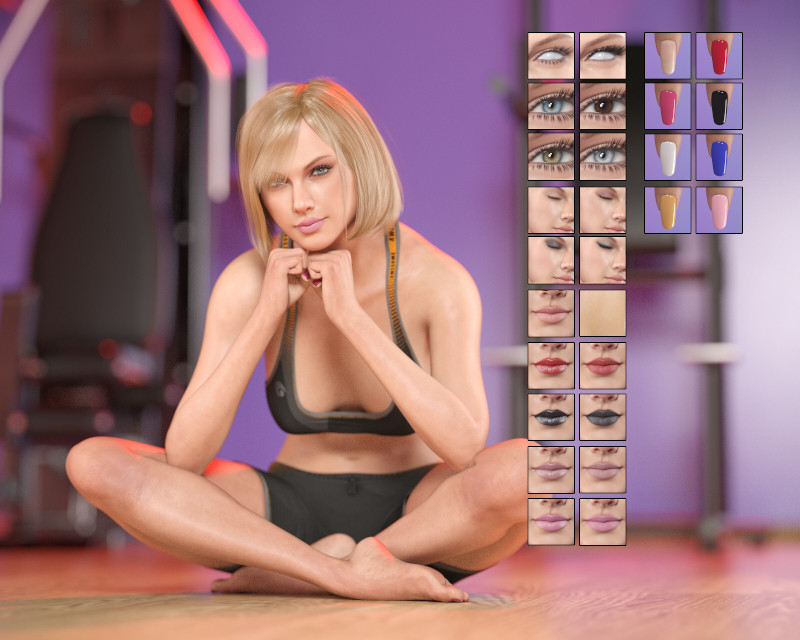 Materials
The V3D Nena – G8F & G8.1F comes with a range of high-quality materials to help bring your renders to life. She includes a variety of makeup options and these include versions for G8F and G8.1F which is a thoughtful touch.  with PBR and UBER skin shaders, you can rest assured that Nena will be ready for any photo or music video shoot. One of the stand out features is the Real Iris Morph that looks very captivating when rendered in Iray. You will get an extra level of realism in your renders with the custom-morphed body and face, along with detailed textures that come with them.
Shaping
Thanks to Vicey3D's custom morphing skills, V3D Nena has a unique look that's sure to stand out from the crowd. But be warned: you'll need Genesis 8 Female Head & Body Morphs to make the most of her features. We've reviewed these morph packs extensively in the past and they are well worth having in your 3D toolset.
Licence
Unless stated on Daz3d.com, Renderosity.com or other vendor sites, this character is in no way endorsed or affiliated with any person/s named on this page. To clarify, the celebrity comparison has been made for parody and entertainment purposes only. Furthermore please check vendors site for full licence details.
What can this model be used for
Nena has a very appealing likeness that will resonate well with audiences.  You can use V3D Nena to create music videos, album covers, promotional materials, and more. You can even use her as a model for your fashion line or beauty brand. And with her realistic features and custom morphs, your virtual pop star will be the envy of all your competition.
Comparison to Similar Characters
We found a number of other characters with a similar likeness but the only ones compatible for Daz Studio were from the V4 generation.  But can they compare to V3D Nena's unique look and custom morphs? We think not. Plus, Vicey3D is a master of detail, so you can rest assured that you're getting a high-quality product that's worth the investment.
Our Rating
Level of Detail: 8/10
Render Speed: 9/10
Additional Features: 9/10
V3D Nena for Genesis 8 and Genesis 8.1 Female – Overall
We give V3D Nena – G8F & G8.1F a solid 8 out of 10. This virtual pop star has everything you need to launch your music career or promote your brand, and with Vicey3D's attention to detail, you'll feel like you're working with a real person…well, almost.