Cynthia For G8F
Daz Celebrity 3D Models – Key Facts
Cynthia For G8F by Kadaj15 is a versatile, athletic, and glamourous 3D character model, ideal for high-action and chic settings alike.
The character pack offers extensive customization options with 4 eye colours, 5 lip shades, and 5 unique makeup choices, including natural face and lip options.
Cynthia is meticulously crafted with a custom sculpted head morph, requiring Genesis 8 Female Body Morphs for the optimal blend of strength and poise.
This model is compatible with DAZ Studio 4.12 Pro and Genesis 8 Female, but not tested for Poser or Mac environments.
Cynthia stands out among similar models due to her unique blend of toughness, charm, and detailed design, making her a solid choice for diverse project needs.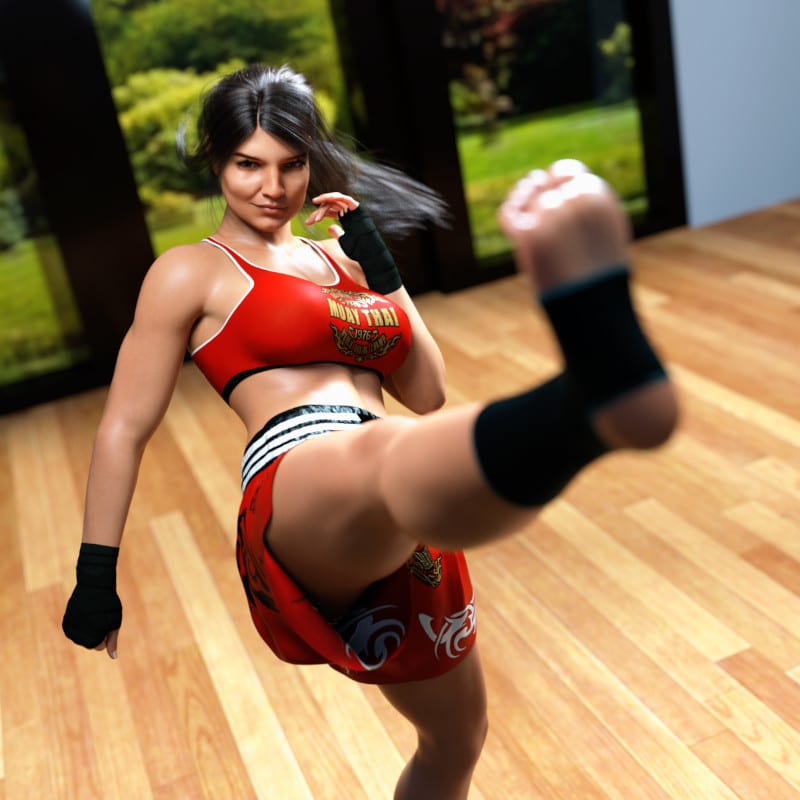 Introduction
Step right up and behold the epitome of tough athleticism and glittering glamour – our very own Cynthia For G8F! This 3D dynamo is brought to you by the talented and ever consistent Kadaj15, an artist who has skillfully sculpted a dozen other marvelous creations that have graced our pixels here at Pixelsizzle.
Materials
Cynthia comes adorned with a bevy of materials that highlight her unique personality and traits. The package is ripe with 4 eye colours, 5 lip shades and 5 distinct makeup options to enable you to perfectly capture that 'punch you in the face, then look fabulous doing it' aura that's characteristic of, let's say, a feisty ex-MMA fighter turned movie star, perhaps? Oh, and don't forget the natural face and lip options for those quieter, less kick-ass moments.
Shaping
Our favourite brawny belle has been meticulously crafted, with a custom sculpted head morph, demonstrating Kadaj15's exceptional attention to detail. Be advised, though, Genesis 8 Female Body Morphs are required to achieve the intended prowess and poise. But let's be honest, if you're planning on an adventure that requires an equal dose of action and allure, Cynthia's ready to morph into action and deliver a KO.
Licence
Cynthia is fully compatible with DAZ Studio 4.12 Pro, Genesis 8 Female, and Genesis Female Body Morphs. However, bear in mind, she hasn't been tested on a Mac or in Poser. As a word of caution, if you try to get Cynthia to pose on a Mac, she might just morph into a more confrontational stance. That's a whole lot of 3D adrenaline you don't want to unleash!
What can this model be used for
While Cynthia is a multi-talented character model, she particularly shines in high-octane, physically demanding scenarios. Picture a post-apocalyptic scene where she's the last woman standing, or a cybernetic combat setting where she's the one delivering the crushing blows. And if you're imagining a sci-fi thriller, remember, she cleans up quite well for those swanky alien cocktail parties too.
Comparison to Similar Characters
When pitted against similar models, Cynthia can definitely hold her own. She's got that rare blend of steely resolve and captivating charm that's tough to match. There's a hint of fierceness, a sprinkling of grit, all wrapped up in a pretty package of glamour that makes her standout. We've all seen other models who've tried to mix toughness with elegance, but few pull it off as well as our dear Cynthia.
Our Rating
Level of Detail: 9/10
Render Speed: 8/10
Additional Features: 9/10
Cynthia For G8F – Overall
In conclusion, Cynthia for G8F is a solid investment for your digital modelling needs. Her versatility, both in terms of shaping and materials, offers a dynamic range of potential character roles. Whether you need a tough-as-nails warrior or a ravishing glamour queen, Cynthia's ready to step off the screen and into your project. Remember though, she's not a Mac girl and doesn't do Poser. Other than that, it's pretty much action, lights, camera for this diva!
Keep in mind, behind every great character model, there's a great artist. Kudos to Kadaj15 for consistently delivering stellar 3D models that continue to sizzle our pixels. Until the next review, stay tuned to pixelsizzle.com for all your 3D modelling needs.