Sylvine For Genesis 8 Female
Daz Celebrity 3D Model – Key Facts
Sylvine For Genesis 8 Female by Kadaj15 is a 3D character model perfect for Daz Studio users. This character boasts a custom sculpted head and body morph.  She has high-quality Iray materials, and a wide array of customization options, including Fibermesh Lashes, four eye colors, and various makeup options. Suitable for both commercial and non-commercial renderings, Sylvine stands out for her unique blend of everyday charm and action-ready attitude. This allows her to fit seamlessly into any digital narrative, from urban dramas to cosmic adventures. Although not tested on MAC or POSER platforms, Sylvine scores high on level of detail, render speed, and additional features, making her a strong contender in the DAz 3D character universe.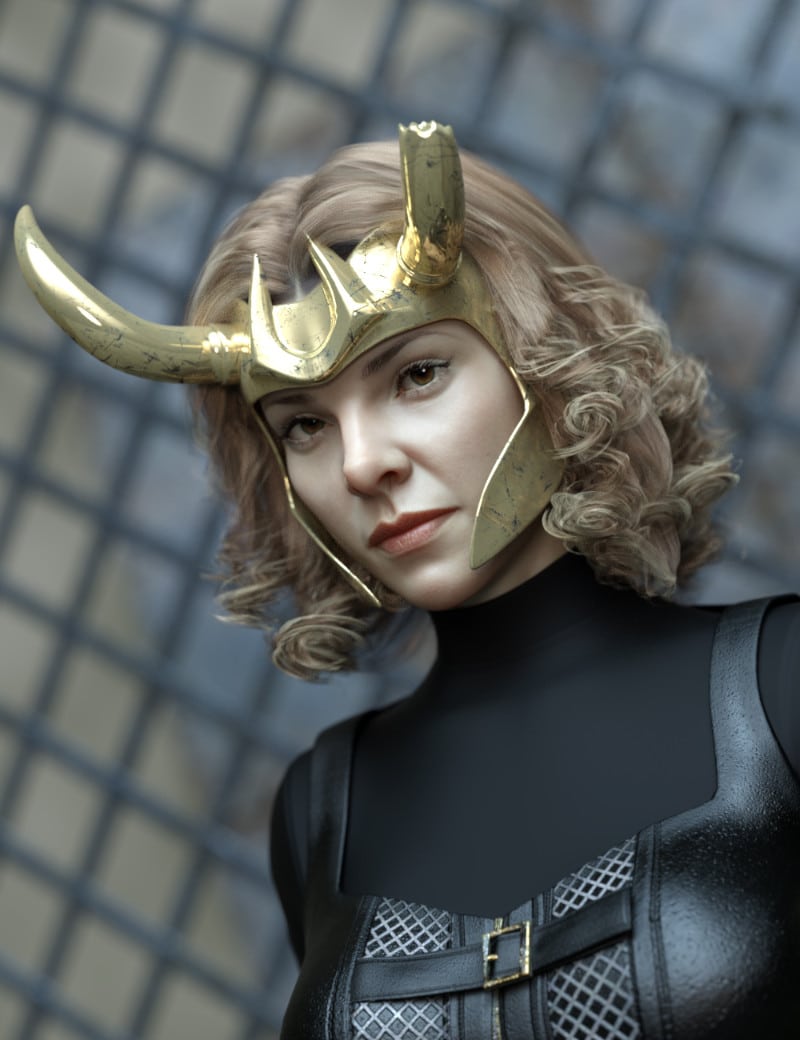 Introduction
If you're after a character model that seamlessly straddles the line between girl-next-door charm and action-heroine grit, step right into the world of "Sylvine For Genesis 8 Female" by Kadaj15. As the 12th addition to Kadaj15's portfolio that we're reviewing, Sylvine is ready to march right into your digital realm, whether it's to brew coffee or battle inter-dimensional threats!
Materials
Sylvine is meticulously crafted with high-quality materials for Iray, Daz Studio's physically based renderer. Kadaj15 has included a detailed MAT, adding to Sylvine's realistic appearance. You'll be delighted to find that Sylvine comes with Fibermesh Lashes, a feature that adds a delicate touch to her eyes. Additionally, you'll get four eye color options, six different lip colors, plus a natural lip, and six makeup options with a natural face option. Now that's versatility at its finest!
Shaping
The attention to detail in Sylvine's shaping is enough to make even a master 3d artist smile. Created with a custom sculpted head and body morph, Sylvine requires no additional morph packs. This makes her easy to integrate into your projects, perfect for those who love simplicity. Whether you need Sylvine to step in as a bookstore owner or an enigmatic trickster, her design flexibility will leave you spellbound.
Licence
Sylvine For Genesis 8 Female can be used in both commercial and non-commercial renderings, granting you significant freedom in your projects.
This character, unless explicitly stated on Daz3d.com, Renderosity.com, or other vendor sites, is not endorsed by or affiliated with any person/s named on this page. To clarify, we have made the celebrity comparison strictly for parody and entertainment purposes. Furthermore, please check the vendor's site for full license details.
What can this model be used for
From creating impressive art pieces to starring in your digital narratives, Sylvine's uses are as diverse as her design options. Due to her multifaceted design, she could easily feature in an urban drama, a sci-fi adventure, or perhaps something involving time travel and cosmic mischief. Her versatility makes her a fantastic asset for any project you're undertaking.
Comparison to Similar Characters
When compared to similar characters in our database, Sylvine stands out for her unique blend of everyday charm and action-ready attitude.  We haven't seen any other characters that share her likeness.
While many models lean heavily towards one end of the spectrum, Sylvine's balanced design offers the best of both worlds. If you've been seeking a character that can go from sipping a latte to swinging a sword, Sylvine might just be your girl.
Our Rating
Sylvine scores high on our rating scale with her detailed design, decent rendering speed, and a wide range of features. We docked a point or two due to the lack of testing on MAC or POSER platforms.  Overall, Sylvine is a strong character with a gorgeous likeness.
Level of Detail: 9/10
Render Speed: 8/10
Additional Features: 8/10
Sylvine For Genesis 8 Female – Overall
In conclusion, Sylvine For Genesis 8 Female is a well-rounded character model that promises to add depth and versatility to your 3D projects. With her high-quality materials, excellent shaping, and flexible licensing, she's ready to weave some magic.  Just like a certain charming antihero we can't quite put our finger on! So, if you're ready to unlock a world of creativity with a dash of mischief, Sylvine is waiting to materialize into your Daz Studio. We would love to hear what you think of her so share your own review with us.