Juniper HD for Genesis 8 Female
Daz Celebrity 3D Model
Ah, another day, another chance to dive into the world of 3D lookalike models! Today's review is on Juniper HD for Genesis 8 Female, created by the talented artist Mousso.  We have reviewed around 8 of their other characters so far, and are very impressed with their work.  We particular like that they always create characters with classic likenesses that other artists don't attempt!  Read on to learn more about Juniper.
Materials
Juniper HD has a beautiful array of materials including L.I.E makeup options.  One of her most striking features are her gorgeous fibermesh brows which suit her look perfectly.  Additionally, there are several options for eye color, lip color, blush, and skin textures, making it easy to customize Juniper to fit any desired look. The inclusion of Normal On/Off and SSS options further enhances the realism of the character's appearance. And with the Daz Studio Iray Material Presets (.DUF), achieving stunning renders is a breeze. Overall, the materials selection for Juniper HD is top-notch and offers a wide range of options for creating the perfect 3D character.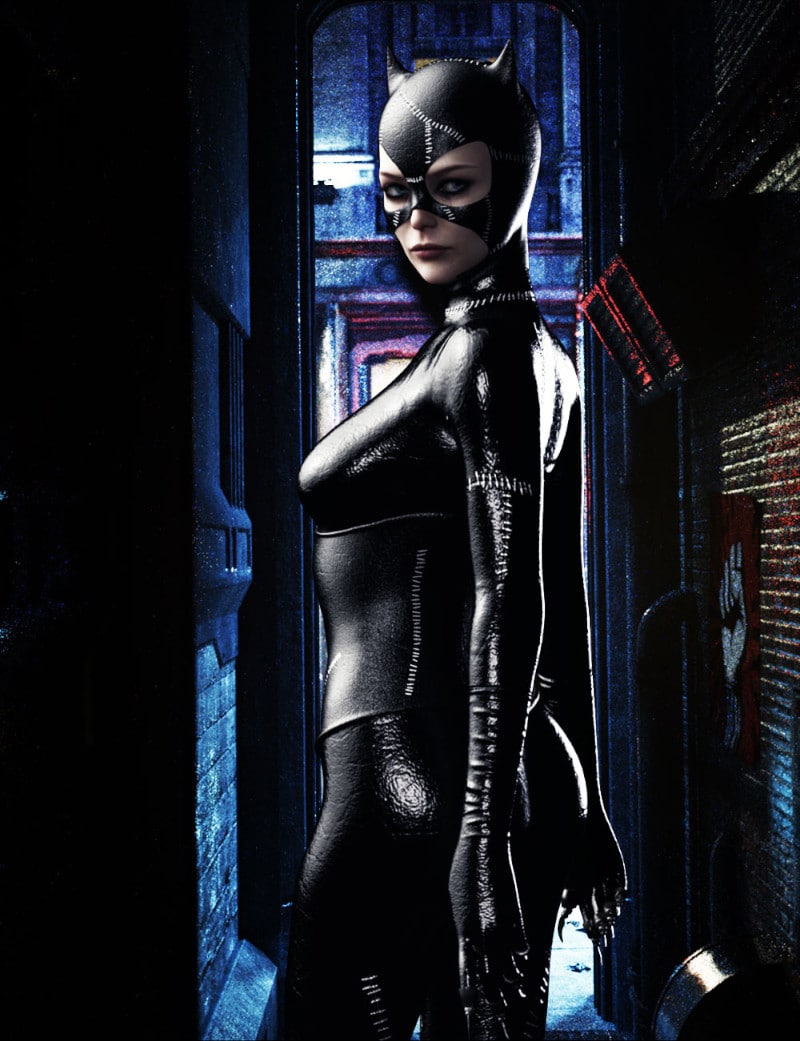 Shaping
This character includes HD shaping options and the custom sculpting by Mousso is beautiful.   She also has attractive nails, lashes and a navel morph.  These options make it easy to customize the character to your liking, whether you want to enhance or tone down specific features. As mentioned earlier, the fibermesh brows are perfect, and add a level of realism and detail to Juniper's appearance
Licence
Unless stated on Daz3d.com, Renderosity.com or other vendor sites, this character is in no way endorsed or affiliated with any person/s named on this page. To clarify, the celebrity comparison has been made for parody and entertainment purposes only. Furthermore please check vendors site for full licence details.
What can this model be used for
This character is perfect for any dramatic scene.  We took some test renders of her in moody portrait style and she looked perfect!  Her likeness will appeal to audiences from a range of backgrounds.  We even tried her out in a catwoman outfit and rendered a short animation of her walking which looked superb!
Comparison to Similar Characters
We couldn't a find a single other character for Daz Studio that had a the same looks as Juniper. We even struggled to find 3d printing versions of her. Furthermore her stunning eyes and iconic look only adds to her value.  She is also built for Genesis 8 which is another bonus point to her!
Our Rating
Level of Detail: 9/10
Render Speed: 9/10
Additional Features: 9/10

Juniper HD for Genesis 8 Female – Overall
Overall, we're absolutely smitten with Juniper HD for Genesis 8 Female. Mousso's expert custom sculpting brings a stunningly beautiful character to life, with a range of HD shaping options that can help you create the perfect look. We especially love the gorgeous fibermesh brows that add a touch of realism and elegance to this 3D model.
Juniper HD for Genesis 8 Female is a must-have for anyone looking to create exciting  3D parody art. We are sure you'll find plenty to love in this fantastic package, happy Rendering.