MSO Loong HD for Genesis 8.1 Male
Daz Celebrity 3D Model
MSO Loong HD for Genesis 8.1 Male is a collaborative effort from three artists: Mousso, Paragon and Second-Circle.  We usually don't see this many artists working on one character, but it has paid off with this character, as they have done an excellent job creating a martial arts superstar character.  Please read on to learn more about this 3d kung fu master!
Materials
MSO Loong HD includes a variety of materials that make use of the UBER and PBR shaders.  These are designed to create some of the most realistic "physically based rendering" available in daz studio. We tested two of the UBER shaders and were very impressed with the results in a variety of lighting conditions.  This character also includes an awesome Chinese inspired tattoo material for the front and back of the character.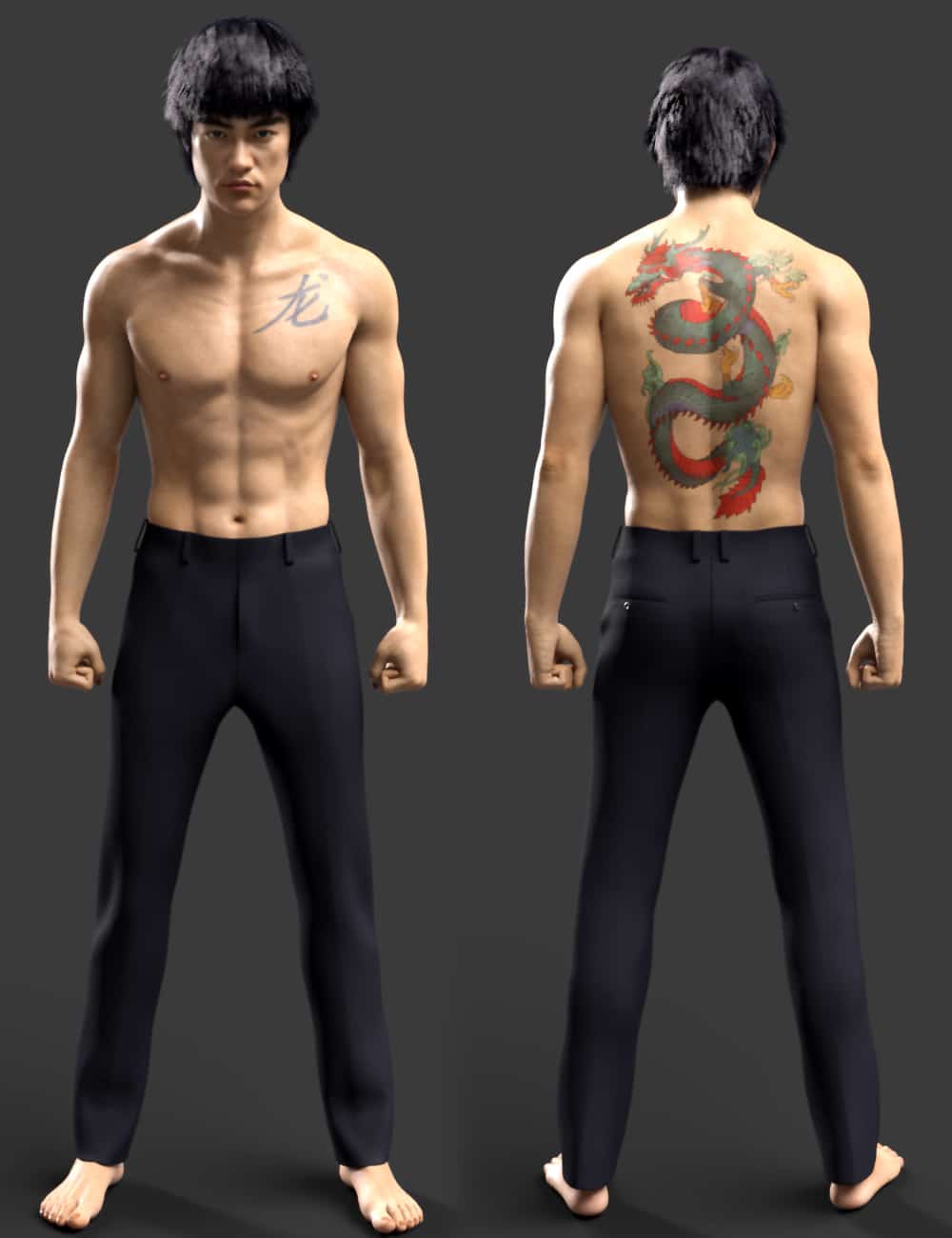 There are a variety of texture maps including ambient occlusion maps and standard bump and transparency.  These are at a professional 4k standard.
FiberMesh Hair
One of the striking and defining features of this character's look is the FiberMesh eyebrows.  These really make him pop off the screen!  In addition to the brows there is stubble and also anatomical hair for digital artists that require it.
Shaping
As the character's name implies, he comes with HD head and body shaping morphs.  There is also nipple and navel shaping morphs included.  These are appropriate as our martial arts star is likely to have topless fight scenes and you will likely want to see these small added details.
Licence
Unless stated on Daz3d.com, Renderosity.com or other vendor sites, this character is in no way endorsed or affiliated with any person/s named on this page. To clarify, the celebrity comparison has been made for parody and entertainment purposes only. Furthermore, please check vendors site for full licence details.
What can this model be used for
Game developers can purchase an interactive licence to use this character in their games.  This is currently heavily discounted at daz3d.  There is also a 3D printing licence available for this character.  Due to MSO Loongs likeness, we would recommend him for any martial arts related digital art or animation.  He would also look great in a fighting game!
Comparison to Similar Characters
This character bares a similarity to quite a famous likeness.  There are a number of other 3d models out there that imitate a similar look.  Although there are far less that are specifically for Genesis 8.1 and Daz Studio.  We found a close competitor over at renderosity:
Bad Boy Collection 03 HD With Hairs for Genesis 8 Male 3D Figure Assets Alibama (renderosity.com)
We like the look of this character, but we do prefer the HD sculpt and look of MSO Loong.  The characters face is very high quality and built for Genesis 8.1.
Our Rating
Level of Detail: 9/10
Render Speed: 9/10
Additional Features: 10/10

MSO Loong HD for Genesis 8.1 Male – Overall
Overall, we really love this character.  It has some close competition, but this character is the best we have seen specifically for use with Genesis and Daz Studio.  Digital artists have lots of scope for martial arts themed artwork and animation.  He also lends himself perfectly to fighting games!
Happy Rendering!