HS Storm for Genesis 8.1 Female
Daz Celebrity 3D Model – Key Facts
Handspan Studios' HS Storm for Genesis 8.1 Female is a highly detailed 3D model with exceptional customization options, suitable for any sci-fi or action-themed digital art project. Offering high-resolution PBR skin shaders, photo-realistic textures, and a diverse range of eye, nail, and lip colors, this model is a fantastic addition to your 3D toolkit. Shaping options like custom face and body morphs, along with a unique iris size and lip depth morph, further enhance the versatility of HS Storm. With optional Interactive and 3D Printing Licenses, this model provides flexibility across different platforms. Rated 8.3/10, HS Storm is a great choice for those seeking a futuristic, high-adrenaline aesthetic in their next project.
Introduction
Strap in, digital artists and 3D connoisseurs, as we dive into the virtual rabbit hole to review the latest sensation from Handspan Studios – HS Storm for Genesis 8.1 Female. If you're a fan of futuristic action films with killer leather outfits and gravity-defying stunts, then this character might just be the One you've been waiting for.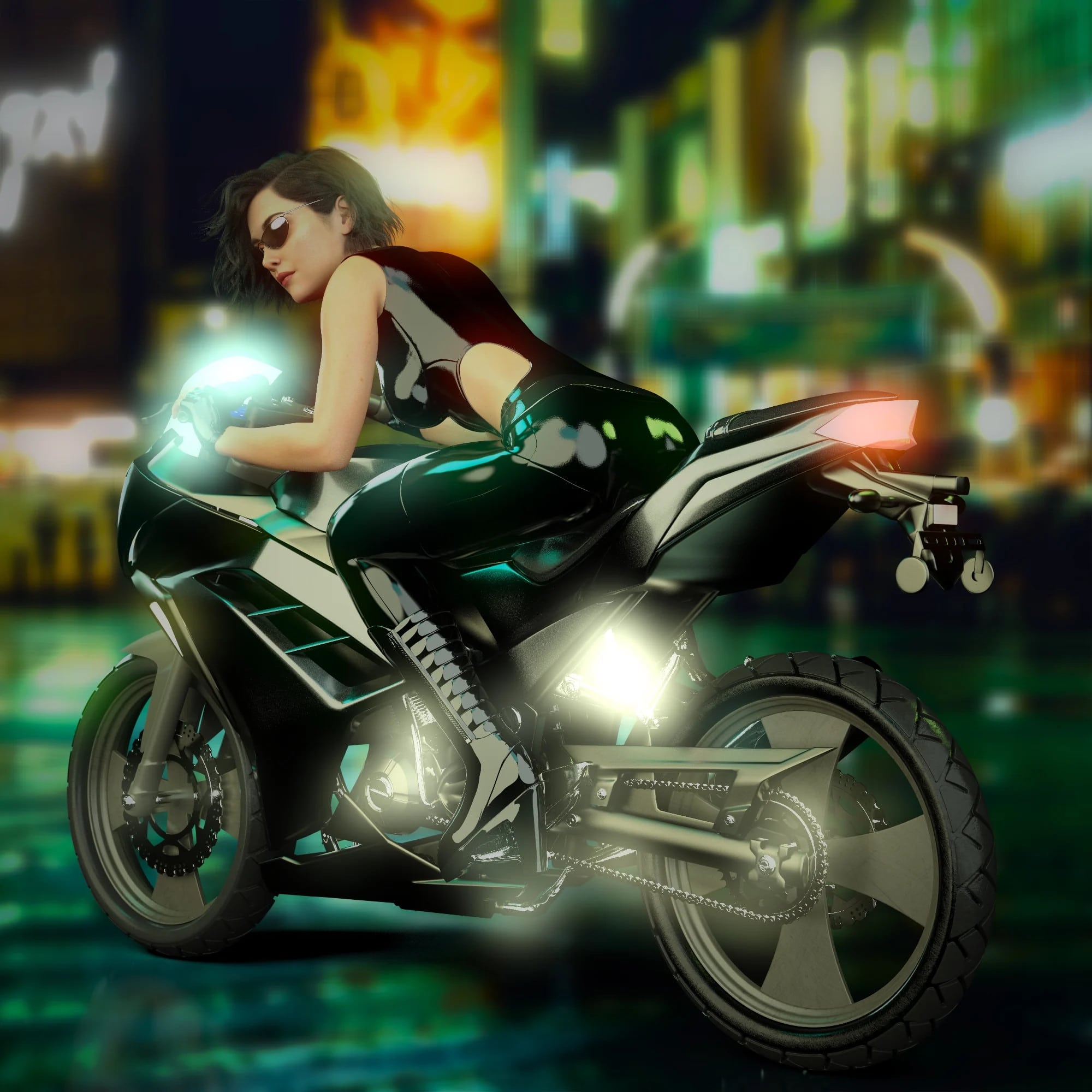 Materials
HS Storm is not just a pretty face. She comes packed with high-quality PBR skin shaders and photo-realistic textures, including anatomical elements. The character also boasts a range of customization options such as 9 eye colors and 8 nail colors.  There's a whopping 36 lip options, and various makeup styles. From the Skin Detail to the many maps, the textures are Iray optimized and crafted from high-resolution 3D skin scans for those ultra-close-up shots.
Shaping
HS Storm sports a custom face and body morph, with extra morphs for the nipples and fingernails, allowing you to tweak the details for a perfect fit in your scene. There are two lash shaping poses, a unique iris size option, and a lips depth morph to give you that extra level of detail. Just remember, in the world of 3D, there is no spoon… only finely-tuned shaping options.
Licence
HS Storm for Genesis 8.1 Female is compatible with a wide range of software via Daz Bridges.  (We previously provided a tutorial on how to use the bridges here). There are also optional license add-ons available.  These include both the Interactive License and 3D Printing License.  Perfect for those who want to take their digital heroine into the physical world. Remember, the right license is like a key to the city of Zion – it gives you the freedom to explore even more uses with your characters.
Unless Daz3d.com, Renderosity.com, or other vendor sites state otherwise, we neither endorse nor affiliate this character with any person/s named on this page. For clarity, we make the celebrity comparison for parody and entertainment purposes only.
What can this model be used for
HS Storm would make an excellent addition to any sci-fi or action project, with her modern, fit, and ready-for-action look. Picture this: A futuristic cityscape, our heroine in black leather, defying physics with every move she makes. Yes, HS Storm is the perfect character to bring that sleek, high-adrenaline aesthetic to your next digital art project.
Comparison to Similar Characters
Compared to the other 3D models we've reviewed from Handspan Studios, HS Storm stands out with her unique features and detailed customization options. However, if your project calls for a character that can dodge bullets (virtually, of course), then you might find HS Storm fits the bill in a way that other models can't quite match.
Our Rating
Level of Detail: 9/10
Render Speed: 8/10
Additional Features: 8/10
HS Storm for Genesis 8.1 Female – Overall
In conclusion, HS Storm for Genesis 8.1 Female is a high-quality 3D model with a great level of detail.  There are a wide range of customization options, and good compatibility across multiple platforms. While we might have liked to see a few more presets for convenience, the quality and versatility of this model certainly makes her a strong contender in any digital artist's toolkit.
In the immortal words of a certain sci-fi legend, "Buckle your seatbelt, Dorothy, 'cause Kansas… is going bye-bye!"
But don't worry, with HS Storm in your library, you're in for an unforgettable journey down the digital yellow brick road.
Remember to keep checking pixelsizzle.com for more thrilling 3D model reviews and updates.