Spartacos Genesis Expansion
Daz Celebrity 3D Model
Spartacos Genesis Expansion is an enhancement to the Spartacos character created by StudioArtVartanian.  This review will cover the original character and the enhancements of the Genesis expansion pack.
The original Spartacos character is built for Michael 4.   It includes plenty of nice features such as detailed textures and  a variety of unique scar and blood options.  There is also a broken nose morph, a hair prop, expressions and more! The Spartacos Genesis Expansion includes new morphs, expressions and materials for Daz Studio and Genesis.
Please read on to learn more!
Materials
If you are familiar with StudioArtVartanians work you will know that they always include highly realistic textures with a high level of detail.  Spartacos includes a variety of materials to showcase a roman gladiator in combat.  These include dirt, scars and blood materials.  There are also veins and other small details for added realism.  A short hair prop has been included that looks great.  Optionally you can use the detailed bald materials.  The Genesis expansion adds new tattoo options in addition to new Genesis compatible materials. There also are refit settings for the hair prop.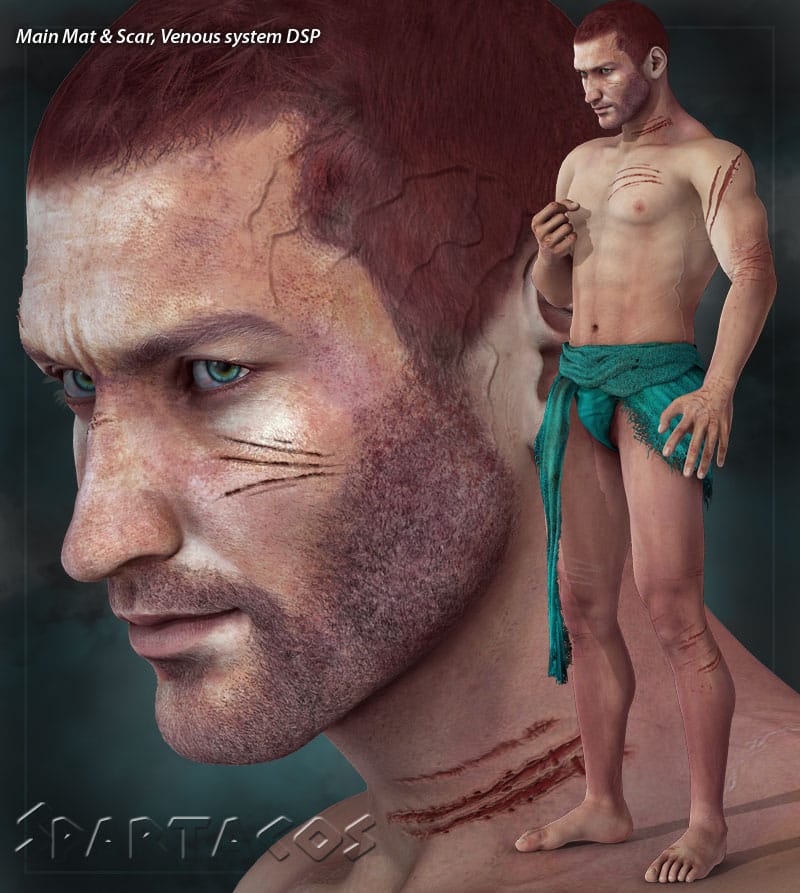 Shaping
The original spartacos character is built on Michael 4.  The Genesis expansion requires Genesis Evolution: Head Morphs and Genesis Evolution: Body Morphs from Daz3D.  The face shape is custom but these morphs packs add more details to the face and body morph.  We were very impressed with the look of the character.  The original Spartacos character is excellent and the Genesis expansion takes the detail a step further.  He has a superb likeness and looks great with the custom expressions.
Licence
Unless stated on Daz3d.com, Renderosity.com or other vendor sites, this character is in no way endorsed or affiliated with any person/s named on this page. To clarify, the celebrity comparison has been made for parody and entertainment purposes only. Furthermore please check vendors site for full licence details.
What can this model be used for
This character would look great in any fight or battle setting.  The blood and scar textures can be applied in many ways to build up a unique combat scene. He is clearly intended for a Roman Gladitorial fight and digital artists will be able to have a lot of fun recreating historic battles!  We were unable to get more details on specific usage licencing for this character.  If you are a games developer you may want to enquire with Renderosity regarding interactive use.
Comparison to Similar Characters
We couldnt find another 3D celebrity that had the same likeness as Spartacos.  He still looks superb when rendered in Daz Studio,  as StudioArtVartanian did an excellent job with the textures.  That being said, you may wish to transfer the morph to a newer generation of Genesis characters to make use of newer features.
Our Rating
Level of Detail: 9/10
Render Speed: 9/10
Additional Features: 10/10

Spartacos Genesis Expansion – Overall
Spartacos includes a ton of additional features that make it really great value. This includes, expressions, material options and hair props.  The level of realism is also great and has stood the test of time.  Also there is no close competition for this character and he has a unique likeness.  However the Genesis and Michael 4 Generation is showing its age now so digital artists may wish to upgrade the morph to work with newer character generations.