Lonely Kind Man for M4
Daz Celebrity 3D Model
Lonely kind man for M4 is a classic lookalike character for Daz Studio and Poser.  This character is brought to us by the artists odnajdy and D_jerry.  They are well known over at renderosity for creating realistic celebrity 3d models for the Victoria 4 and Michael 4 generation, as well as Genesis 2. They have a notable skill at creating realistic skin textures that react well to light.
From a user's perspective, you get the character built on Michael 4 for both Poser and Daz Studio.  This character also includes a hair prop for both software packages.  Another standout feature of this character is the inclusion of 14 emotion morphs.  Read on to learn more.
Materials
Lonely kind man for M4 includes full materials and the readme file includes a list of the optimum render settings within poser.  You may have to analyse the readme file carefully as the english is a little broken, but still fully usable!  The artists have been praised on renderosity for their skilled use of bump and displacement maps.  For those who are new to 3d models, bump maps provide additional information that makes a surface react more realistically to light.  The displacement map also changes the geometry adding to even greater realism. In the example below you can see some of these details as the light reacts to the skin surfaces.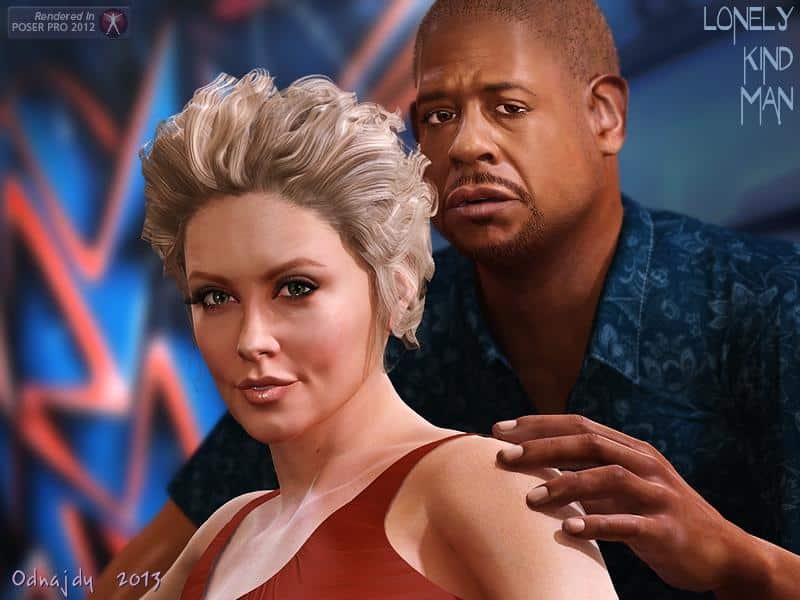 There are also Pose files included for hair and bald head options.  Extra features like this are always welcome!
Shaping
This character has over 29 INJ files to alter the base shape of Michael 4.  The face includes many alterations.  Here is a sideview that shows the adjustments that the artists have made to create a familiar likeness: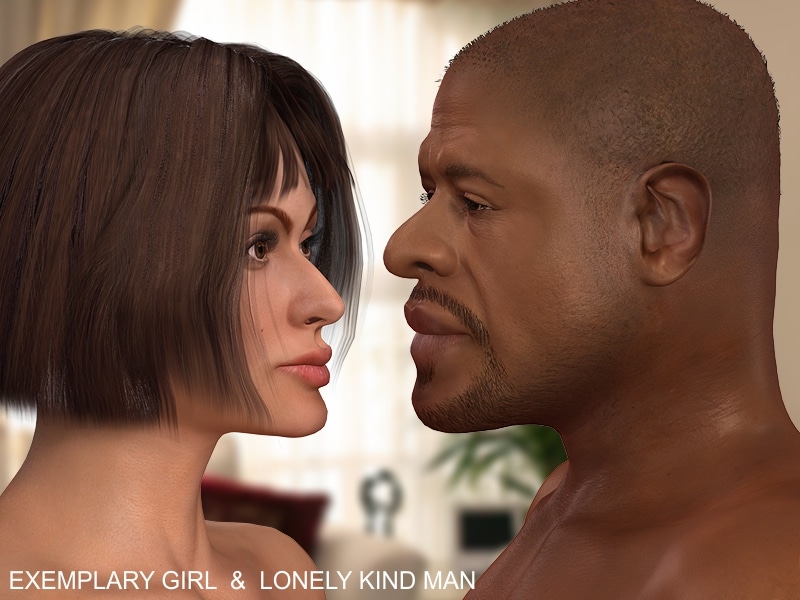 The readme file includes all the installation instructions needed for both Poser and Daz Studio users.  The artists have included several paragraphs of detail to instruct users about the correct order of applying morphs etc.  Users of both Daz Studio and Poser should see absolutely no difference in the characters shaping.  The other feature is the inclusion of 14 emotion dials.  These are the preferred way to show a range of emotions without distorting mesh.  These have been tested in Poser and work very well.
Licence
Unless stated on Daz3d.com, Renderosity.com or other vendor sites, this character is in no way endorsed or affiliated with any person/s named on this page. To clarify, the celebrity comparison has been made for parody and entertainment purposes only. Furthermore please check vendors site for full licence details.
What can this model be used for
Digital artists will no doubt be creating many movie parodies with this character.  The detailed face renders almost photo perfect. The Renderosity galleries include many examples of Lonely Kind Man parody art.  This character is also a good fit for those users who are interested in animation and video games. The simplified mesh of Michael 4 is less intensive on memory and renders fast on modern hardware.
Comparison to Similar Characters
There are no other characters from the Michael 4 generation that compete with Lonely Kind Man for M4.  The closest rival in appearance would be Akabe HD for Genesis 8.1.  Obviously this character is built on the latest Genesis 8.1 model which means it features a much more complicated mesh and the latest materials.  To learn more details about Akabe please see our character review.
Our Rating
Level of Detail: 8/10
Render Speed: 9/10
Additional Features: 9/10

Overall
This character has no other rival in terms of celebrity likeness within the Michael 4 generation.  Furthermore, the level of detail is excellent and the character renders exceptionally fast, especially on newer hardware.   We love the inclusion of additional features and the package includes options for both Poser and Daz Studio users.  These include optional hair props and a range of emotion dials.  For those who want to see a newer version of this character, check out Akabe HD for Genesis 8.1.