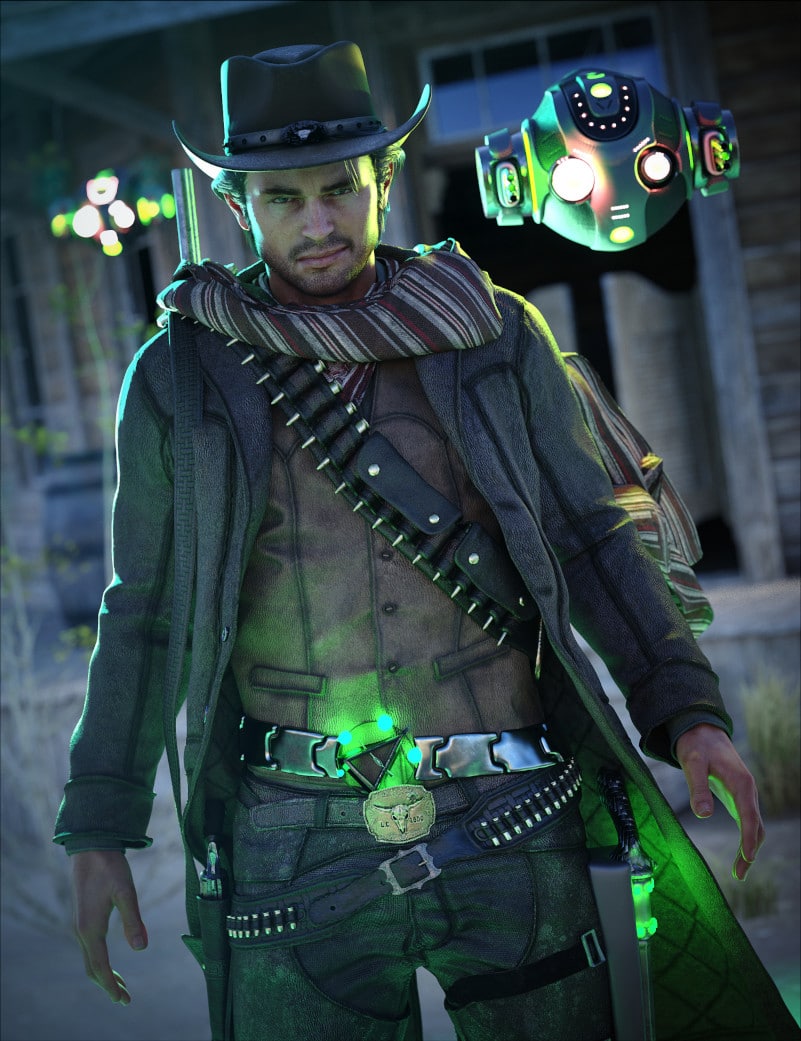 Holt 8
Daz Celebrity 3D Model
Howdy, folks! Gather 'round, because today we're going to take a close look at a 3D character that'll make you feel like you're riding through the Wild West. Meet Holt 8, a charming sheriff character.  This is a core Daz model for Genesis 8 Male. With his rugged good looks and calm demeanor, this digital lawman is here to bring order to your Daz Studio projects. So, saddle up and let's dive into the details of this cowboy!
Materials
Holt 8 is crafted with exquisite attention to detail, utilizing the Improved Iray Uber Shader to bring our sheriff to life. The package includes detailed surface maps to make him look great in a variety of lighting settings. With 4 eye color options, 10 eyebrow color options, and anatomical elements material preset, Holt 8 is as customizable as a trusty six-shooter.
Shaping
This handsome lawman features a full body shape and head shape, making him as rugged and imposing as any Wild West legend. With a height of 6′ 4″ and muscle contractions added, he's got the presence to take on any cattle rustlers, train bandits, or even steampunk robots that dare to cross his path. Plus, with 10 eyebrow options, you can customize his look to match the intensity of the showdowns he'll face.
Licence
This character is available comes with a variety of optional license add-ons. You can get the Interactive License, and for $1.99, the 3D Printing License is available. Whether you're looking to create interactive experiences, or bring your lawman to life in the physical world, Holt 8 has you covered.
Unless stated on Daz3d.com, Renderosity.com or other vendor sites, this character is in no way endorsed or affiliated with any person/s named on this page. To clarify, the celebrity comparison has been made for parody and entertainment purposes only. Furthermore please check vendors site for full licence details.
What can this model be used for
Holt 8 is perfect for projects within the Wild West, action, or sci-fi genres. Need a killer cyborg sheriff to maintain order in a dystopian future? Or perhaps a fearless leader who'll face off against supernatural creatures in the night? With Holt 8, the possibilities are as vast as the prairies he patrols.
Comparison to Similar Characters
Compared to other similar characters, Holt 8's level of detail and range of customization options truly set him apart. The materials and textures provided by Daz Originals make this model stand out like a gleaming sheriff's badge in the noonday sun.  He has a unique likeness that has no Daz3D competitors as of the publication of this review.
Our Rating
Level of Detail: 9/10
Render Speed: 8/10
Additional Features: 8/10

Holt 8 – Overall
In summary, Holt 8 is a top-notch 3D character model. He will make your projects feel like they're straight out of a classic Western. With a wide range of customization options, high-quality materials, and resemblance to a certain handsome celebrity, Holt 8 is a must-have addition to any Daz Studio artist's toolkit. So, why wait any longer? It's high time you lassoed this cowboy and brought some Wild West flair to your digital art!