Gertha for G8 and G8.1 Females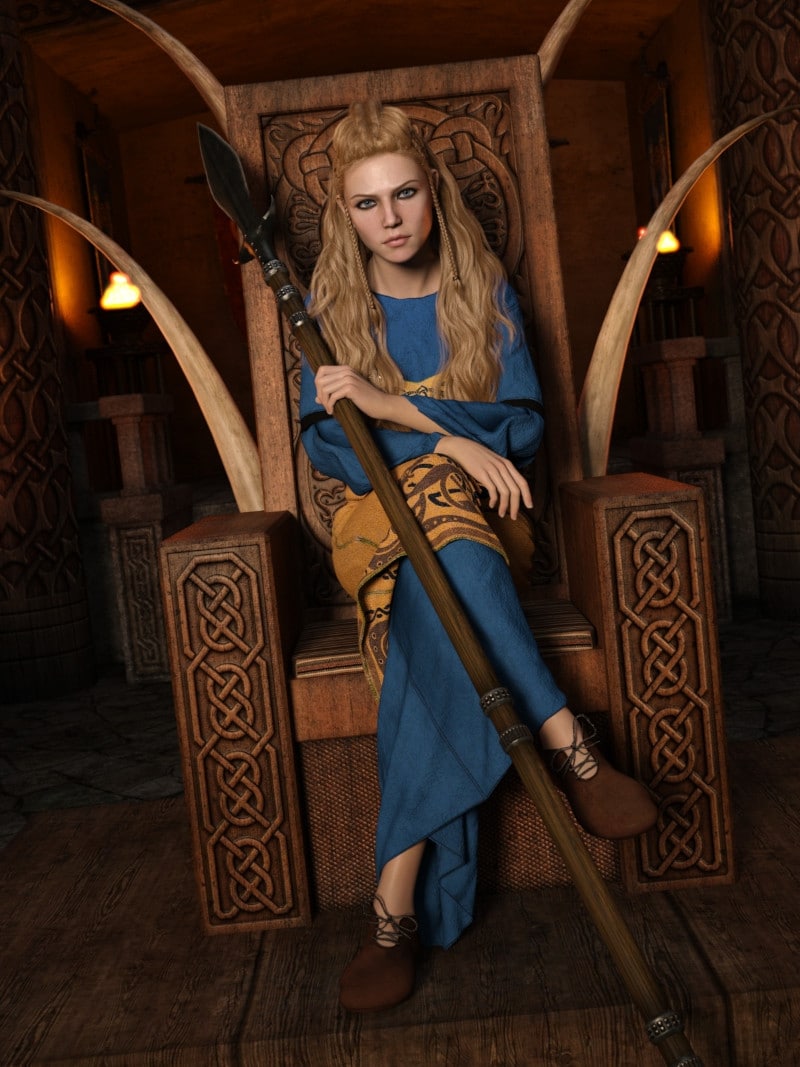 Daz Celebrity 3D Model – Key Facts
Gertha is an attractive character for Genesis 8 and 8.1 Females. She incorporates high-quality PBR and Uber Iray materials to achieve realistic rendering.
The model comes with unique smile morphs and eye movement correctors, providing dynamic and lifelike expressions.
Gertha is an easy-to-use character for artists of all levels. She is ready to go and does not require any additional morphs.
Gertha's license allows for both commercial and non-commercial renderings, offering a wide range of usability.
She's designed to fit seamlessly into the Genesis ecosystem, making her a versatile choice for any Daz Studio artist.
Introduction
Welcome, digital artists and Daz enthusiasts, to another addition to our ever-growing 3D model review series. Today, we're taking a deep dive into the world of a character who needs no introduction in the Viking village – "Gertha". Now, we're not saying she's a renowned shield maiden from a popular series… but if you've ever dreamt of creating a strong female character who can rule the seas with a stern gaze, Gertha might just be the perfect addition to your Daz library.  Incidentally, this is now the 15th character by Sangriart that we are reviewing!  Thats a whole lotta 3d peeps!

Materials
Gertha comes with PBR and Uber Iray materials, adding to the realistic look of the character. PBR, short for Physically Based Rendering, gives the character a lifelike appearance by accurately simulating the interaction of light with the character's surface. The Uber Iray materials enhance this further by taking full advantage of Daz Studio's Iray render engine, which aims to create the most photorealistic images possible.
Shaping
The beauty of Gertha lies in her customizability. She's a custom character for Genesis 8 and 8.1 Females, fitting seamlessly into your existing Genesis ecosystem. What's more, she comes with her own unique set of smile morphs and eye movement correctors, so you can ensure that her expressions are just as dynamic and realistic as her appearance. This character is an easy addition to any scene or project as she does not require any additional morphs.

Licence
As usual, when you purchase Gertha, you'll receive a standard license which allows you to use her in both commercial and non-commercial renderings. However, remember that redistributing or selling the character herself is not allowed.  Have a little respect for those hardworking 3d artists!
Unless stated on Daz3d.com, Renderosity.com or other vendor sites, this character is in no way endorsed or affiliated with any person/s named on this page. To clarify, the celebrity comparison has been made for parody and entertainment purposes only. Furthermore please check vendors site for full licence details.
What can this model be used for
Given her robust and fearless appearance, Gertha would be an excellent fit for any project that requires a strong female character. Perhaps she could rule over a digital kingdom, command a fleet of ships, or even lead a group of tough warriors in a post-apocalyptic world. The possibilities are as vast as the open seas she might sail.
Comparison to Similar Characters
Compared to other similar characters in our database, Gertha stands out with her realistic materials and customizable features. Many models rely heavily on additional morphs to achieve a range of expressions and details. Gertha keeps things streamlined and straightforward, making her a versatile choice for artists at any level.  We haven't seen any other characters with this likeness so she is a unique addition.
Our Rating
Level of Detail: 9/10
Render Speed: 8/10
Additional Features: 9/10

Gertha for G8 and G8.1 Females – Overall
To wrap it all up, Gertha isn't just a character; she's a force to be reckoned with. Her superior construction, versatility, and high-quality textures set her apart in the vast sea of 3D models. She's a breeze to work with, considering the exclusive morphs that come in her package and the fact that no additional morphs are required.
Gertha isn't just a character to add to your collection; she's an asset that might just become a star in your creative universe. We can't claim she's an exact copy of a certain Norse heroine, but if you're seeking to infuse your next project with the spirit of a valiant Viking, Gertha may be your go-to model.
So, digital artisans, gear up! With Gertha in your toolkit, your next project isn't just on the horizon; it's a Viking longship charging forward on a wave of creativity.