P3D Mei Lin 8 Enhanced Morphs
Daz Celebrity 3D Model – Key Facts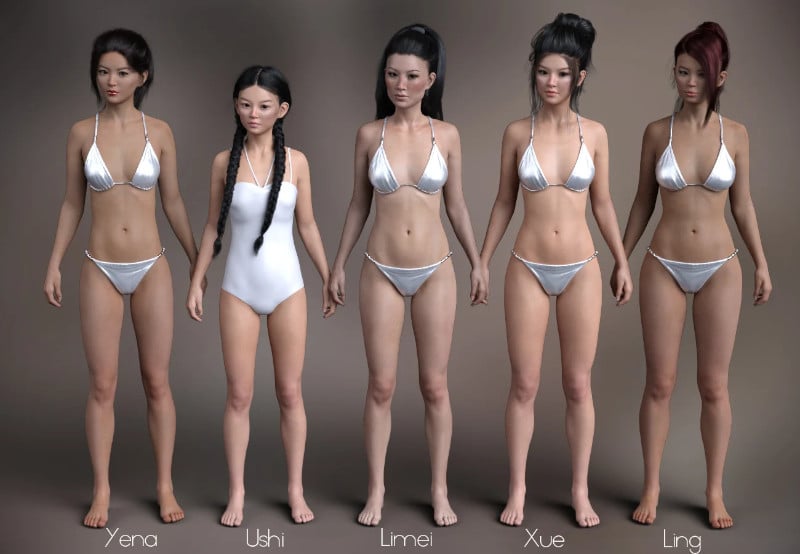 P3D Mei Lin 8 Enhanced Morphs is a versatile collection of morphs created by artists P3Design and Daz Originals for the Mei Lin 8 character model​​.
The package includes 14 morphs that can be mixed and matched for endless variety, including options for head and body shapes, custom nails, and long lashes​​.
The product requires the base Mei Lin 8 model and is compatible with Daz Studio 4.21 and various other software.
Users are provided with the freedom to create their own unique look for Mei Lin 8 as textures are not included in this package.​
Optional add-ons include an Interactive License, allowing use in animation and games. Also includes a 3D Printing License, enabling users to bring the character into the physical world through 3D printing​.
Introduction
Step into the realm of 3D modeling where the lines between reality and virtual reality blur. Meet P3D Mei Lin 8 Enhanced Morphs, a digital masterpiece by the artists P3Design and Daz Originals, who are no strangers to creating captivating characters.  I have reviewed many of P3Designs characters in the past and look forward to reviewing this latest addition!
Materials
The P3D Mei Lin 8 Enhanced Morphs package is a versatile collection, but the caveat here is that textures are not included. This means you'll have the freedom to paint your own canvas, so to speak, creating a unique look for Mei Lin 8.
Shaping
With this package, you'll have the ability to customize Mei Lin 8 to a tee. There are a total of five character morphs that you can use in combinations.  In total there are 14 morphs.  The power of this product is the amount of possible combinations when mixing and matching theses morphs.  You can adjust each morph to your preference by dialing them or conveniently apply them with a single click. Features like head and body shapes, custom nails, and long lashes are at your disposal, ready to transform your character into a star.
Licence
The product comes with an Interactive License option for an additional price, and a 3D Printing License too. These licenses provide a lot of flexibility, whether you're looking to use this character model in interactive media or take her into the tangible world with 3D printing.
To clarify, unless explicitly stated on Daz3d.com, Renderosity.com, or other vendor sites, this character is not endorsed or affiliated with any person/s mentioned on this page. Any celebrity comparison made is solely intended for parody and entertainment purposes. Furthermore please check vendors site for full licence details.
What can this model be used for
Your imagination is the only limit to possible uses of Mei Lin 8.  She can seamlessly transition from the streets of a modern city to the alien landscapes of a distant planet. You might find her perfect for a character who's a fierce warrior, a cunning detective, or even a sci-fi heroine, hinting at some iconic roles we all know and love.
Comparison to Similar Characters
When compared to other Daz 3D characters, Mei Lin 8 stands out with her unique Asian features and versatile morph options. However, keep in mind that she's not a stand-alone character and requires the base Mei Lin 8 model. But given the level of customization possible with this package, it's an investment worth making for 3D enthusiasts.
Our Rating
Level of Detail: 8/10
Render Speed: Not Available
Additional Features: 7/10

P3D Mei Lin 8 Enhanced Morphs – Overall
In conclusion, P3D Mei Lin 8 Enhanced Morphs is a strong addition to any 3D model collection. She is perfect for those looking to inject diversity and character into their 3D worlds. Though lacking in materials, the shaping options more than make up for it. This allows you to create a character that truly stands out. The licensing options provide flexibility, and the potential uses for Mei Lin 8 are vast. With a possible nod to an actress who has graced both the big and small screens with her versatility, this model could well be the versatile heroine of your next project.
I'm still in the process of gathering information for the render speed and a direct comparison to a similar character. I hope to provide this information soon.