DTG Studios Saffron for G8 Female
Daz Celebrity 3D Models – Key Facts
Saffron is a Daz Celebrity 3D model for the Genesis 8 Female, designed by the artist DTHUREGRIF.
A custom morph is used to craft her unique face, which is further enhanced with Genesis 8 Face morphs, resulting in a distinctive look.
Saffron comes with 11 unique eye colors, 10 different lip colors (plus  super glossy shaders), and 10 makeup options.
They have carefully sculpted the model's body using DAZ's Genesis 8 female morphs to ensure better compatibility with G8 clothing.
Saffron's design and features make her a versatile model, suitable for a wide variety of settings and scenarios, especially those with a vintage or glamorous theme.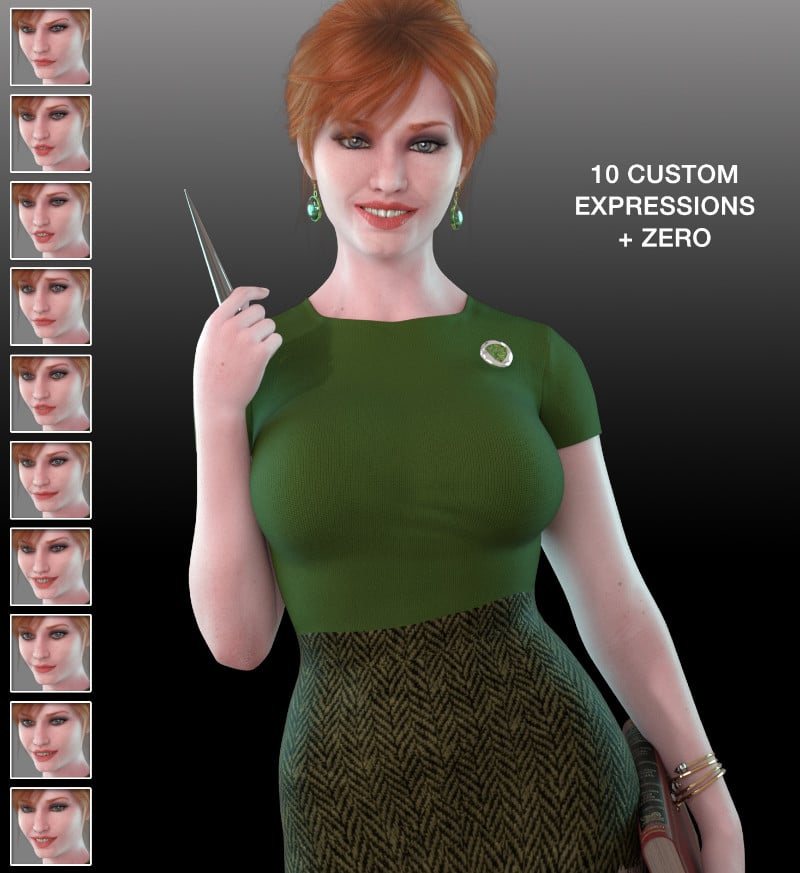 Introduction
Welcome back to another review on PixelSizzle, where we take the latest Daz Studio creations for a spin. Today, we're diving into the world of the compelling, and might I add, fiery DTG Studios Saffron for G8 Female. This character, reminiscent of a certain fiery-haired actress from a show set in the world of advertising, will add a splash of vintage glamor to your digital art projects. DTHUREGRIF, a talented 3D artist, is the creator of this character. The origin of the name "DTHUREGRIF" is fascinating, and we would love to hear from the 3D artist themselves to provide an explanation!
Materials
The materials used in Saffron bring her to life in a way that's both impressive and realistic. She comes with 11 unique eye colors, each glistening with a spark of life. Her lip colors are equally impressive.  The include 10 different shades plus a plain option that comes with matte, glossy, and super glossy shaders. You can tailor Saffron to fit any scenario you have in mind with 10 makeup options available, providing a wide range of variety. Whether she's strutting in the office or navigating high society parties, Saffron's materials bring out her inner glamour.
Shaping
Saffron's unique face is a combination of a custom morph crafted with love. This is then refined with DAZ's Genesis 8 female face morphs, resulting in a distinctive and memorable look. The artist's dedication to detail shines through in the meticulously sculpted body of the character. They have achieved this by meticulously tweaking DAZ's Genesis 8 female morphs.. This approach not only ensures better clothing compatibility but also gives Saffron a realistic and proportionate figure that carries the essence of an elegant, independent woman of the 1960s.
Licence
As with all Daz3D models, the licensing options for Saffron provide flexibility for both personal and commercial use.  Saffron is ready to be the star of your next digital project.
Unless explicitly stated on Daz3d.com, Renderosity.com, or other vendor sites, this character is not endorsed by or affiliated with any person or persons mentioned on this page. To clarify, we have made the celebrity comparison strictly for parody and entertainment purposes. Furthermore, please check the vendor's site for full license details.
What can this model be used for
Saffron is a versatile character model that can grace any scene.  She's perfect for a vintage office setting, a glamorous cocktail party, or even a dramatic film noir setting. Or perhaps, she could be a cunning spy in a high-stakes espionage thriller set during the Cold War era. With her distinctive look and fiery personality, it's easy to envision her as the star of any 3d art piece.  The possibilities are as endless as your imagination.
Comparison to Similar Characters
Comparing Saffron to other characters in the Daz3D universe, she stands out thanks to her unique combination of vintage glamour and modern versatility. Her customizability, particularly with respect to makeup and eye color, sets her apart from the crowd. Moreover, the sculpting technique used by the artist, DTHUREGRIF, who we've seen before with another character model (River), ensures she maintains a realistic figure that is compatible with a variety of clothing options.
Our Rating
Level of Detail: 9/10
Render Speed: 8/10
Additional Features: 8/10
DTG Studios Saffron for G8 Female – Overall
To sum up, Saffron is a character model that offers an impressive level of detail and versatility. Her materials and shaping options offer a level of customization that allows her to fit seamlessly into a variety of scenarios. While she shines in a vintage setting, her distinctive features allow her to hold her own in any genre or era. All in all, Saffron is a model that can bring a touch of classic Hollywood glamour to your Daz3D projects.  Let us know what you think of her in the reviews section!