In the ever advancing world of digital art and animation, finding the perfect software to breathe life into your creations is crucial. A leading contender in this space is Daz 3D. Daz 3D is a powerful and easy-to-use 3D software suite that has captured the attention of many artists and animators.
Learn about the free and paid aspects of this powerful platform, its vast content library, and the optional Daz+ Membership that can elevate your 3D projects to new heights. Whether you're a beginner or a seasoned professional, our comprehensive guide will help you navigate the exciting possibilities of Daz Studio. Let's delve into the details!
Daz Studio: The Free 3D Art Playground
Daz Studio forms the backbone of the Daz 3D ecosystem, with a free download offered on their website. The application serves as a solid foundation for generating photorealistic 3D artwork, animations, and even video game characters. It boasts a wide array of tools, including an accessible user interface, lifelike rendering with Nvidia Iray, and a comprehensive collection of ready-made assets to simplify your artistic journey.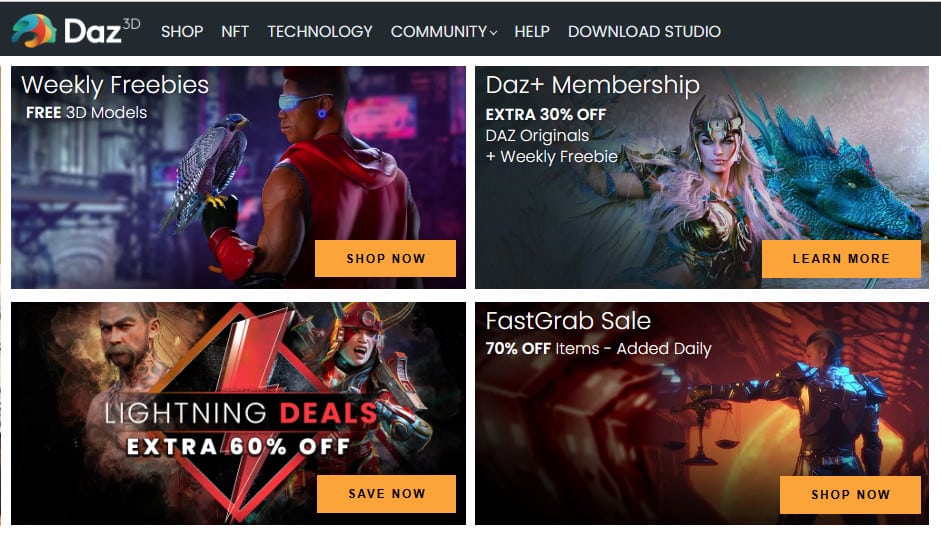 Daz Studio's free edition is not limited in any way—it's a full-featured professional software package with no expiration. This allows users to utilize its capabilities and develop advanced 3D projects without spending a penny. It's an ideal solution for novices exploring 3D modeling and animation, as well as seasoned artists.
The Content Library: A Treasure Trove of Assets
One of the biggest reasons that Daz 3D is so popular is its massive content library. This library has thousands of items, including 3D models, poses, textures, morphs, animations, and more. This vast selection enables artists to personalize their projects and realize their distinct visions.
When you first download Daz Studio you will get lots of free content including base characters, clothing and props for absolutely free! Furthermore each week there are completely free older assets released by Daz 3D that you can simply download. If you want to see what free assets they have available, check out our official free content page.
It's worth mentioning that not all assets are free—while a sizable portion of the content library is available at no cost, many high-quality resources, like premium 3D models and textures, are priced. However, the huge amount of free content is more than sufficient to jumpstart your creative endeavors and produce impressive projects.
Expanding Your Toolbox: Paid Plugins and Add-ons
A variety of plugins and add-ons are available to augment Daz Studio's functionality. These extra capabilities can help improve your workflow and assist in creating more polished and professional 3D artwork. Some plugins enable advanced rendering techniques, while others provide additional modeling tools or streamline the animation process.

Some plugins and add-ons are free to download or already included in the base program. Others carry a price tag. Depending on your requirements and finances, you can opt to invest in these paid features or stick with free alternatives.
The Subscription Model: Daz 3D and the Daz+ Membership
Daz 3D also offers a subscription service called Daz+ Membership. This plan caters to artists seeking to elevate their 3D projects. The Daz+ Membership offers several perks, including:
Many Discounts on paid content, plugins, and add-ons (30% or more off Daz Originals)
Exclusive weekly free products
Access to exclusive Daz Masterclass Courses
10% cloud rendering discount
The Daz+ Membership can be an appealing choice for heavy users of Daz Studio or professional 3D artists who want to maximize their experience. If you opt for Daz+ you have a choice to pay a monthly fee, or go with an annual option that provides even greater savings.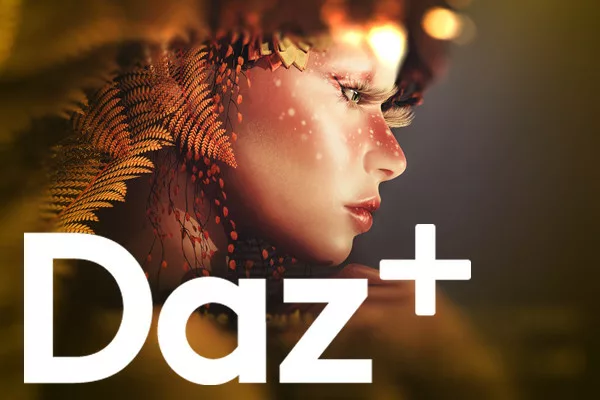 Other benefits include professional artist livestream tutorials. This combined with the masterclass courses means you get access to a large amount of free Daz tutorials and instruction. There is even an exclusive Daz+ members forum where you can ask questions and get advice for your digital masterpieces. You can learn more over at the official Daz site.
The Verdict: Is Daz 3D Completely Free?
So…Is Daz 3D Completely Free? Yes and no! Daz Studio, the core application, is undeniably free to download and use, offering a powerful platform for artists and animators to develop their 3D projects without limitations. Additionally, a generous amount of content in the library is accessible for free, allowing users to employ numerous assets to tailor their projects.
Nevertheless, not all content library assets are free, with some premium items carrying a price. Moreover, while some plugins and add-ons are available at no cost, many advanced tools and features require payment. Finally, the optional Daz+ Membership provides exclusive benefits and discounts for a monthly or yearly fee.
In conclusion, Daz 3D offers a remarkable balance between free and paid content, catering to users with various budgets and needs. Beginners and experienced artists alike can benefit from the free version of Daz Studio and the vast array of free assets available in the content library. As users become more adept and committed to their 3D projects, they may choose to purchase premium assets, plugins, and add-ons or subscribe to the Daz+ Membership to unleash the full potential of Daz Studio.
So, if you're a digital artist, animator, or simply an enthusiast keen to explore the realm of 3D art, give Daz Studio a shot! The free version provides ample tools and resources to kickstart your artistic journey, and you can always broaden your toolkit as your needs and skills progress. Enjoy creating your 3D world with Daz Studio!