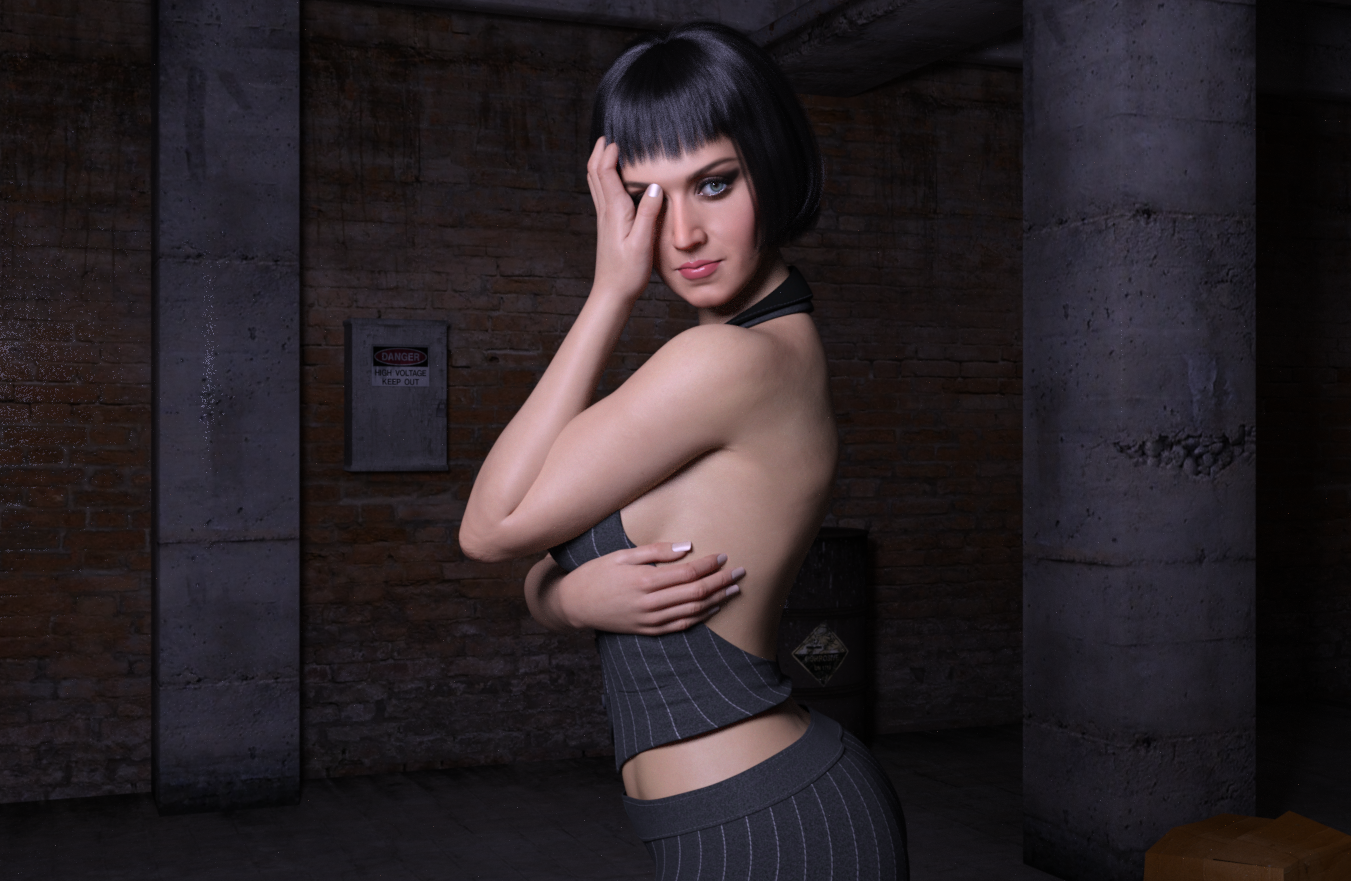 + Click Image to Enlarge
Welcome to our latest creation, "An Enigmatic Beauty – Nicole for G8F." In this image, we've really tried to mix things up by creating a sense of mystery using subtle lighting and careful positioning. We set the scene in the Old Warehouse Room, a cool backdrop that adds a bit of drama all on its own.
Instead of using the built-in lights, we decided to switch them off and use something a bit more special – Paper Tigers Ideal HDRI Lights. We're big fans of these lights because they can make scenes look super realistic. If you're curious about our main character, Nicole, you can find a detailed review of her in our Celebrity Lookalike Database. Enjoy the image and video preview. Get some inspiration and have fun exploring the world of 3D art!
Created Using:
Step into a story of mystery and intrigue with the "Old Warehouse Room" 3D model from Daz 3D. This unique environment sets the stage for your most captivating narratives. The package includes a dirty textured interior room complete with props. For convenience, it includes a full scene pre-load, optimized for both Iray and 3Delight in Daz Studio 4.9. With 34 texture bump maps at your disposal, you're sure to find the perfect look for your project. The Old Warehouse Room is also a part of the thrilling Detective Bundle.
Elevate your 3D characters with a touch of style and sophistication. Classic Bob Hair for Genesis 3 and 8 Female(s) by outoftouch. This high-quality hair package brings a lifelike appeal to your characters, thanks to its detailed 3D mesh composed of numerous small hair strands. It's complemented by 20 top-notch Iray shaders that perfectly respond to your scene's lighting, enhancing the realism of your renders. The popular OOT Hairblending 2.0 is back, offering countless color styles. The package supports several shapes, from Aiko 7 and Victoria 7 to Teen Josie 8 and Monique 8, among others. Includes many styles and a variety of hair textures. Your character's hair will be as dynamic as your creativity allows. So why settle for less when you can have the Classic Bob Hair package? Get it today and let your characters make a bold statement!
Meet Nicole, a stunningly detailed 3D character designed for Genesis 8 Female by Vicey3D. Nicole showcases a unique blend of handmade morphs and textures. This is combined with a distinct face shape achieved through photos and hand painting. She comes with her own Fibermesh Eyebrows and a Real Iris Morph, adding a new level of depth to her striking features. Nicole provides several customization options including multiple make-up, eyelash, and eye colour choices, alongside a comprehensive body texture. Nicole is designed exclusively for Iray rendering. So, if you're looking to elevate your 3D character game, Nicole is a stunning addition that marries realism with beauty. Read our full review of her here.
Unleash the charisma of your Genesis 8 Female characters with the dForce City Seduction Outfit. Crafted by CynderBlue, this enticing ensemble includes a body chain, halter waistcoat, wide-leg pants, sandals, and sunglasses, designed to bring a dash of urban allure to your 3D creations. The outfit is meticulously detailed with 21 texture, bump, and normal maps, and is compatible with a wide range of Genesis 8 Female shapes, with some being supported by auto-follow. Also included are material presets for both Iray and 3Delight renders, offering flexibility for different lighting conditions. Whether it's for a stylish city stroll or a sultry evening engagement, the dForce City Seduction Outfit adds a touch of sartorial elegance to your digital wardrobe. Available exclusively for Daz Studio 4.21 and above, ensure your Genesis 8 Females are always dressed to impress.
Finally, Illuminate your Daz Studio 4.10 scenes with the radiance of Paper Tiger's Ideal HDRI Lights. This set boasts an impressive array of 20 unique HDRI lighting presets. These are designed to lend a captivating ambiance to your renders. The package also includes a special HDRI X-Ray Camera preset, enabling you to light even fully enclosed interior scenes with an astounding level of detail. Complementing these are 7 dome rotation presets, 9 dome intensity presets, 9 point light presets, and 17 point light option presets, giving you immense control over your scene's lighting conditions. Also included are 42 tonemapping presets, 6 promo setup scenes, and 2 render quality presets. Paper Tiger's Ideal HDRI Lights are your ticket to illuminating your 3D world with a level of realism and ambiance that truly stands out.