Limited Time Freebies for July 2023 – Get these while they last!
Welcome to July's freebie collection, we have 11 free items so far this month. There's a nice variety of poses, characters and clothing for the Genesis 2 generation. Our favourite pick so far is the adorable peep toe boots for Genesis 2 Female. We also love the Rustic Living Room. This set has everything you need for a cosy scene, complete with warm lighting to complement the relaxing atmosphere.
To top things off, there is also a rather unusual promotion running this week called "Christmas in July!" There are a few special offers with the main one being an extra 23% off selected items. You can check out all the details of this special promotions at the official site. Without further ado, let's take a look at this months goodies!
*Please note item prices are correct as of the date of this article.
Rustic Living Room
Rustic Living Room by ForbiddenWhispers, is an inviting and homely 3D environment set that brings an essence of comfort to your 3d scenes. With its versatility and complete range of furnishings and decor, this set lends itself perfectly to a variety of scenes. Whether you need a warm, intimate setting for a heartfelt conversation or a comfortable backdrop for a cozy evening drink, the Rustic Living Room fits the bill seamlessly.
The set includes a variety of preset room configurations to help kick-start your creativity. The real charm of this set is in the individual elements – a sofa with pillows and a cute throw, an array of decorative elements including an cosy rug, blanket rack, coffee table, and more. The detail and texture work involved in this set are impressive, with high-resolution textures (up to 4K) ensuring realistic renders every time.
Key Features:
Includes a range of pre-loaded room configurations for quick scene setup.
Detailed individual props such as a sofa, coffee table, and fireplace that can be re-used in any scene.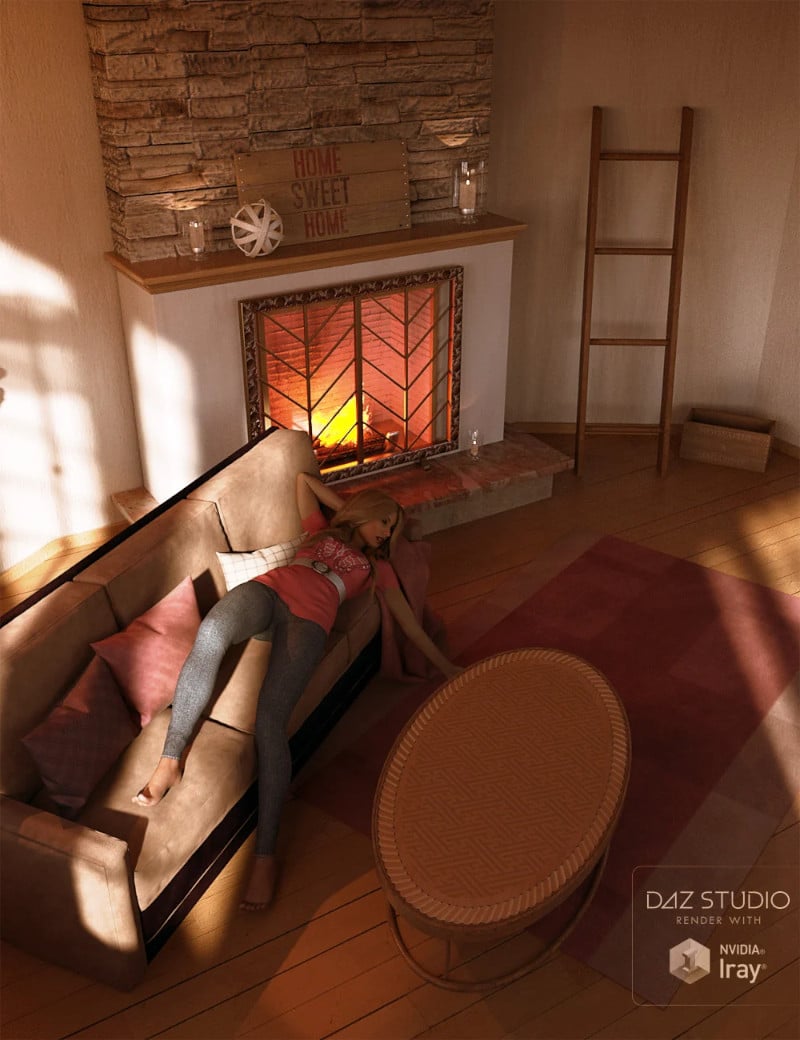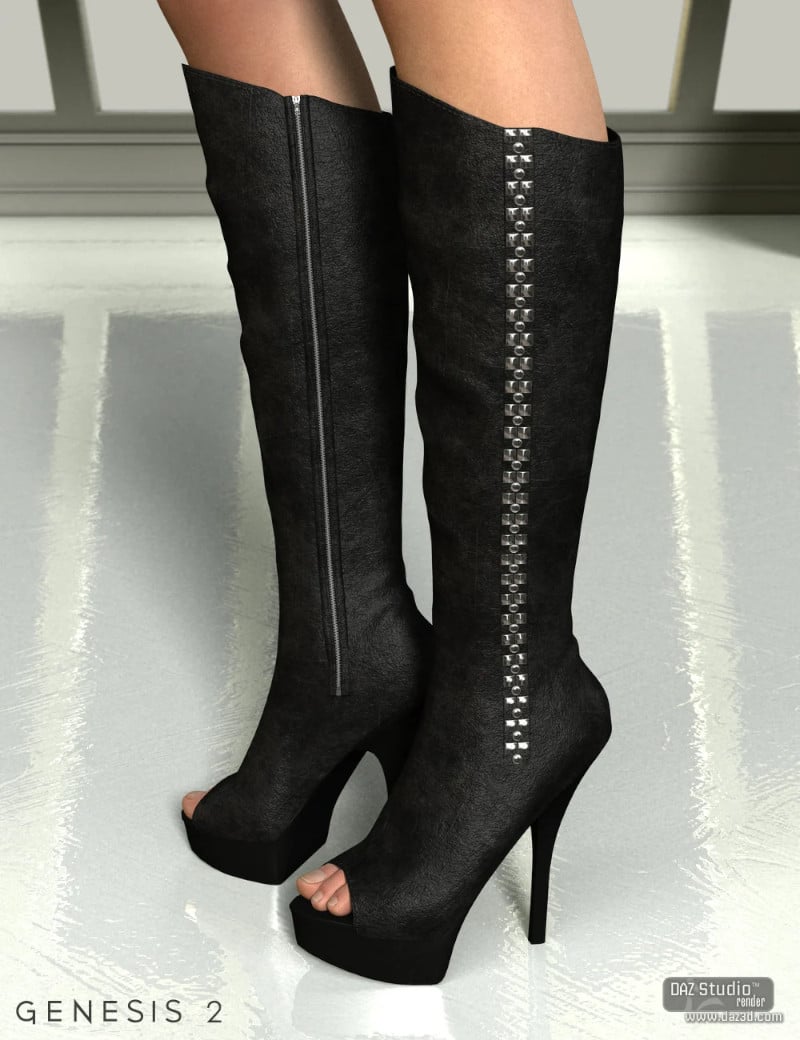 Peep Toe Boots for Genesis 2 Female
Who doesn't love a pair of free shoes? We certainly do! These Peep Toe Boots are a stylish and versatile addition to your Genesis 2's wardrobe. Created with intricate design details, these boots come with 12 vibrant color options, making them a fantastic accessory to add a touch of glamour to your scenes.
The boots feature several adjustment morphs, including options to expand all, raise them higher, or loosen around the ankles and top, allowing for a customizable fit on your Genesis 2 Female figures. We tested them and they easily adjusted to fit most of the popular Genesis 2 Female shapes such as Aiko 6, The Girl 6, Gia, Giselle, Lilith and Victoria 6. The texture and reflection maps are (3000 x 3000) ensuring realistic renders. But hey your getting this for free so just upgrade the textures if you need to!
Key Features:
12 vibrant color options for diverse scene adaptations.
Adjustment morphs for a customizable fit.
Compatible with popular Genesis 2 Female shapes.
i13 Visions of the Past Poses
Created by Daz Originals and ironman13, this is an expansion pack for the i13 Visions of the Past set. It's an enticing array of poses designed for Genesis 2 Females. These 20 poses are elegant and alluring. They are also very unique as you can see from the promo the trumpet player in the promo image! The poses were meticulously crafted with reference to human movement and posture, ensuring maximum realism and giving your renders a dynamic and authentic feel.
This pack also includes two smart-props – a trumpet and a glass, each of which can be smart-propped to the Genesis 2 Female's left and right hands. These unique props and poses elevate add a unique sense of class not always seen in this type of set. While these poses are optimized for the Victoria 6 body shape, they can be used with other Genesis 2 Female figures for diverse and captivating scenes.
Key Features:
Includes 20 unique and dynamic poses for Genesis 2 Female figures.
Two smart-props – a trumpet and a glass – for enhanced scene realism.
4 additional hand poses for use with smart props.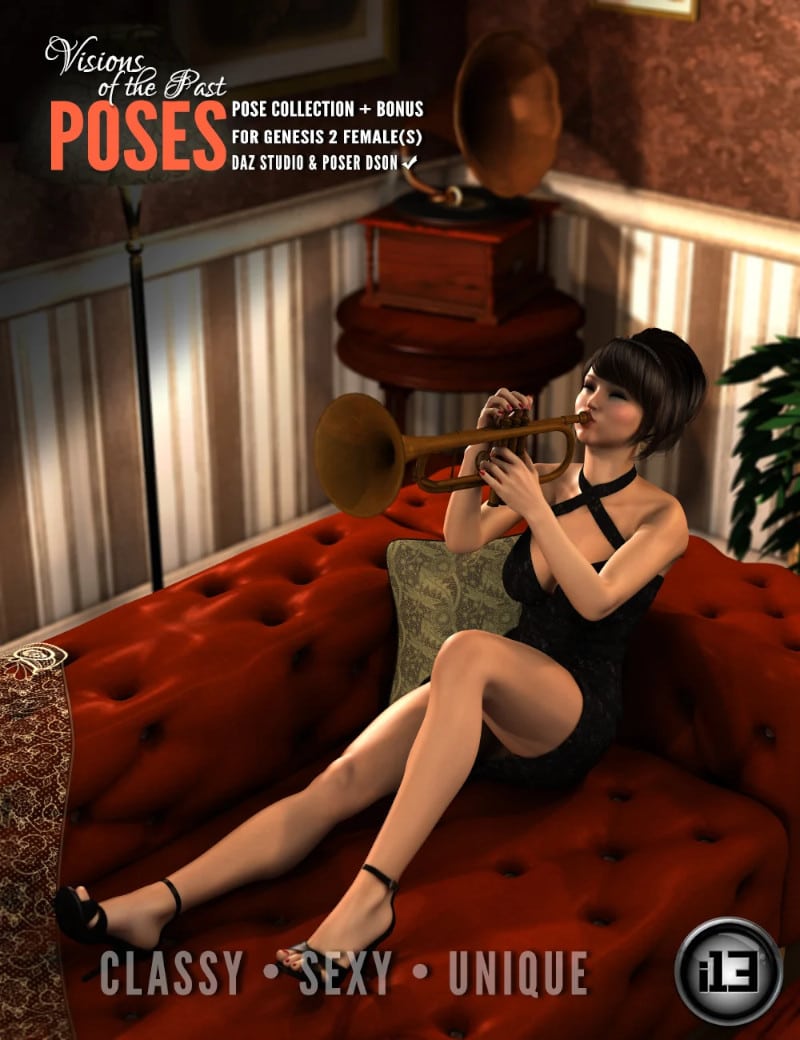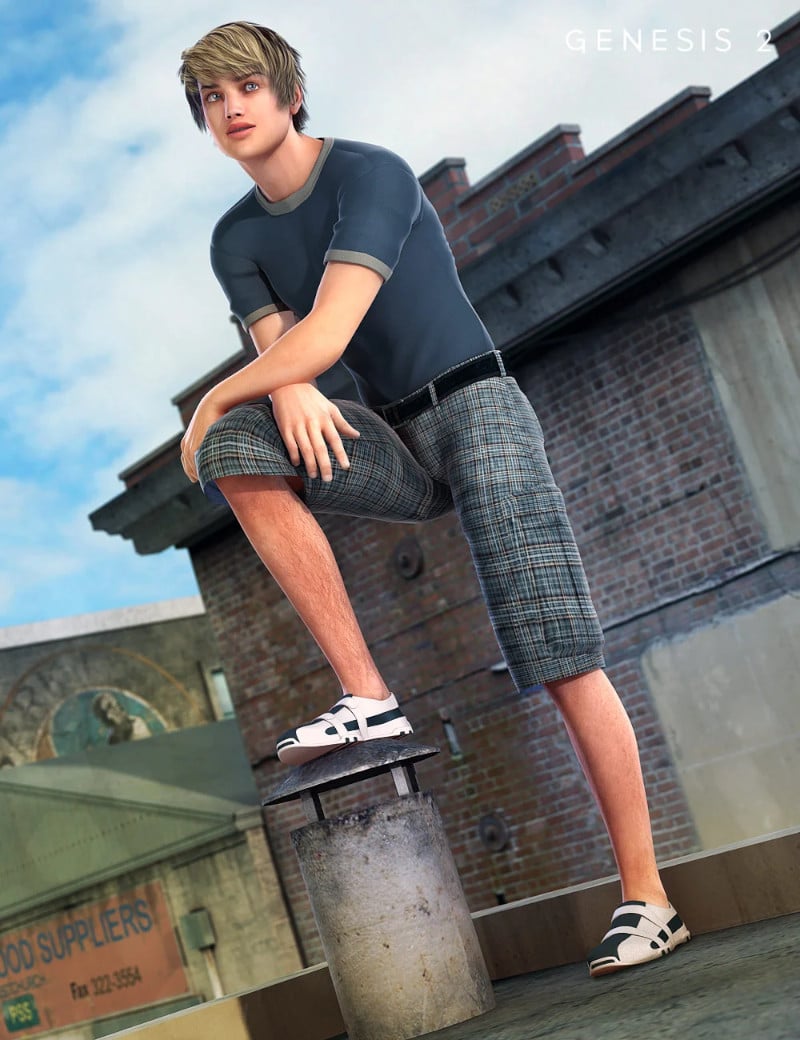 Parkour Wear for Genesis 2 Male
Parkour Wear is a versatile three-piece outfit designed for Genesis 2 Male figures. To be honest this is basically a nice clothing set for G2M and your character doesn't need to be an adrenaline junkie practicing his parkour skills. He could just be a guy enjoying a relaxed day-off in style. Comprising of shorts, a shirt, and shoes, this set offers a stylish and modern look, perfect for a variety of urban and casual scenarios.
Each clothing item in the set features various adjustment options for a more personalized fit. The shorts and shirt come with options to loosen the waist from the front, back, or sides. The shirt also has variations to wear it over the shorts or tucked in, with an additional long version. This set supports all the popular Genesis 2 Male shapes and even more with Auto-follow.
Key Features:
A versatile three-piece outfit perfect for both action-packed and casual scenes.
Adjustable options for shorts and shirt to ensure a personalized fit.
Compatible with a wide range of Genesis 2 Male shapes.
Sweet Flower Hair
Crafted by Daz Originals, the Sweet Flower Hair is a charming and delicate hairstyle designed exclusively for Genesis 2 Female figures. Whether you're creating a fairytale princess or a trendy teenager, Sweet Flower Hair adds a touch of whimsy and femininity to your scenes.
The product comes packed with a host of style and movement morphs, allowing you to customize the hair's look to suit your creative vision. From adjusting the length and fullness of the hair to manipulating how it spreads or swings, you have complete control. Additionally, this hairstyle also offers fix morphs that ensure the hair fits perfectly around the head, cheeks, and shoulders of your figures. To further enrich your renderings, the package comes with 18 different hair color options. If you want to be a daz professional, we have a detailed tutorial on how to add dForce physics to any hair prop. All colors are complemented by high-resolution texture, bump, specular, and transparency maps for added realism.
Key Features:
Youthful hairstyle designed for Genesis 2 Female figures.
Numerous style and movement morphs for full customization.
18 diverse hair color options with high-resolution texture maps.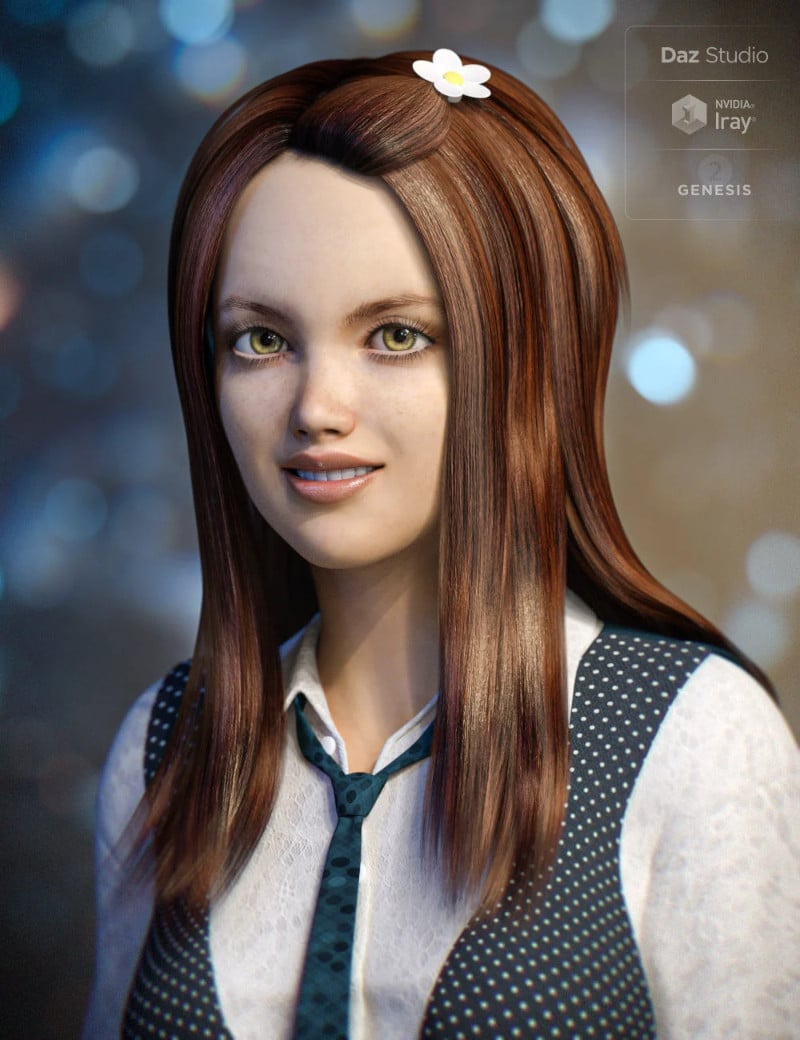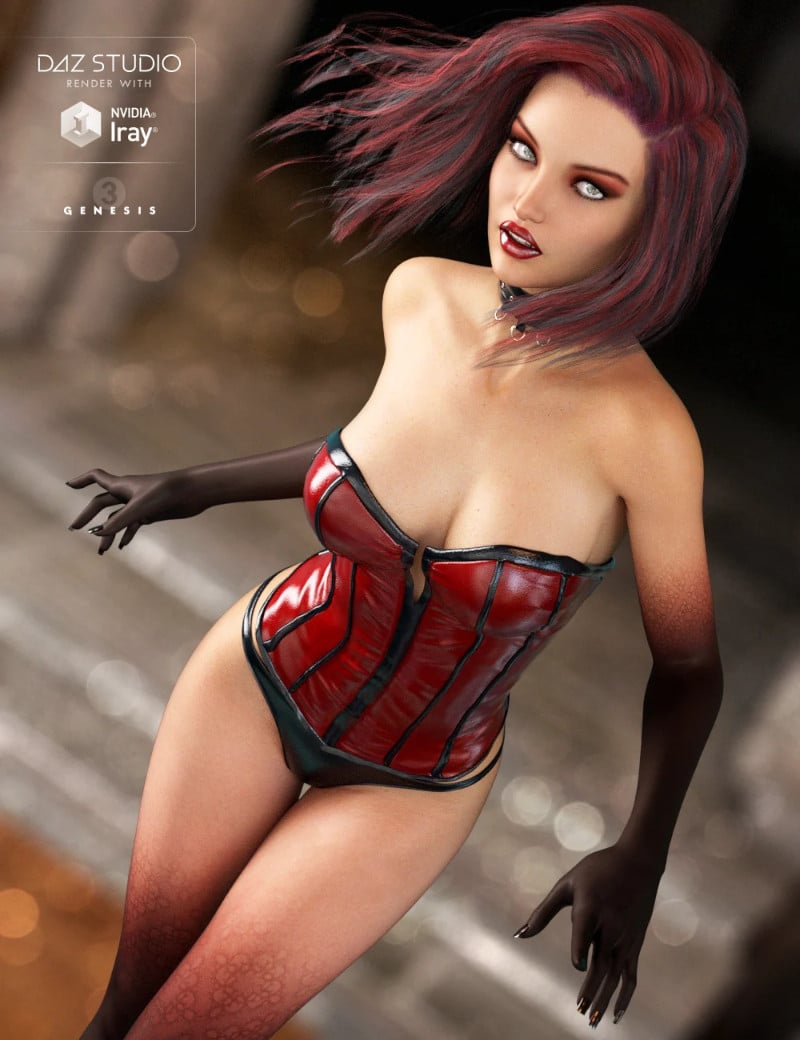 Vyria for Arabella 7
Vyria is a bespoke character designed specifically for Arabella 7 and is compatible with Genesis 3 Female figures. This positively evil creation is a figure shrouded in eternal darkness and allure! Her distinctive features include custom sculpted HD Head and Body morphs, which offer a highly detailed look. In addition to her seductive form, Vyria boasts a custom HD Fang morph and a bare fangs expression, giving her a vampire look. She also comes with a sexy pout expression, square and stiletto nail shapes, and a selection of make-up, lips, and eye color options.
Adding to her appeal, Vyria is adorned with 6 painted arm and leg lace textures, transforming her into a truly one-of-a-kind character. Her skin, based on Genesis 3 Female Base UV maps, was painstakingly crafted from high-resolution photos, ensuring the highest possible quality and realism. The product package includes various Material Options and Texture maps for the utmost customization and fine-tuning.
Key Features:
Custom HD Head and Body morphs for Arabella 7.
Custom HD Fang morph with a bare fangs expression.
Square and stiletto nail shapes.
Letizia for Lilith 6
Designed by Daz Originals and Raiya, the "Letizia for Lilith 6 Texture Set" is an nice free add-on for your Lilith 6 character, giving her a fresh and vibrant look. Our impression of Letizia was that she's more of a calmer version, less brooding version of Lilith 6!
The texture set offers a delightful range of 5 distinct make-up options, 4 eye color options, and 3 eye reflection choices, giving you the freedom to experiment with an array of visual aesthetics. You can also choose between long or natural lashes, and black or natural nails, bringing out the versatility of the Lilith 6 figure. The textures included are of superb quality, ensuring that your character looks fabulous in any light. The fact that this product uses Lilith 6 UV Maps further assures consistency and quality.
Key Features:
High-quality texture set specifically designed for Lilith 6.
Compatible with a wide range of software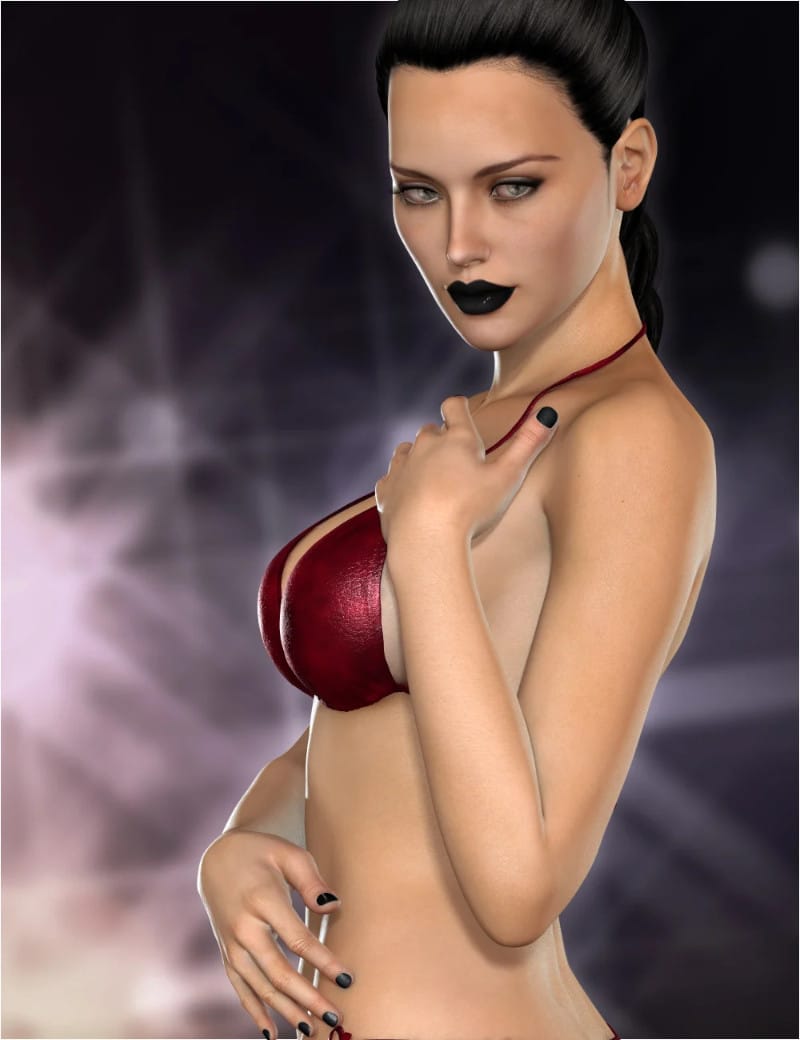 More July 2023 Freebies from Daz3D.com: