Today, we went on a hunt to find the very best lion 3d models for daz studio. Here are some FIERCE yet beautiful Lion 3d models by daz studio artists, along with tips on how to pose them. These 3d models are great for rendering photorealistic felines in daz studio and poser so enjoy!
Felidae by AM – Lion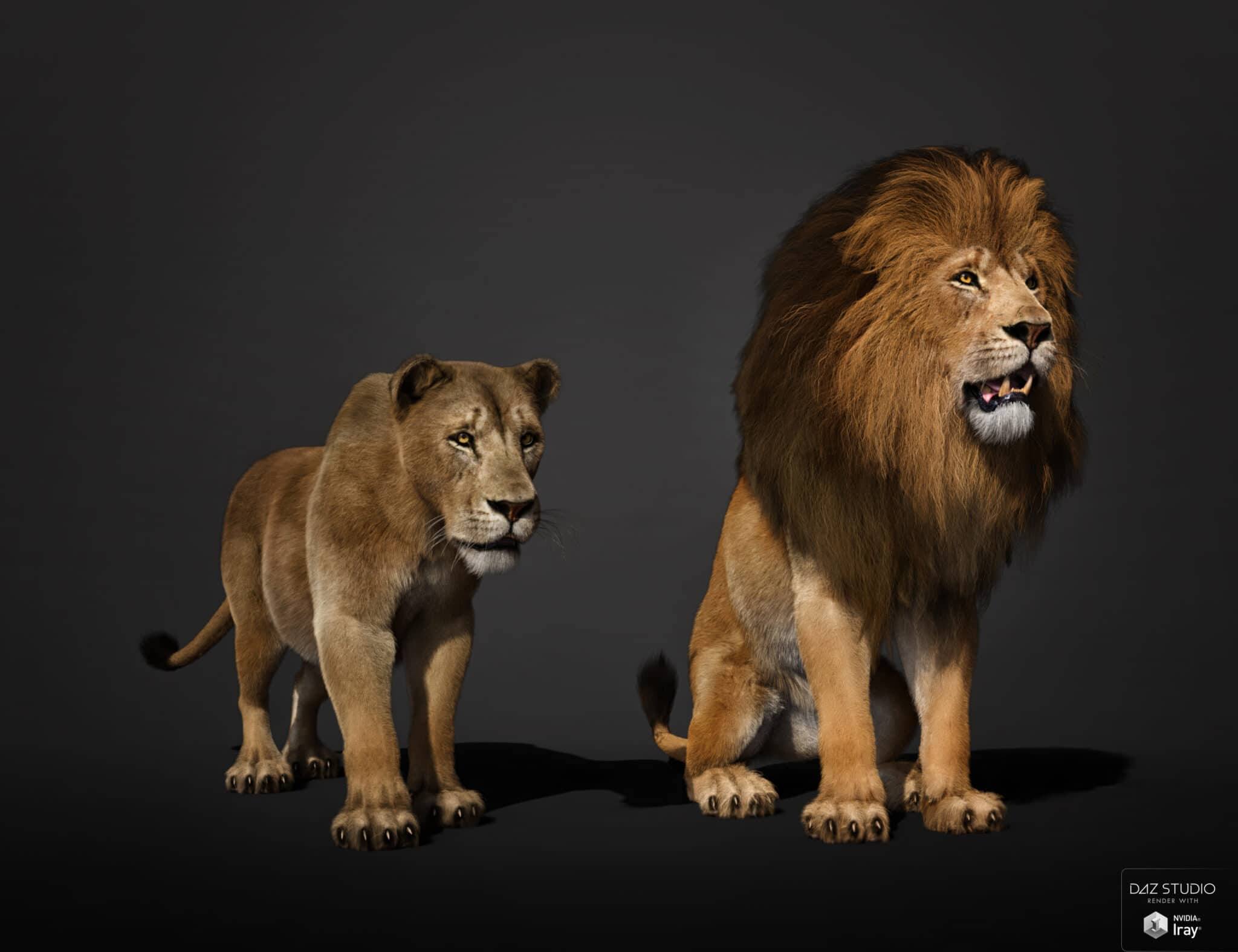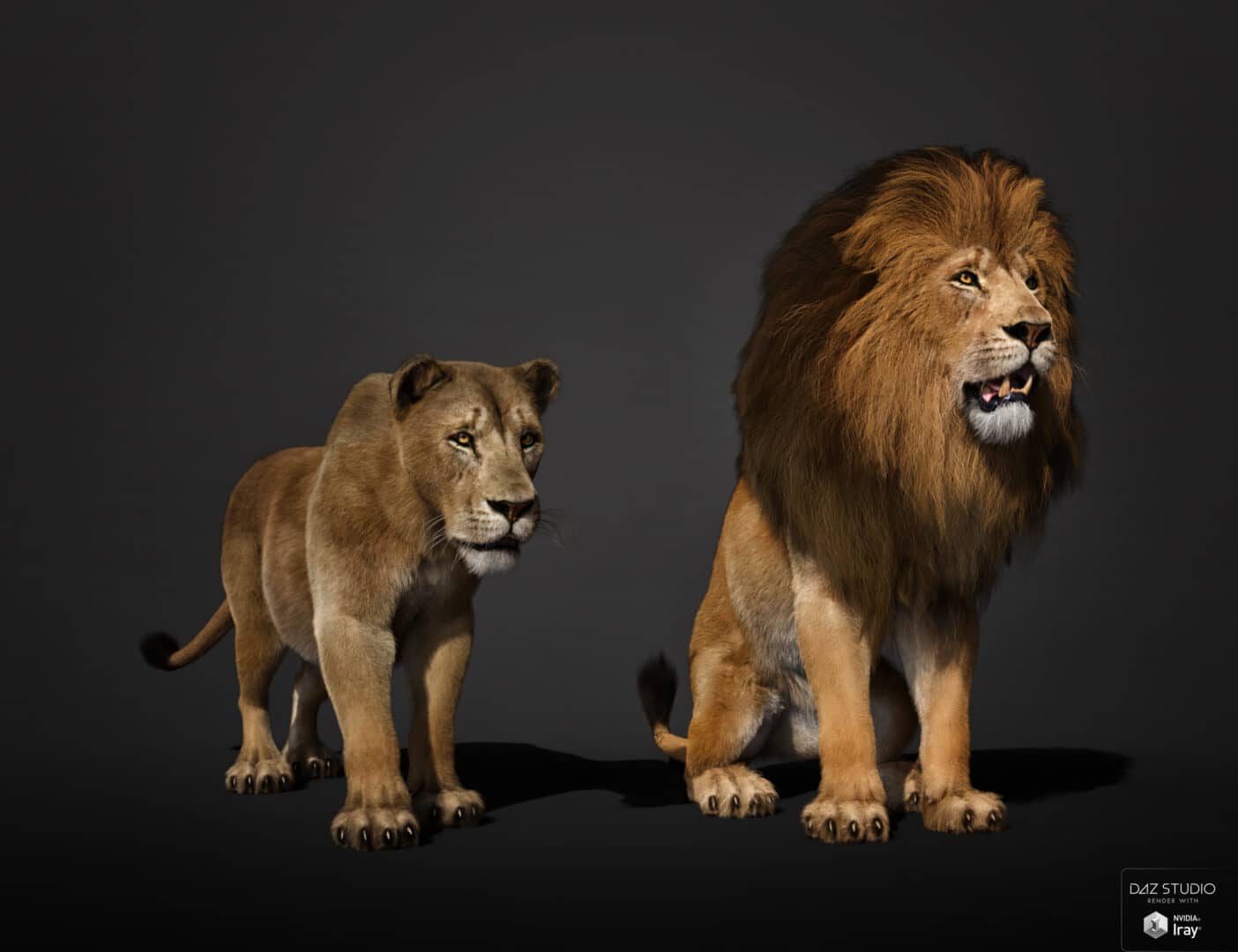 This daz studio lion is a truly majestic beast! You get a highly detailed male lion and female lioness included. The artist (Alessandro_AM) really took their time to make the big cats look as realistic as possible. We took a few test renders with Iray and were amazed at the photorealism of these wild beasts! This set has many poses, morphs, and settings that you can use to customize your scenes to suit your exact needs.
Each model has an impressive number of morphs which allows for a wide range of actions, emotions and expressions. Running, walking, roaring, sleeping, pouncing, jumping, or attacking, postures are just a few of the fantastic poses that are included.
The geometry is highly detailed and the mesh has many levels of subdivision which you can reduce in daz studio to get faster renders (optionally).
Iray and 3Delight are both supported. For use with Iray Figures, version 1.8 of Catalyzer is required. Includes 18 textures, bump, glossiness and roughness maps (4096 x 4096). The model also include 148 joint control morphs, pose controls: left collar up; right collar up; snarl – A; Left and Right; snarl – B; Left and Right. There are also poses: attack 1, attack 2, cooling down 1, cooling down 2. And finally there are textures which include 18 textures-bump-glossiness-roughness maps
Felidae is definately one of the best daz studio lion 3d models available!
HiveWire Lion Family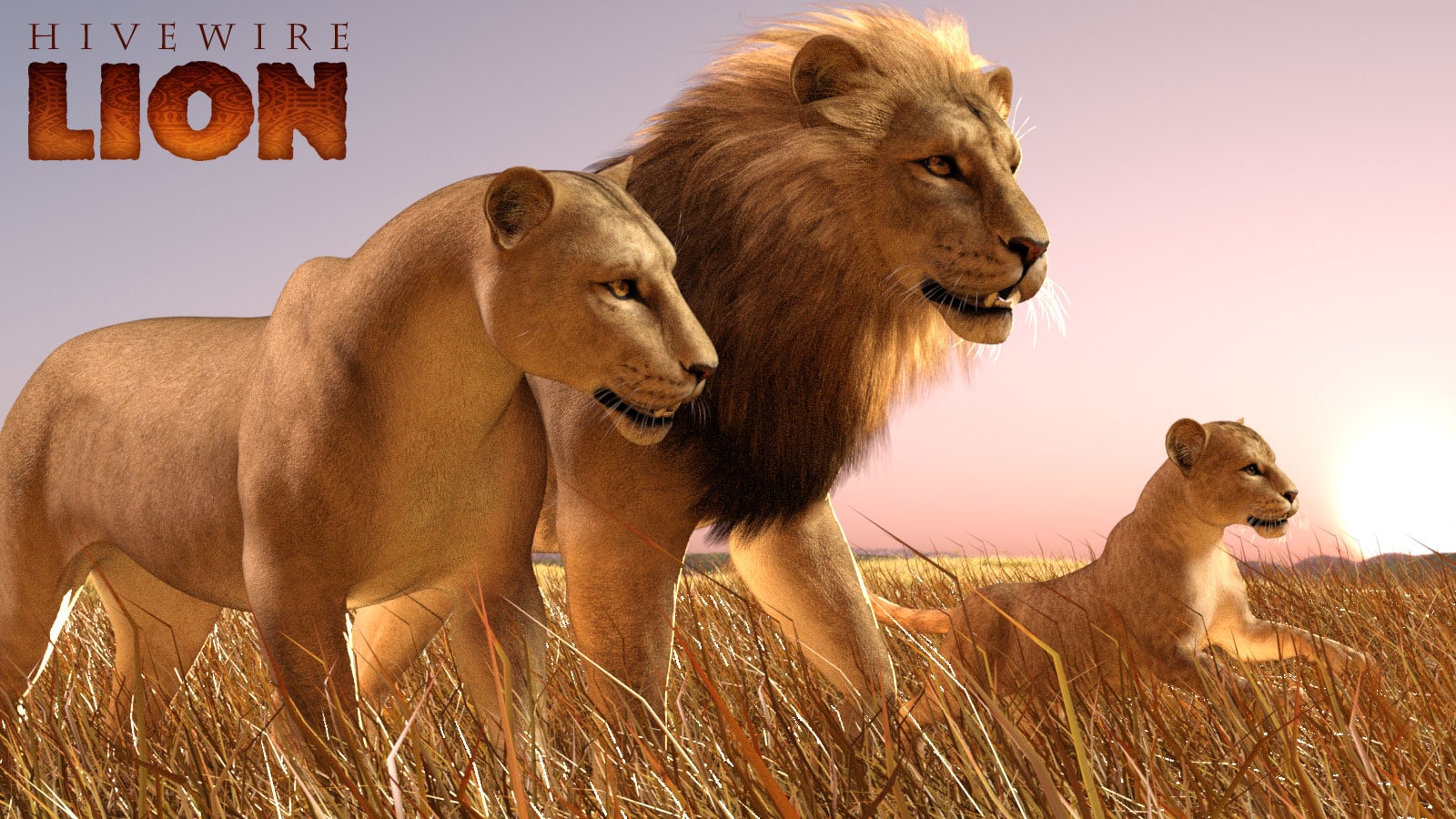 The HiveWire Lion Family pack brings you the most complete collection of realistic lions for your Daz Studio scenes. HiveWire3D has created both a lion and lioness model with multiple resolutions, head morphs, fur mats and more! With this set, you will have everything you need to create beautiful lion scenes. Best of all, the lion models are available for Poser too and include superfly mats!
One of the striking features of this pack is the highly realistic lion hair, mane, tail hair and elbow hair, with 9 poses for each of the King and Queen.
The included models consist of the Lioness, King, and Queen of the Beasts. There are also pose presets for each type of animal. This includes three different sizes of lions, all with various different poses. The materials also come with two high resolution texture maps that can be changed as needed.
Felidae by AM – Kimbo the Lion Cub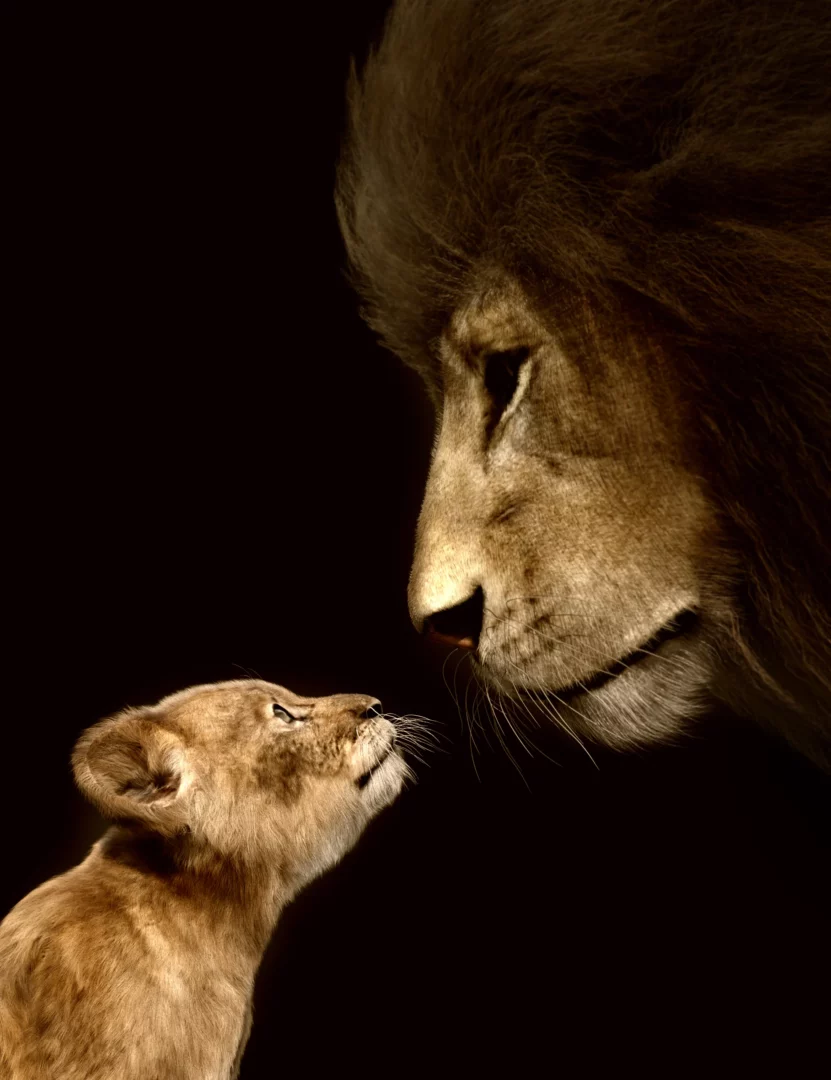 Kimbo the Lion Cub is an adorable, lifelike 3D model of a young lion cub. This gorgeous lion cub is around 8-10 weeks old. Kimbo comes with several morphs, poses and settings to customize the eyes, fur, face, body etc. It can be resized in any way you want and has no restrictions in regards to morphing/ posing.
Overall It is a very well-made and detailed lion cub model, you could even use it as a designer kitten!
Iray and 3Delight are both supported. For use with Iray Figures, version 1.8 of Catalyzer is required.
Scene, including light settings, is included.
Wild Poses for Felidae Lion 3d Model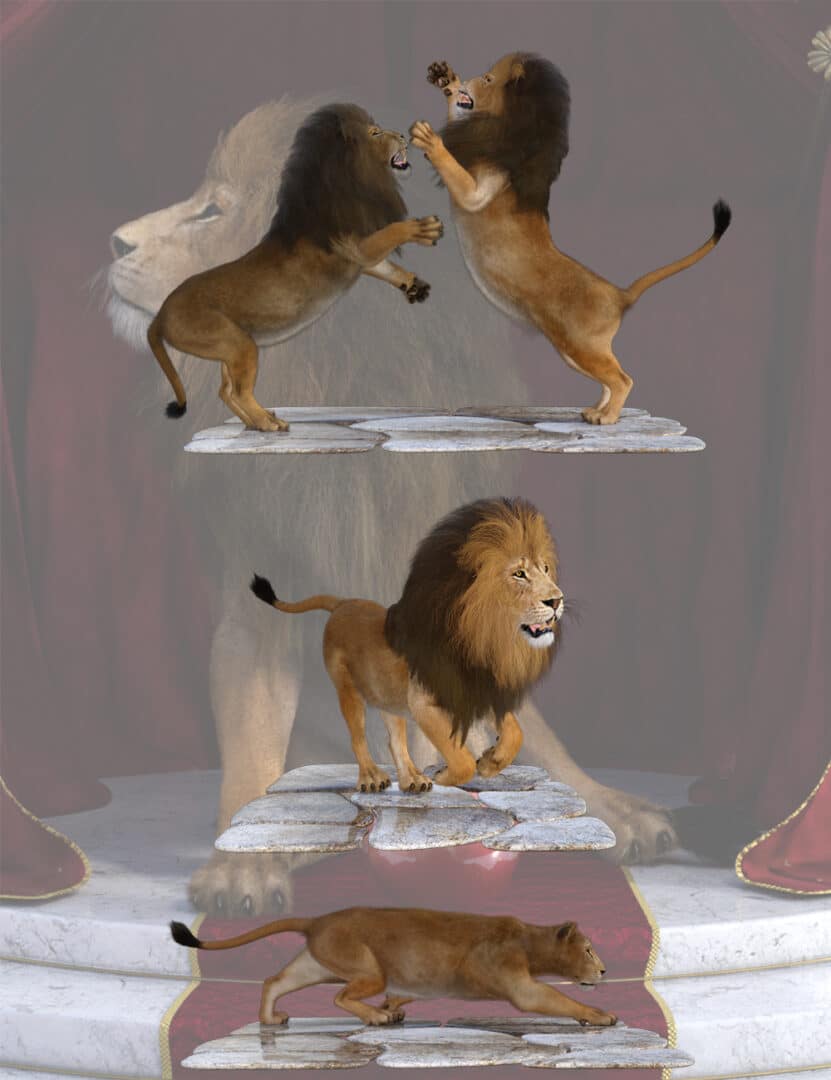 Looking for some awesome poses for the Felidae Lion? Well, you are at the right place. Wild Poses For Felidae Lion are a set of 20 awesome lion poses that will make your renders ROAR off the screen!
With these poses, you can create an amazing scene with ease. These wild and fierce poses are perfect for any project you have in mind. They're also great if you want to show how powerful this animal is. And they're easy to use too! Simply load up one pose and then copy it into another pose slot or layer, then edit as needed. You'll be able to create scenes like never before with these stunning poses.
Felidae by AM – Lion – dForce Addon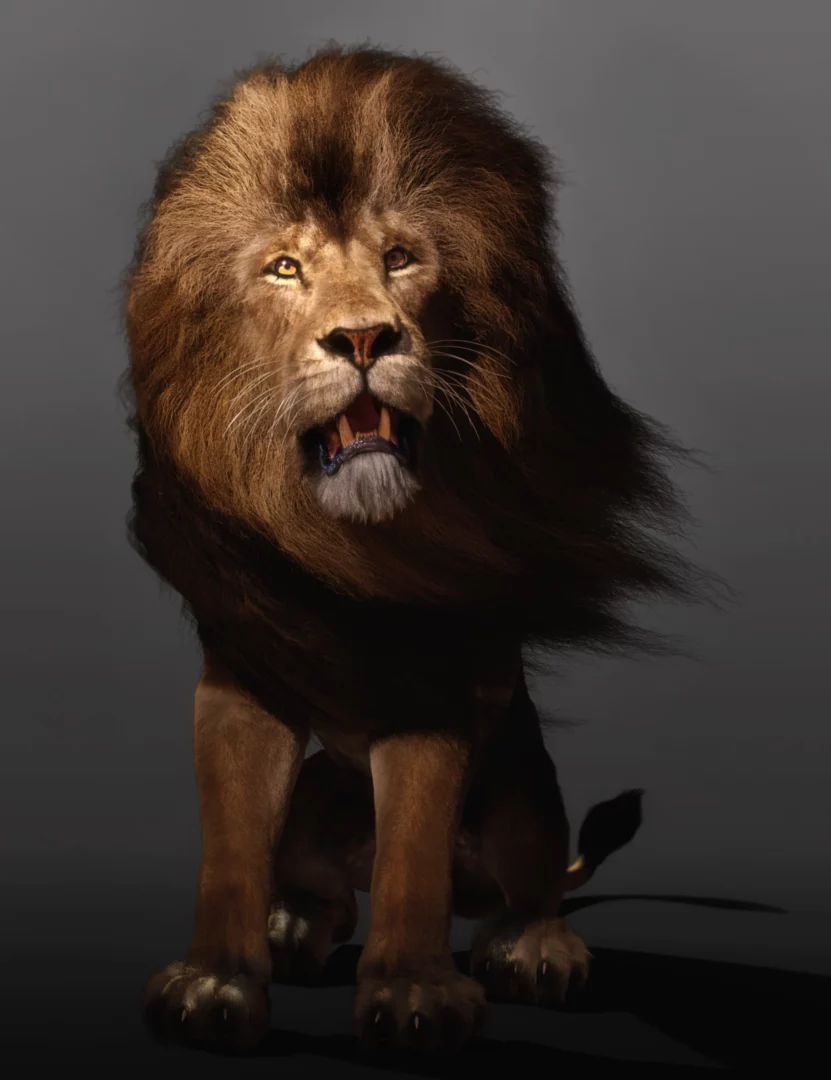 Lions are the king of the jungle and deserve only the best renders! This dForce addon will allow you to simulate a lions mane blowing in the wind and much more. Whether you want a fierce predator or an elegant beauty on your next project, this addon will make your renders awesome!
The pack includes a variety of hair colors as well as a variant for a female lion. There are also two different colorschemes available for these lions for added variety. This means that you'll be able to render your scenes in more detail as well as allow for variations between animals without having waste time setting up new scenes.
CWRW White Lion for the HiveWire Lion Family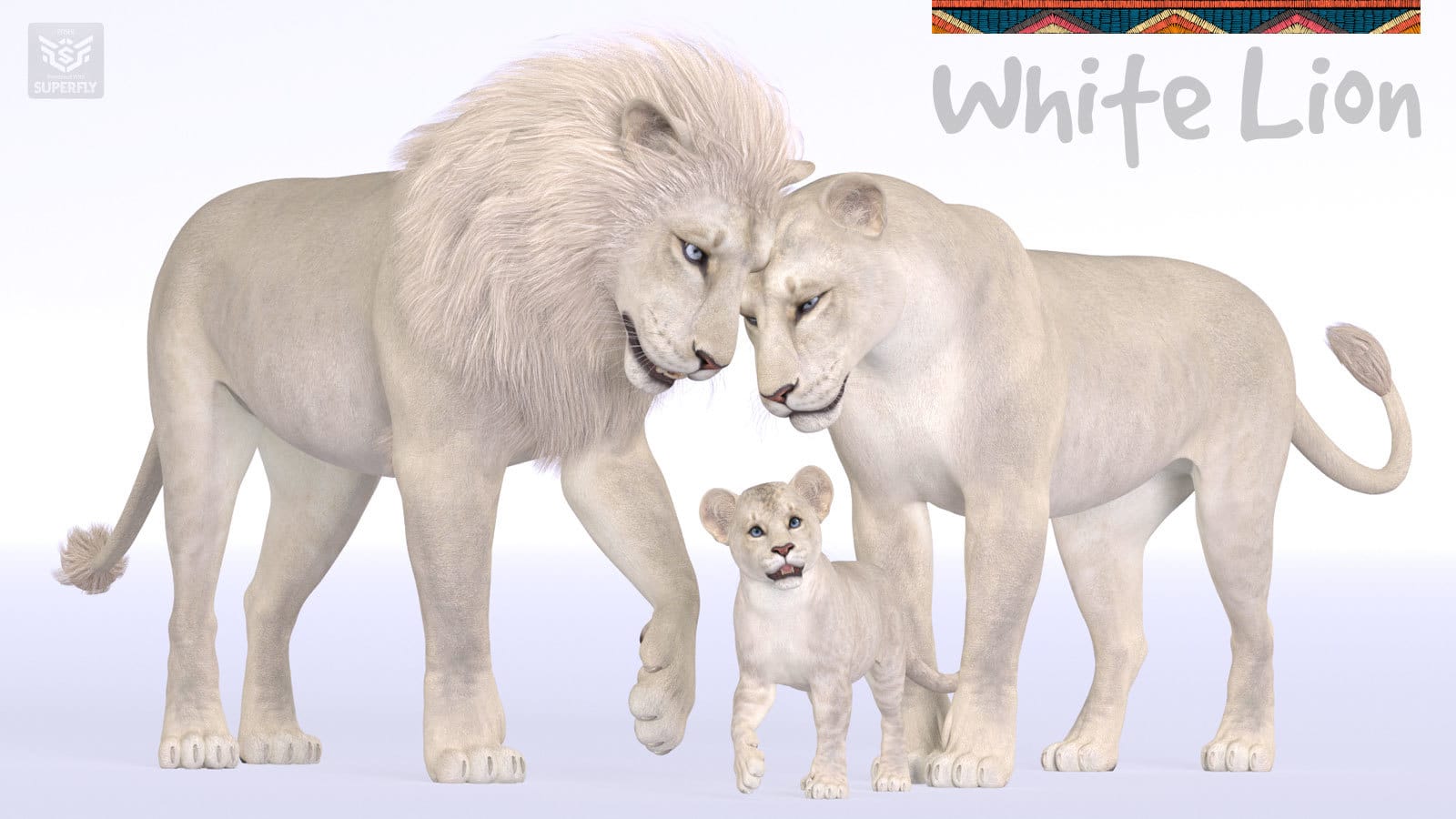 Have you ever dreamed of owning a white lion? I know that at least since the middle ages people have been fascinated with this rare creature. If you want to make your Daz Studio renders more lifelike, get your hands on this set of detailed textures for White Lion Family. White lions are the result of a natural genetic mutation. Every white lion in existence is descended from just one white male ancestor, making them unique. They're found in South Africa (in Timbavati Game Reserve) and Zimbabwe (in Mana Pools National Park).
Of course owning a white lion, even if it's only virtual, isn't very legal! The next best thing is owning this set of detailed high res textures for the hivewire Lion Family, for use in Daz Studio and poser.
Hivewire3D is a 3D modeler known for his extremely high quality models and this pack of textures is no different. The amazing attention to detail is evident, with a lot of thought going into the natural variations between each animal. The Lion Family has been carefully modeled and textures to give them a realistic look & feel.
Each model can be used as a prop or as a mascot for any type of project that might require an African theme! Using this pack in Daz Studio or poser, you can mix and match the various textures to achieve whatever look you desire. You can also render them with Iray for incredible results.
This amazing 3D modeler works hard on his products, and it shows in the quality. Check them out here: Best Lion 3d Models [2021] for Daz Studio by Hivewire3D.
Thanks for reading, If you're looking for more dangerous daz studio animals, check out these wolves!