April 16th, 2023
If you need help finding wolf models for Daz Studio, look no further! We've compiled a list of the best Daz3D Wolf models available. We've even included some interesting werewolf characters if you are creating horror renders! Enjoy taking a look at our rundown of the best Daz3D Wolf models below!
Dire Wolf for Daz Dog 8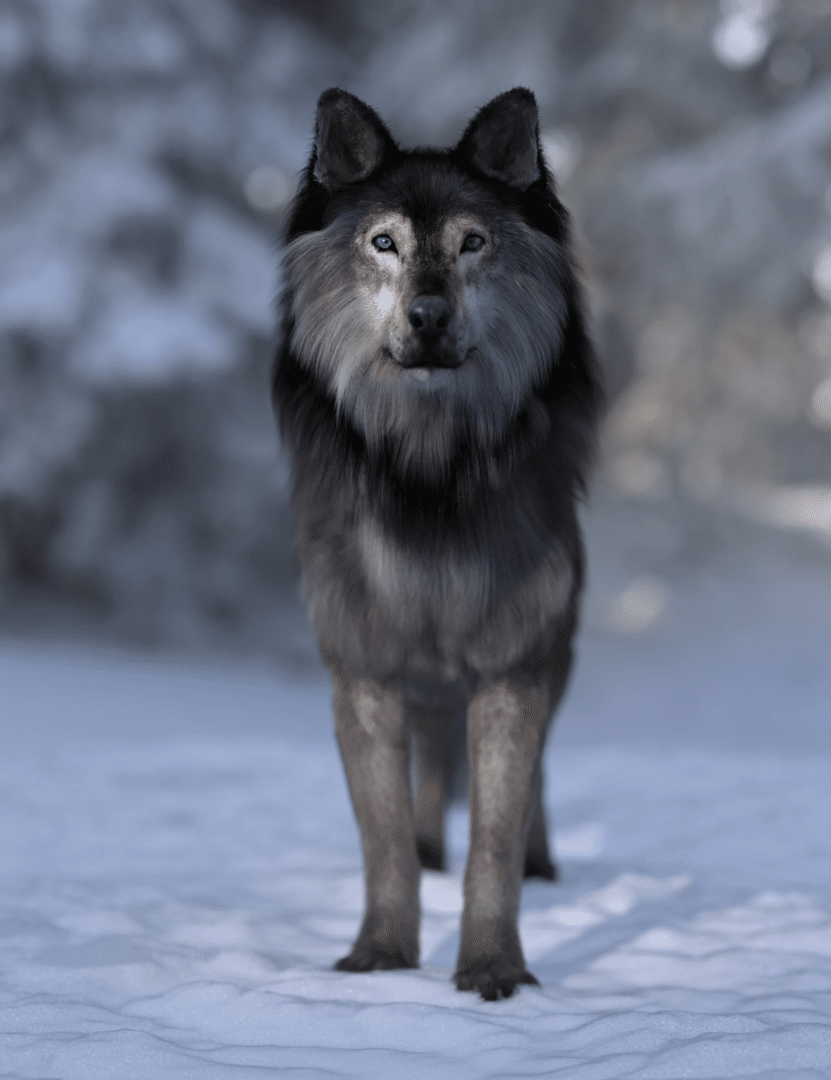 Lets start off with one of the most gorgeous 3D wolf models that we found. Dire Wolf for Daz Dog 8 is a spectacular creation. This dire wolf model comes in a variety of fur colors, including Black, timber and white. If you want to create a more realistic look when adding fur texture to wolf models in daz3d, this fur is dForce compatible. If you haven't used dForce before, it allows you to simulate physics and makes the fur look incredibly realistic in Daz Studio renders.
Addons for Dire Wolf
There are also a number of excellent addons available. Dire Wolf Animations for Daz Dog 8 and Genesis 8 allow you to bring the character to life with stunning realism. These animations range from sitting and walking to growling and howling. There are also poses that interact with Genesis 8 such as licking or whistling for the wolf to approach.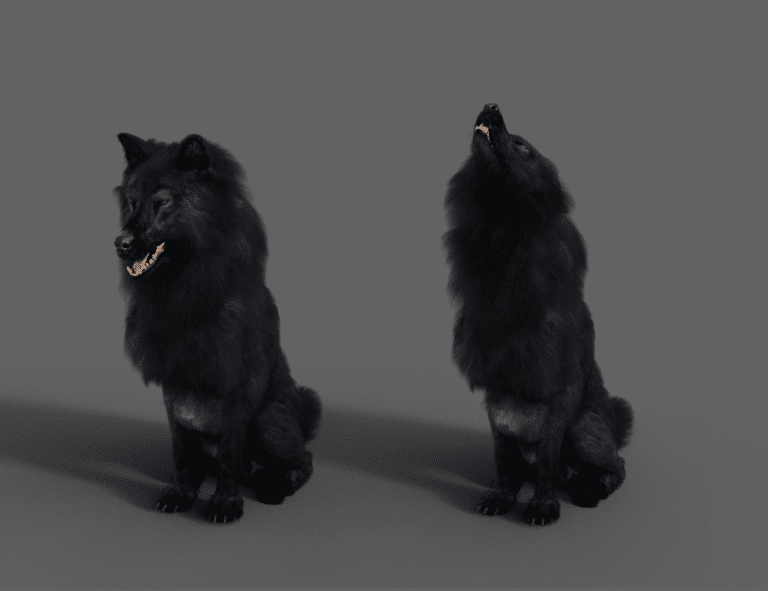 If you need even more content, the Alpha Poses for Dire Wolf pack contains detailed poses such as running, jumping, attacking, yipping, and howling. We created some excellent test renders in Daz Studio with these poses. We counted at least 20 poses in this pack and there is also the option of customising and merging poses to fulfil almost every wolf need possible!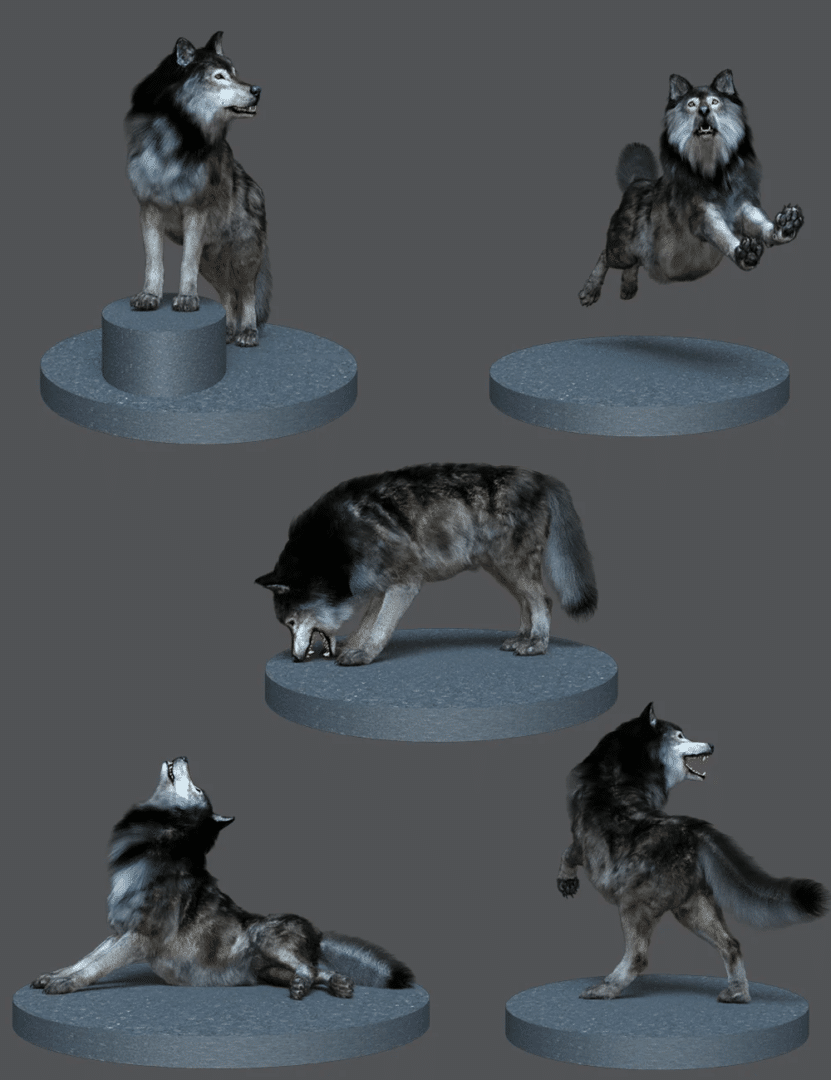 Wood's Soul Poses for Dire Wolf is the newest pose pack available for Dire Wolf. This pose pack includes 20 playful and defensive and poses. As you can see from the image below, they are very realistic and bring a lot of drama to scenes. Also, they interact well with the Alpha pose set. Wood' Soul poses work great in fantasy scenes too. The artist has captured the spirit of a guardian wolf protecting nature and it's habitat perfectly.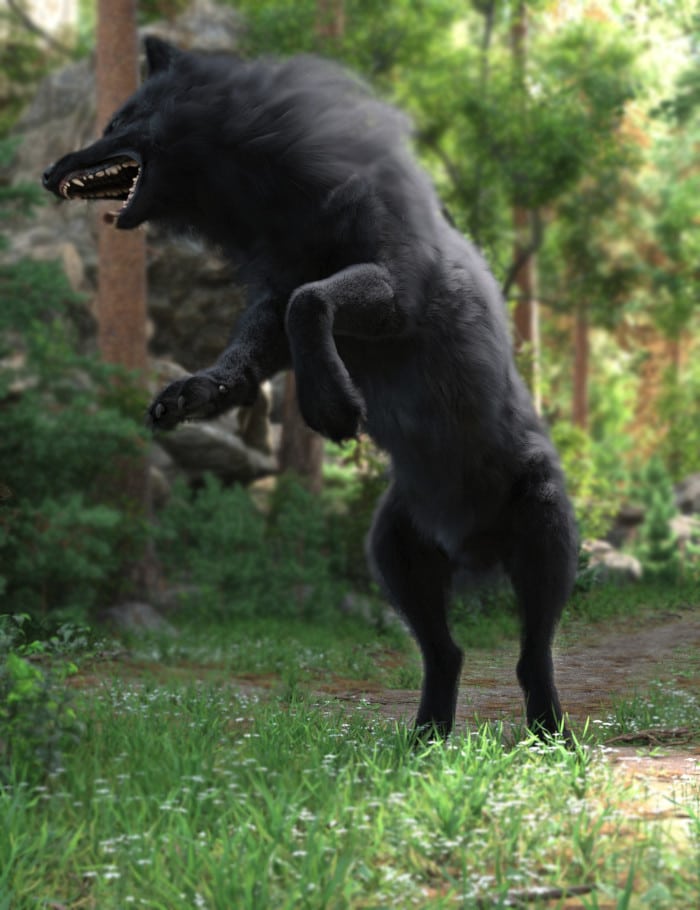 Grey Wolf for Daz Dog 8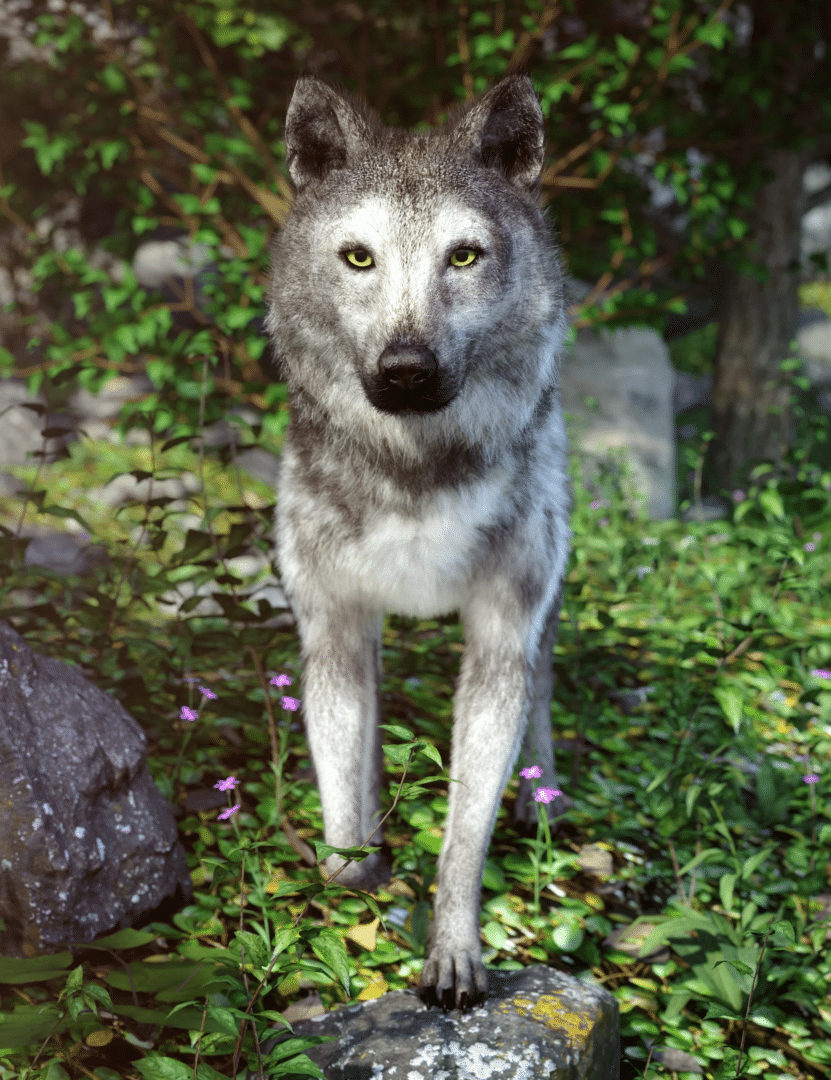 Here is another addon for Daz Dog 8. A big question when rendering animals or furred creatures in daz3d, is how to get photorealistic results. You might be asking yourself, how do I get fur on my wolf to look realistic? Well this Wolf model features dForce fur and a hair density setting. As far as Grey wolf models go, this one is superb and looks incredible when rendered in any forest scene. The model includes full Iray materials and rendered very fast in a variety of settings within Daz Studio.
GP Zombie Dog for DAZ Dog 8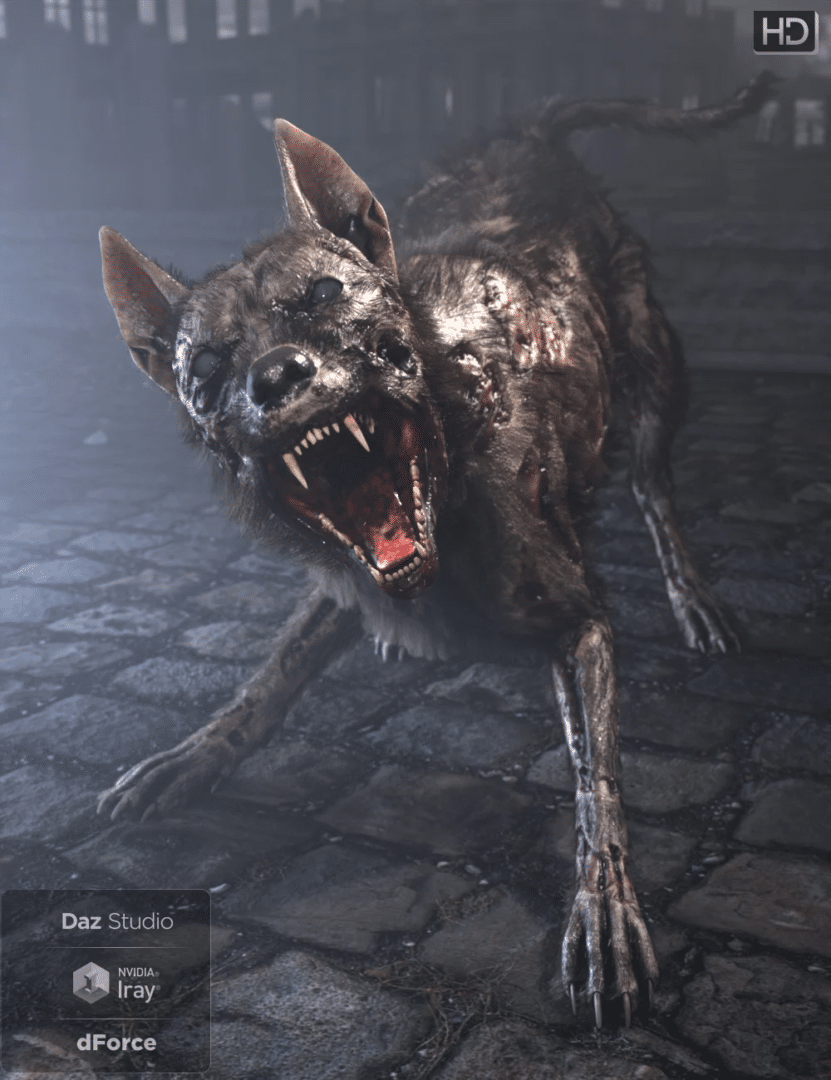 This is one horrifying creation! GP Zombie Dog is quite terrifying to render! The detail of the character is brilliant, from the dead eyes to the necrotised flesh. There are morphs to control the iris along with 6 eye presets and 2 fur colors. The fur is also dforce compatible so your render will look superb! If you want a detailed guide on how to apply dForce to your scenes look out for our in depth tutorial coming soon! Another nice addition to this character is that they included 6 poses that really showcase the ferociousness of this wolf hound!
Warg HD for Daz Dog 8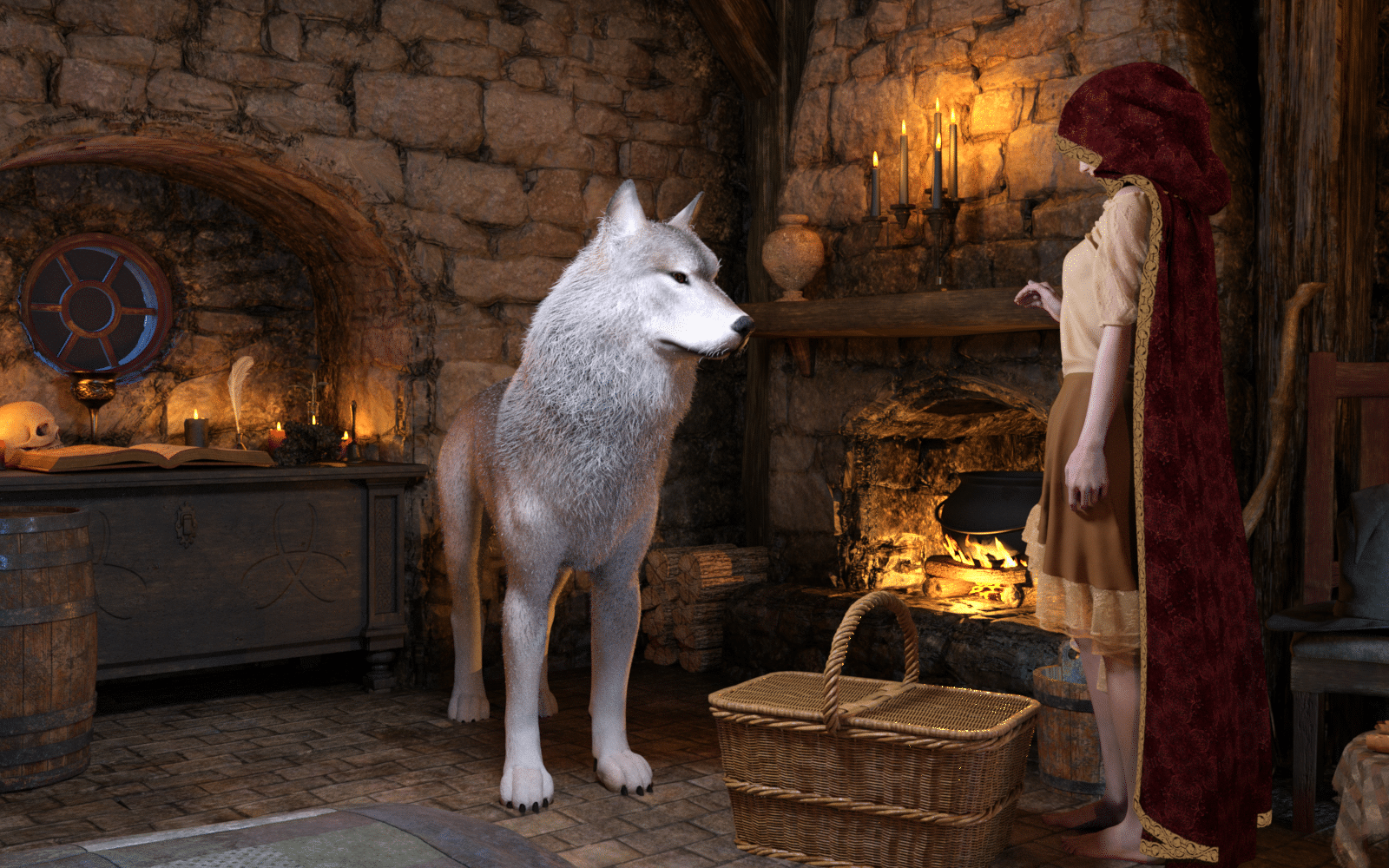 This is one of our favourites! Warg HD is a wolf morph created for Daz Dog 8. This character includes some interesting features and looks perfect in fantasy art renders. There are many fur options available that allow you to change the length and color. Also if you have other Daz Dog 8 characters, you might have asked the question, "using daz3d how do I get fur on my wolf or other dog models?" Well thankfully this character includes a fur geoshell that can be used with other Daz Dog 8 characters!
There are also size options to make the wolf morph much larger than regular dog size. These look perfect in fantasy art! There are other shapes too. If you want to create an aggressive pack of wolves there is the sinister Warg shape and 12 others that can be blended together. Finally if you want piercing glowing red eyes or classic wolf shine there are options for that also.
Werwulf for Genesis 9
If you need a were wolf for your horror scenes here is the latest and furriest monster built for Genesis 9! One of the standout features of this character is the level of variation you can have in your artwork. You can choose between full, thin and even bold fur options. Yes thats correct. We said bold. This makes it an excellent choice for fantasy, horror and even sci fi renders and animation.
The fur is dForce and available includes high resolution textures. This really makes for some beautiful effects when rendering windy forest scenes. The skin is also using the latest daz PBR shaders. Overall a superb character! Please not that wefwulf requires Genesis 9 Body Shapes.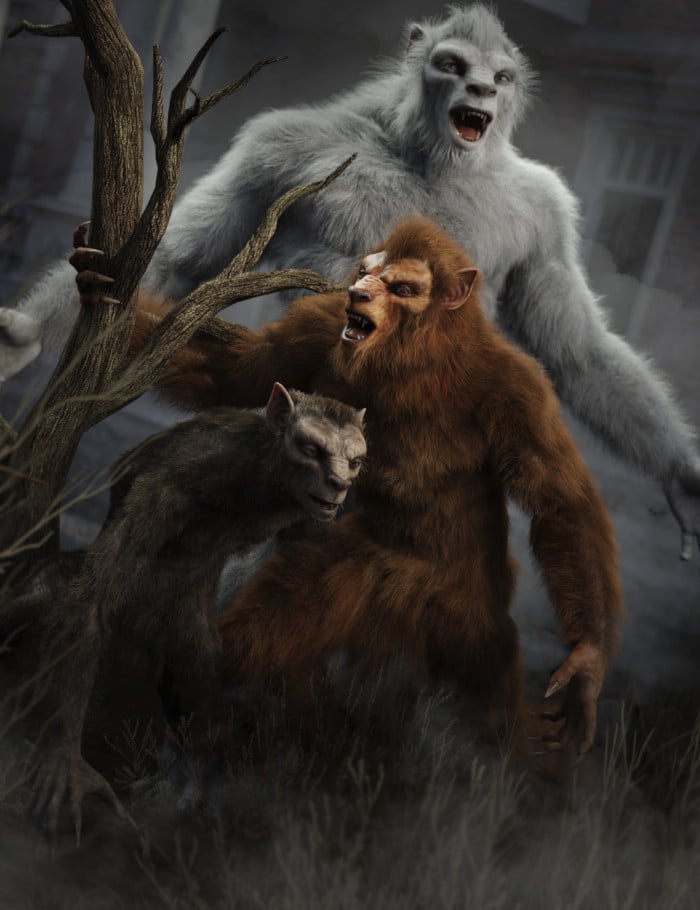 WolfBeast with dForce Hair for Genesis 8 Male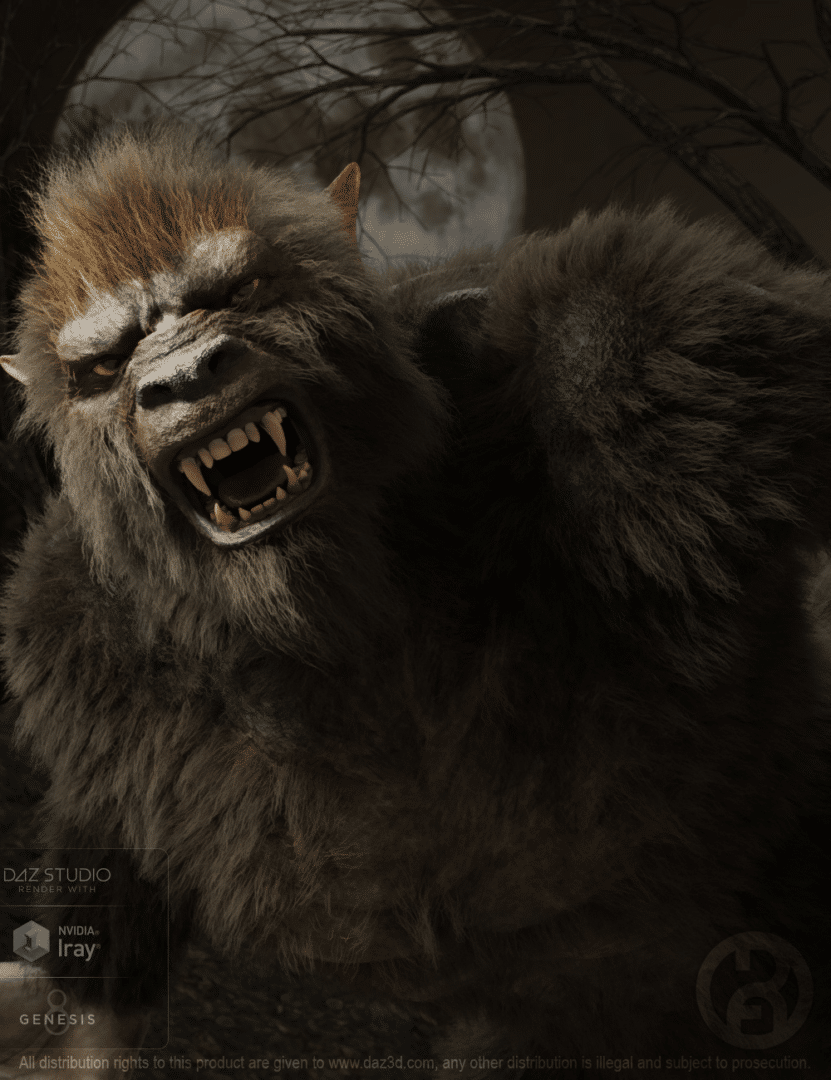 This wolf is slightly different, its a HD wolf for morph for Genesis 8 and 8.1 male! We love this werewolf character and it looked amazing in our test renders. The fur is dForce compatible and looked especially good when the character was posed using the Homus Lupus Poses for WolfBeast. This is an addon set of 20 poses which will have you loading silver bullets into your shotgun out of fear!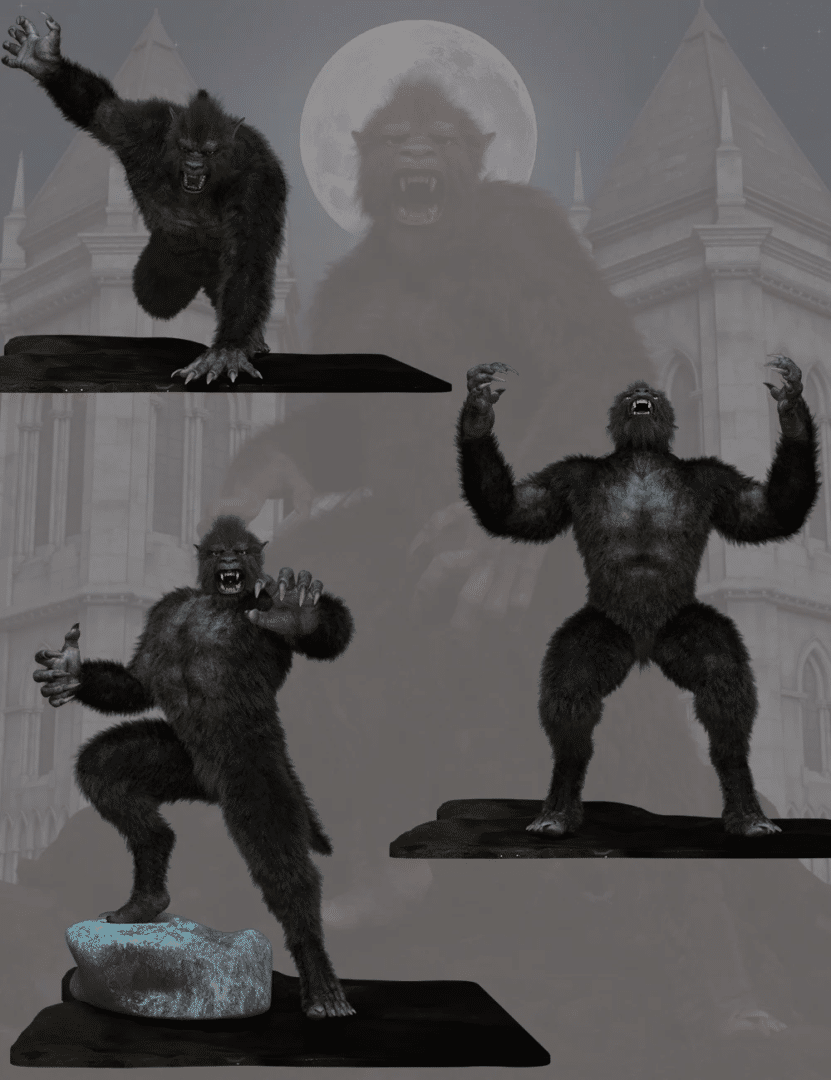 Also a nice feature of this character is that it includes both Iray and 3Delight material presets. That means if you're thinking of using the Daz to Unreal bridge or Daz to Unity bridge, wolfbeast will look great inside your interactive creations!
Wolfie and Sly Fox for Genesis 8 Male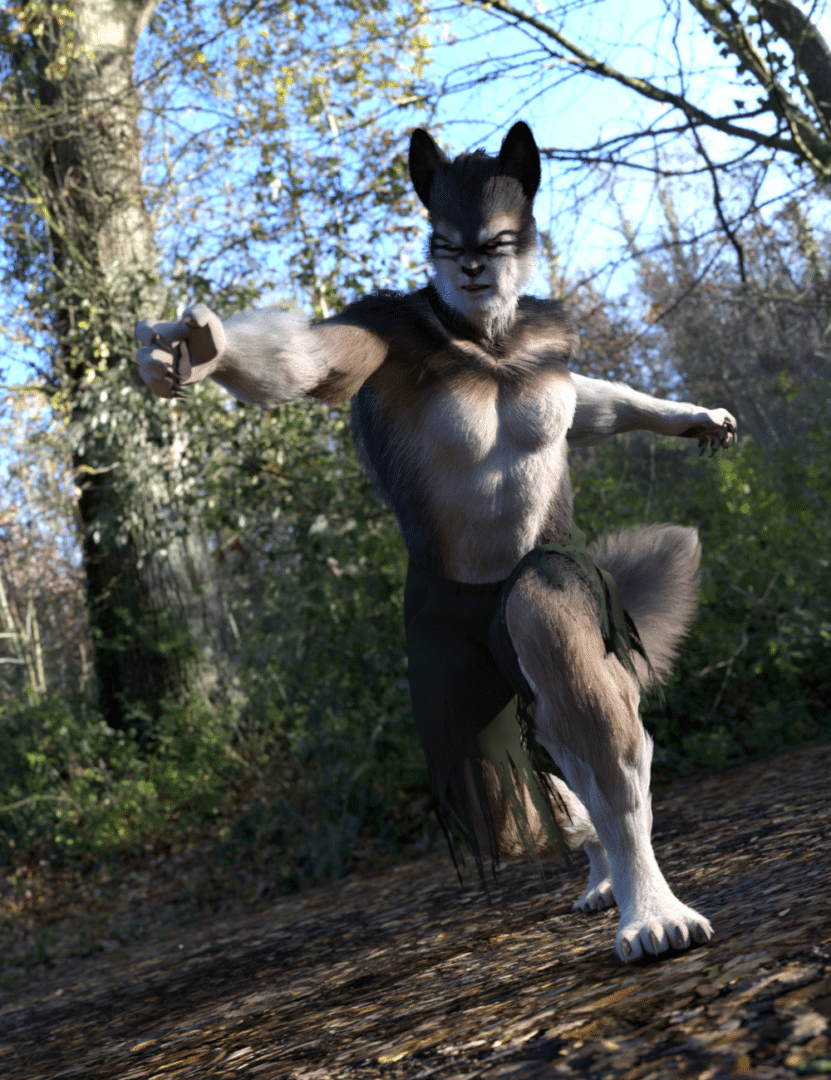 Sticking with daz3d human to wolf morphs, here is another wolf man for Genesis 8 Male! This set includes Wolfie and also a Sly Fox character. They have geografted body parts which even include retractable claws! Also the ears and tail are fully poseable, making for awesome lifelike renders. There are tons of color options and extra options to customise their looks.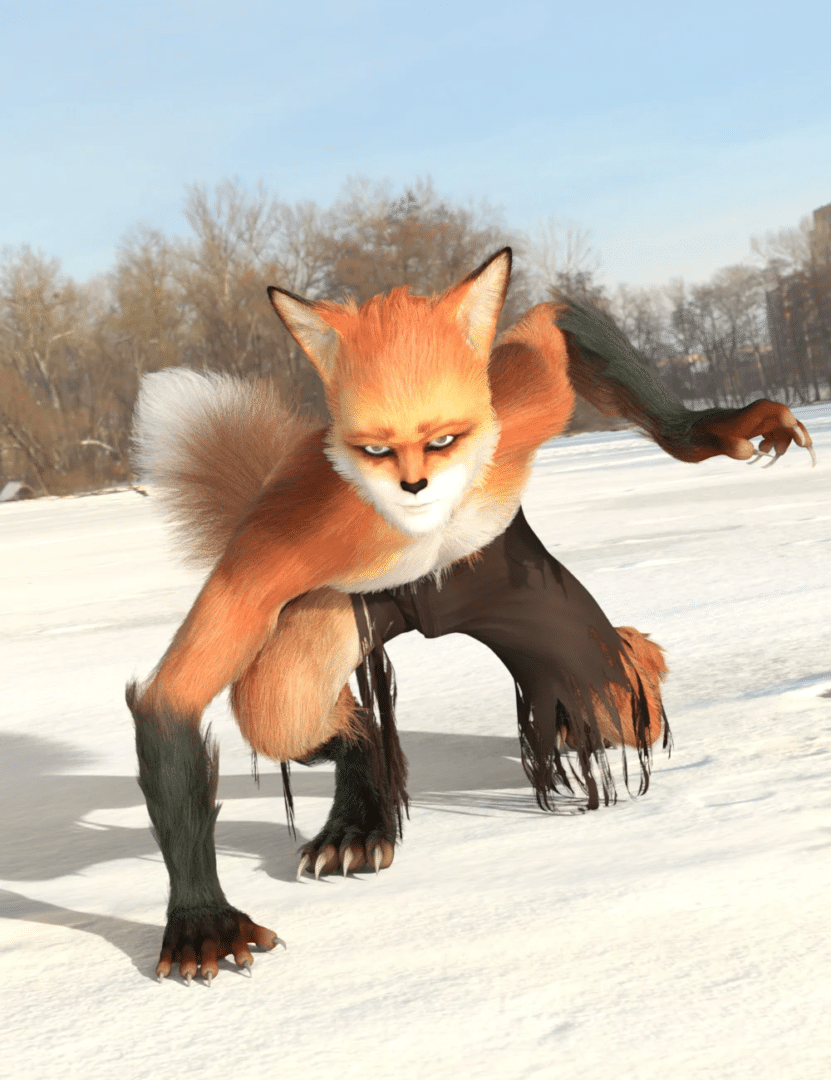 How to make Daz3d wolf models
Want to know how to make wolf model of your own? Leave a suggestion in the comments section below and we will create a tutorial for you! As always please share you're artwork with us and have fun!