Looking for a fire breathing dragon 3d model to set your scenes ablaze? You have come to the right place! In this article I will show you a list of the best dragon 3d models out there, optimized for Iray and ready to render!
I have been in the CG industry for 4 years and I am still learning new things every day. When it comes to finding the perfect characters for fantasy scenes, there are a lot of choices. I decided to share some of my finds with you to make your lives easier.
3D Dragon models are pretty difficult to make because of their size and monster like shapes. But these awesome 3d artists did an amazing job on each dragon they created. I hope you will enjoy this list as much as I have making it!
Drago Fire and Fury Bundle for Daz Studio
Once upon a time, dragons were thought to be nothing more than myth. However, the existence of dragons is no longer disputed after Drago broke out into the open sky and set the world ablaze! This ferocious dragon has detailed skin with mighty wings. He has a spiked tail and a mane that flows from the top of its head down to the tip of its tail.
Get fiery with this bundle! The Drago Fire and Fury Bundle gives you everything you need to let your inner dragon out in Daz Studio. This bundle includes a dragon morph built for Genesis 8 Male, as well as high quality textures and materials suited to this ferocious beast.
In addition, there is a complete set of custom morphs that will help you get the most out of Drago's menacing appearance with minimal fuss.
We got some incredible results when rendering this beast after running a dForce simulation on the wings!
Daz Dragon 3 Pro Bundle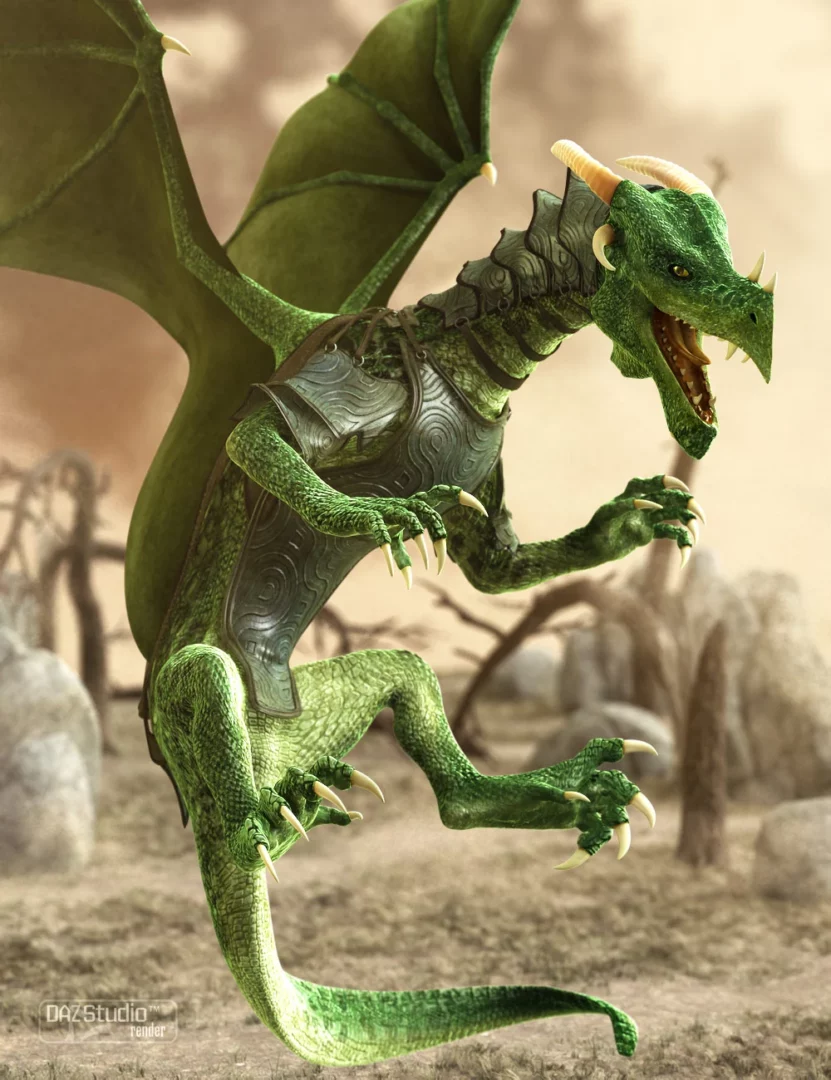 Daz Dragon 3 is the ultimate character for fantasy renderings. It's highly customizable and you can create any type of dragon 3d model imaginable, along with detailed textures and expressions. You can even remove the wings to get incredible poses on the ground! This bundle has it all: more morphs than ever before, high quality materials that were created from scratch for Daz Dragon 3, and tons of pose controls.
The render shown above is a perfect example of the vibrant results you can get with Daz Dragon 3. The Pro Bundle offers good value for the price as it includes 10 products in 1. Some highlights include:
DAZ Dragon 3 Morphs – more morphs than ever before to create the dragon you've always dreamed of… in your nightmares!
The Dragon Trainer's Toolbox – has a bunch presets to make detailed fantasy scenes from hatchling to adult dragon.
DAZ Dragon 3 Cinematic Poses for DAZ Dragon 3 – This is a set of 30 gorgeous poses.
DAZ Dragon 3 Fantasy Poses – This is a set of 20 poses for Gia 6 and Gianna 6.
War Armor for the DAZ Dragon 3 and Strap Saddle for DAZ Dragon 3.
Armored Chain Saddle for DAZ Dragon 3 – For When you are taking your dragon into hell!
Ridged Plate Armor for DAZ Dragon 3 – This is a set of armor pieces that fit together to make a your beast a tank!
Hellborn Dragon HD for DAZ Dragon 3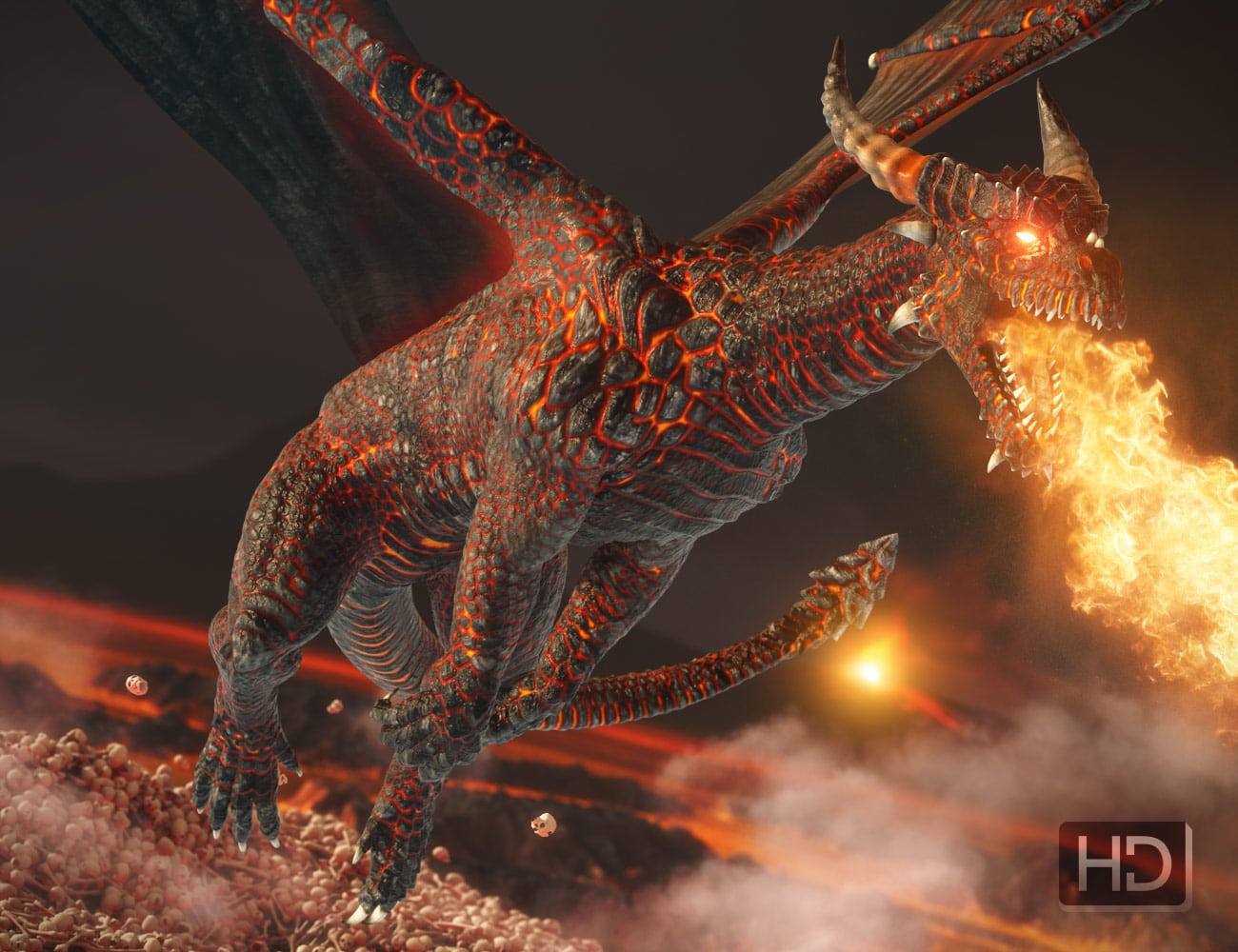 Next we have the Hellborn Dragon HD for Daz Studio Dragon 3. This dragon will leave a fiery trail behind as it flies through hell to bring fire and destruction upon your scenes. The HD model comes with high resolution texture maps that make it look great from every angle! The model is well designed and will render quickly in Daz Studio. These dragons are highly customizable, which makes them perfect for fantasy renderings. The renderings offer vibrant results that show off the bright colors of these creatures. We love this dragon 3d model so much!
DAZ Dragon 3 Morphs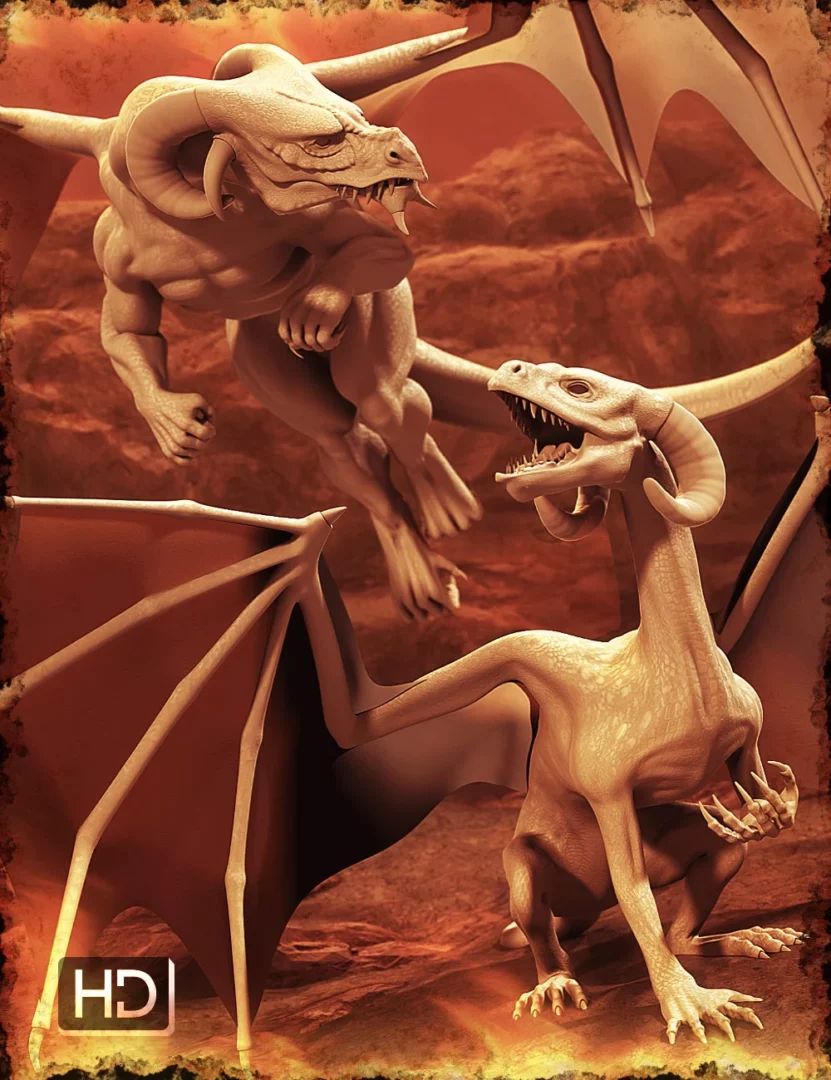 Do you want to give your dragon a completely unique look? Then you will love the DAZ Dragon 3 Morphs add-on. The DAZ Dragon 3 Morphs offer extreme detail to give you total control over shape and form.
You can sculpt, shape and customize to your hearts delight. There are eight complete body shapes, as well as numerous additional partial body morphs included. There is also an extensive set of control dials and morphs that give you full control over the placement and shaping of the face, eyes, wings, legs, tail and many other body parts.
This product is perfect for the fantasy artist who wants a highly customizable dragon model that offers vibrant results from dramatic poses to flying scenes.
Cinematic Poses for DAZ Dragon 3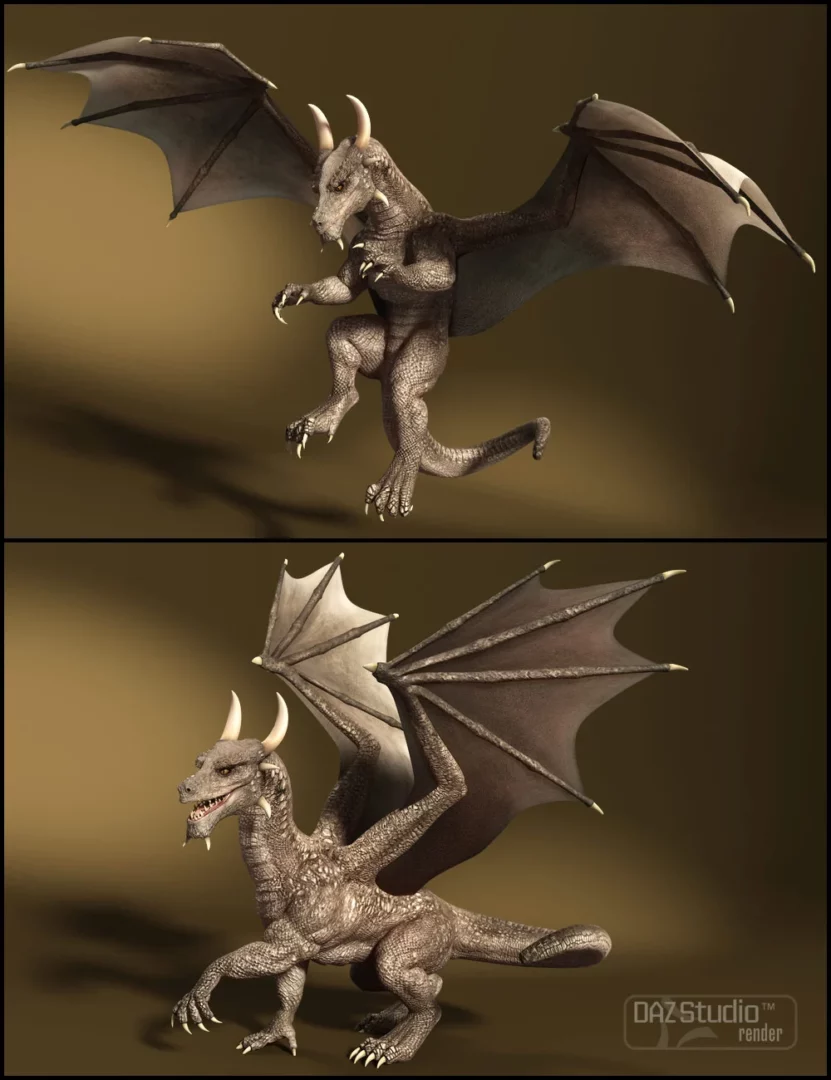 This set includes 30 beautifully cinematic poses for your dragon 3d model. This set is perfect for fantasy renderings. If your dragon is snoozing on a rock, or sleeping in the middle of the forest, you'll find many interesting poses to put it into. In contrast you can use them to reign hell down on the local villages! The set is well designed, and can be used with other characters to create amazing scenes.
The poses are dynamic and ready to fly off the page. They will help you get your dragon into dramatic scenes that illustrate powerful stories!
These poses bring out the best in Daz Dragon 3 and will be a great addition to anyone's library of fantasy art!!
HH Wyvern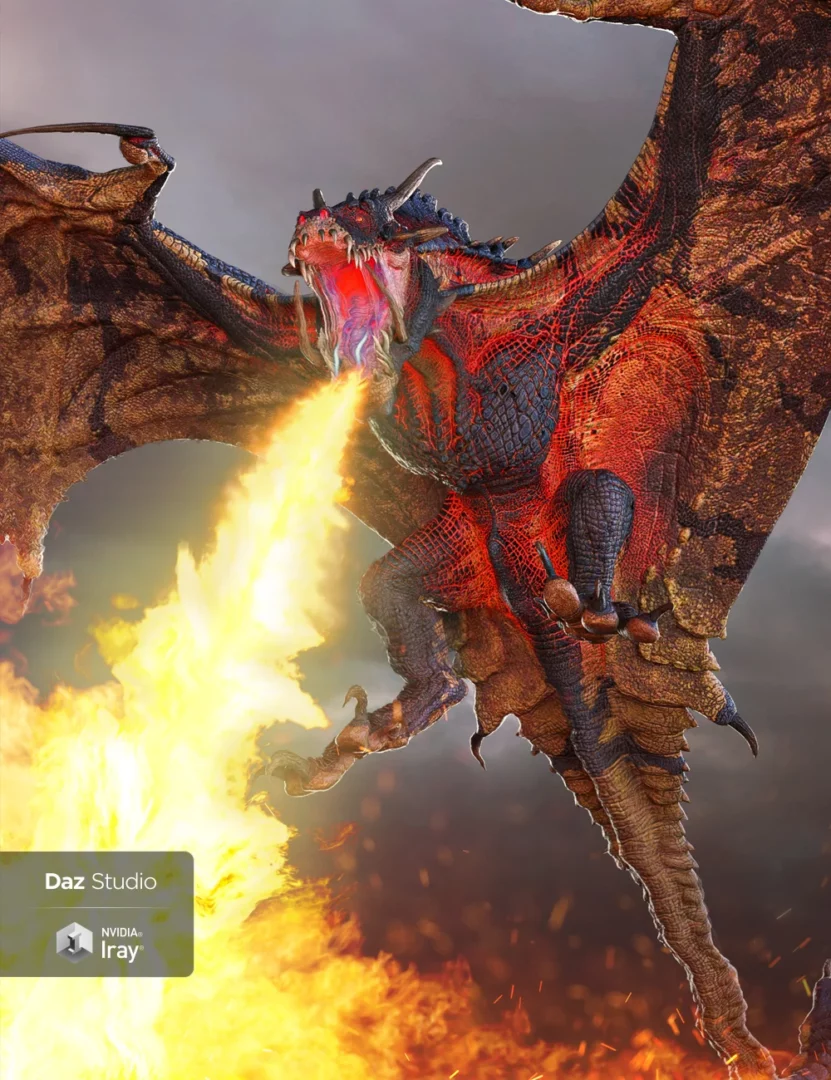 A Wyvern is a dragon-like creature with wings and two legs, but a Wyvern's forelimbs are more like the wings of a bat. The HH Wyvern has a similar skeletal structure as a dragon, which gives it an aggressive look, ready to unleash its fiery breath.
The textures included with this model are made from high resolution maps that look amazing from any angle! The model is highly customizable and can be modified to suit many different character styles.
This is a great model for anyone who needs a fantasy dragon for their artwork! The renderings offer bright results that show off the vibrant colors of this creature. The wings are fantastically designed and give the Wyvern an aggressive feel.
This character also includes saliva props along with a fully working tongue and 8K fire and ash props! HH Wyvern is a fantastically designed model that will scare the living daylights out of any hero!
Crystal Dragon for the Daz Dragon 3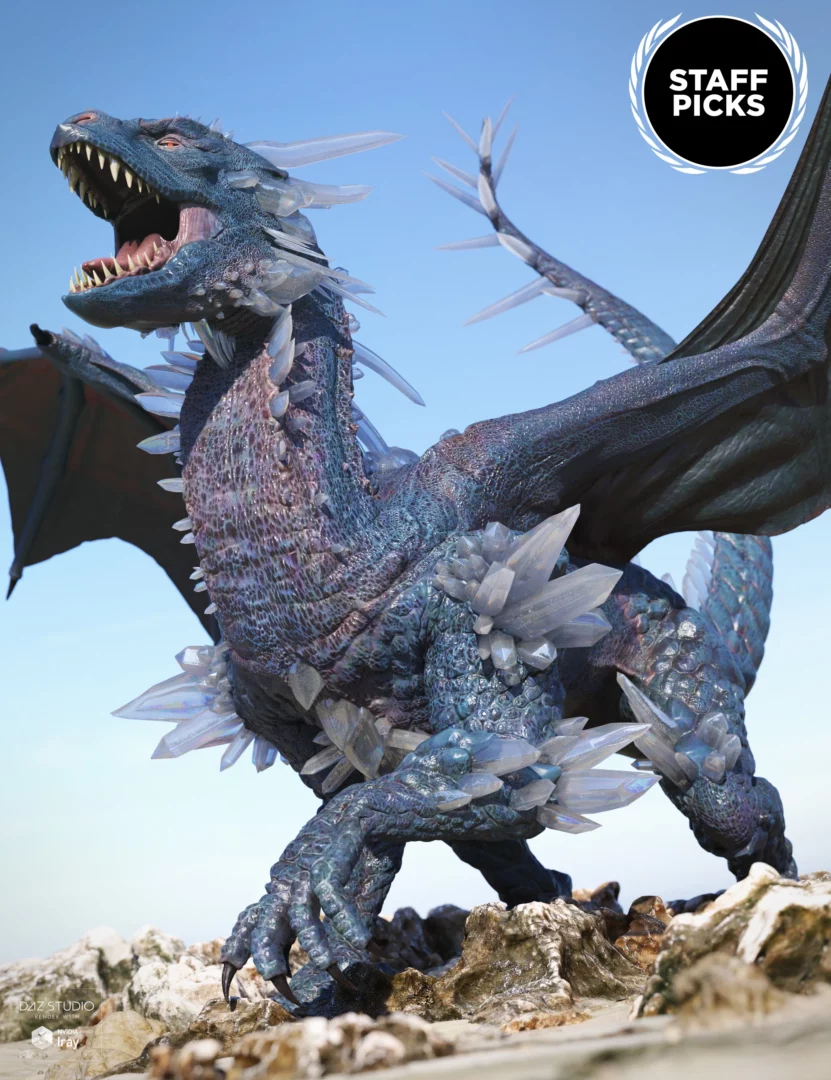 After reading about all these fire breathing monsters you're probably ready for something a little different. Introducing Crystal Dragon! This dragon features beautiful crystals that capture the light to make a stunning display.
This model is perfect for fantasy scenes and can be used as a prop or independent character! The textures are well designed and will produce a great result with any lighting set up.
The Crystal Dragon is highly customizable and looks great in many poses. It offers amazing detail with well-formed wings and scales. We love the crystal design of this model! It's a beautiful use of color that will shine in any fantasy scene.
Dragon Trainers Toolbox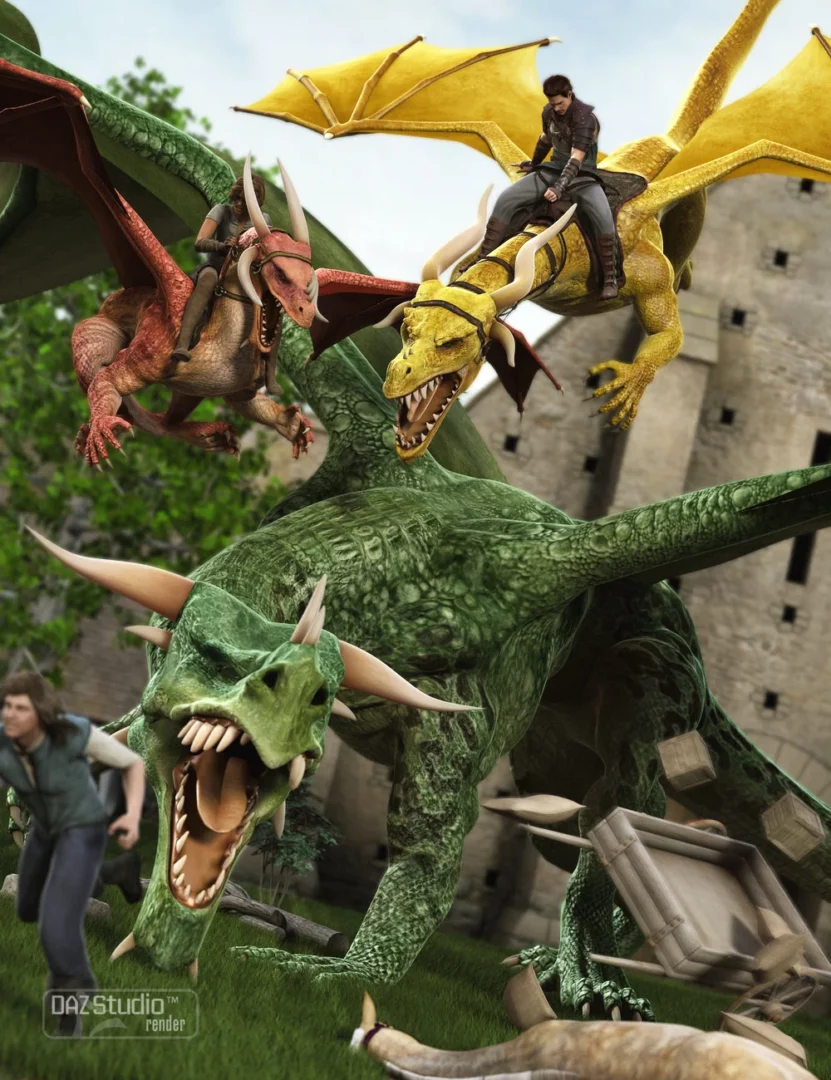 Do you want to fly the skies with your favorite dragon? Then look no further than Dragon Trainers Toolbox! This set includes everything you need to train and care for your fantasy beasts.
Inside this set you'll find 7 sizing presets to show your dragon as it grows. You can also make your dragon as friendly or ferocious as you like with 10 different shapes to choose from. Then there are 20 pose presets to play with, to help you get your dragon looking its best and give life to any fantasy rendering.
When you are finished with the training, take your prized possession to the skies and don't forget to share your artwork with us!
Dragon Trainers Toolbox is a fantastic set that provides everything needed for caring for your dragons! This set will be loved by any dragon-lover or artist looking to add variety to their library.
Armored Chain Saddle for DAZ Dragon 3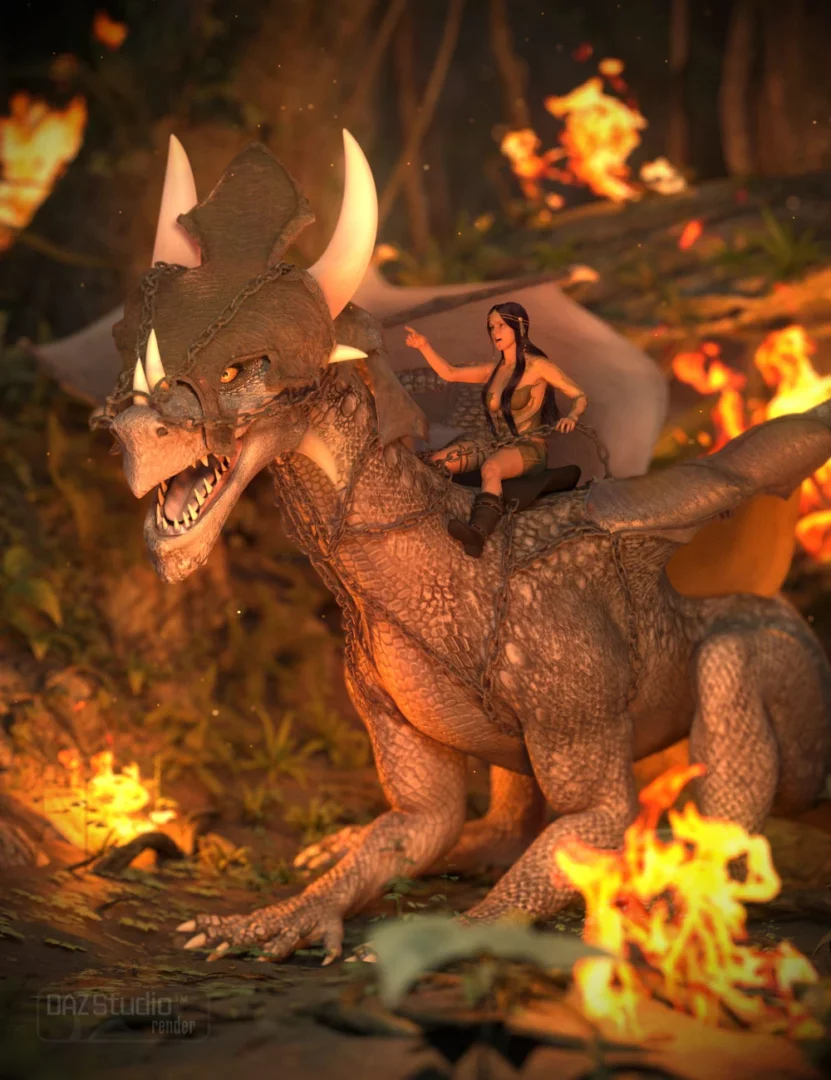 Ready to ride your dragon into the skies? Do you want to make your dragon a little more rugged and wild? Then the Armored Chain Saddle for DAZ Dragon 3 is perfect! This saddle will fit on any of your fantasy beasts, and looks especially good with the Crystal Dragon. The textures are very realistic looking. This product is fully compatible with poser too!
The Armored Chain Saddle looks great with other daz characters and gives your dragon a more tamed appearance to set it apart from other dragons. If you're looking for ways to change up the look of Daz Dragon 3, this is a fantastic option!
DAZ Dragon 3 Textures for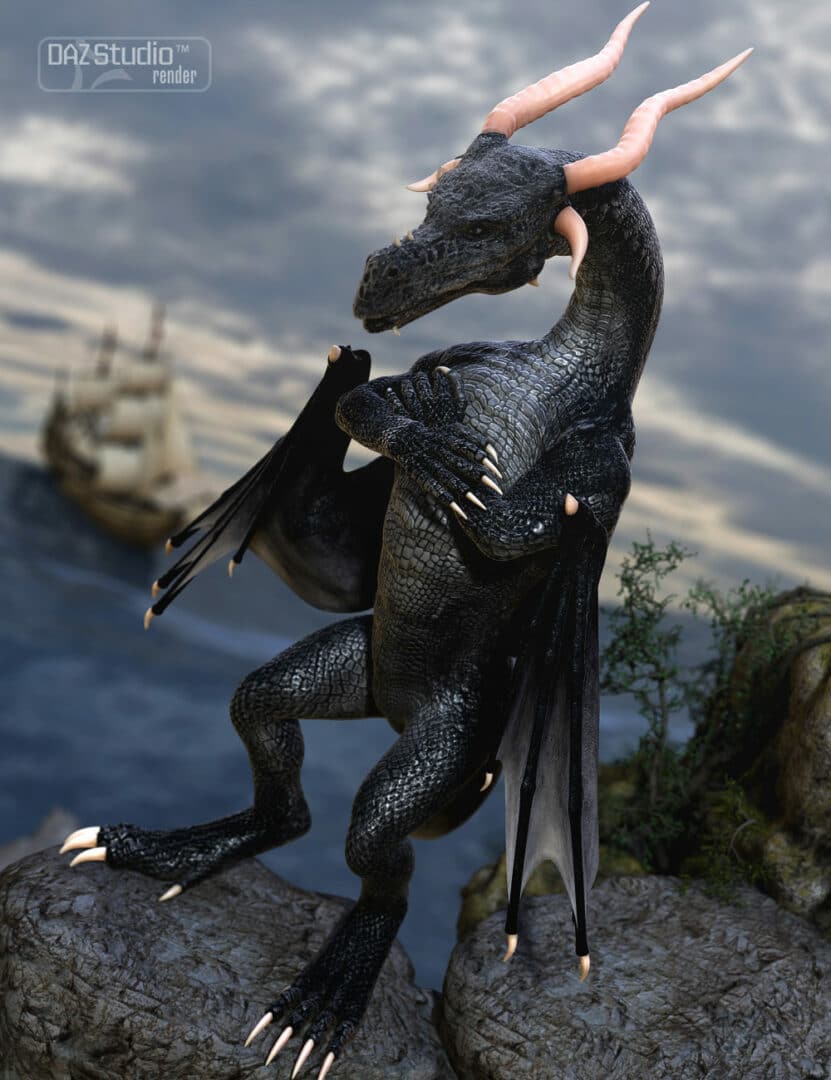 DAZ Studio Textures for Daz Dragon 3 are a great way to customize even the most basic of dragons! The textures are made from high quality maps that fit perfectly onto your dragon.
This set includes 8 materials to choose from and offers 13 texture maps. Experiment with different materials and skins so your dragon looks more realistic than ever before.
This is a great way to add variety to Daz Dragon 3 and enhance the look of any fantasy rendering!
Thank you for reading! We hope that these reviews will help anyone looking to add a dragon 3d model to their library and take their fantasy art to the next level!
To find more ideas to inspire your 3D Art, please check out our gallery page.