Limited Time Freebies for September 2023 – Get these while they last!
This months selection of freebies is one of the most diverse we have seen for a long while. We have dragonlings, venomwhips, a fairy outfit, jewellery and more! It's hard to pick out favourite but we do love the chinese martial arts poses for Mei Lin 6. We also love the look of the techno tabby unimesh outfit :). For those that havent come across "unimesh fits" in daz3d before, they are an expansion for victoria 4 or michael 4 clothing that allow it to fit other characters in that generation.
Enough technical stuff, enjoy the freebies!
*Please note item prices are correct as of the date of this article.
Millennium Dragon 2 Dragonling
Meet the DAZ Dragonling: a versatile figure that's perfect for any Daz Studio artist looking to add a touch of fantasy and magic to their renders. Sitting right in between the ferocity of the Millennium Dragon 2.0 and the cuteness of the Hatchling. Ideal for stories of friendship between young wizards and their first dragon or valiant knights in training.
One must also give a nod to Debra Ross for her special contributions that further enhance this 3D model's appeal.
Key Features:
Texture Compatibility: Seamlessly uses the same textures as the Mil Dragon and Mil Dragon 2, giving users a consistent look across models.
Add-on Adaptability: Features all the conforming figure add-ons present in the Mil Dragon 2.
Mimic Ready: The Dragonling is Mimic Compatible, allowing for easy lip-synching and facial animations for those familiar with the Mimic plugin.
Bridge Compatible: Works effortlessly with Poser, Daz to Blender Bridge, Daz to Unreal Bridge, and Daz to Unity Bridge, ensuring flexibility across various platforms.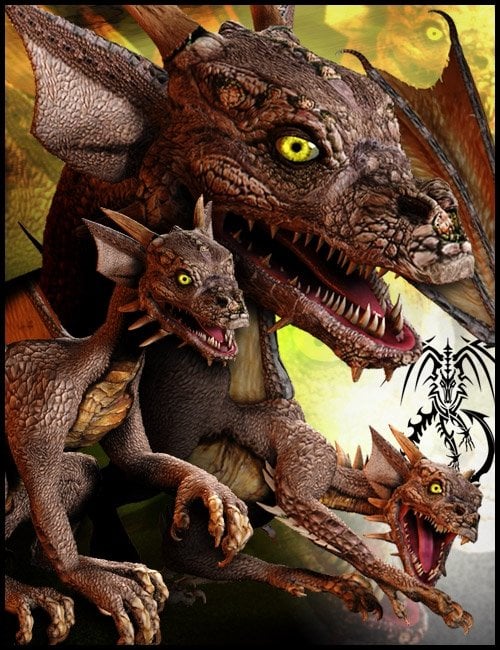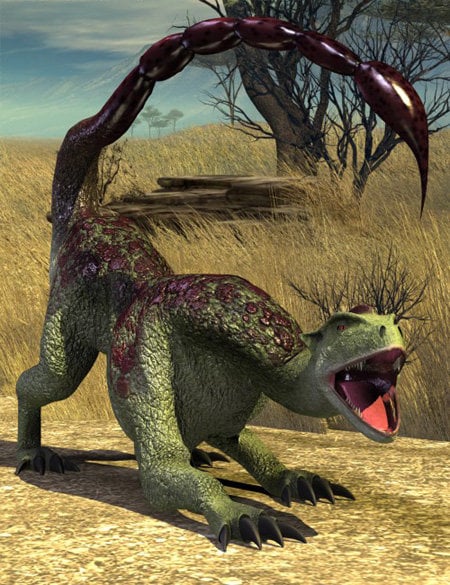 The Venomwhip
Dive into the treacherous swamps of your imagination with the Venomwhip, a 3D monster intricately designed by the talented Valandar for Daz 3D. This creature is not for the faint-hearted, blending the most menacing attributes of canines, reptiles, and scorpions into one terrifying entity. With exquisitely detailed textures and a variety of poses that exude its deadly nature, the Venomwhip guarantees to elevate the intensity in any scene you render. Be it a perilous jungle adventure or a face-off with brave warriors, this creature stands out with its realistic look and fluid movement.
Key Features:
Hybrid Design: An original, spine-chilling blend of deadly animals.
Highly Detailed: Comes with high quality texture, bump, and specular maps, all in 2048×2048 resolution, guaranteeing a visually stunning creature.
Flexible Movement: Fully articulated figure, complemented by an easy-posed neck and tail.
Ready-to-Use Poses: Includes two pre-set poses, "Hiss" and "Pounce", to swiftly get your scenes started.
Clara Collection for Genesis 2 Female
Elegance meets versatility in the Clara Collection for Genesis 2 Female(s). Nikisatez and Daz 3D collaborate to introduce a detailed and enchanting set of jewelry. This collection has pieces that are both intricate and adaptable. However, it's worth noting that while the jewelry itself is top-notch, users will benefit from exploring the texture templates in the product library to bring their unique visions to life.
The Clara Collection seamlessly adapts to a range of popular Genesis 2 Female shapes, making it incredibly user-friendly for a range of characters.
Key Features:
Variety of Pieces: This collection boasts three jewelry figures (necklace, bangles) and four jewelry props (earrings and rings)
Adaptable Designs: Each jewelry piece can be manually adjusted, giving users the flexibility to fit and style as per their requirements.
Shaders: Choose from a range of 37 shaders including 16 gemstones, 15 metals, and 6 ribbons to customize the jewelry's look.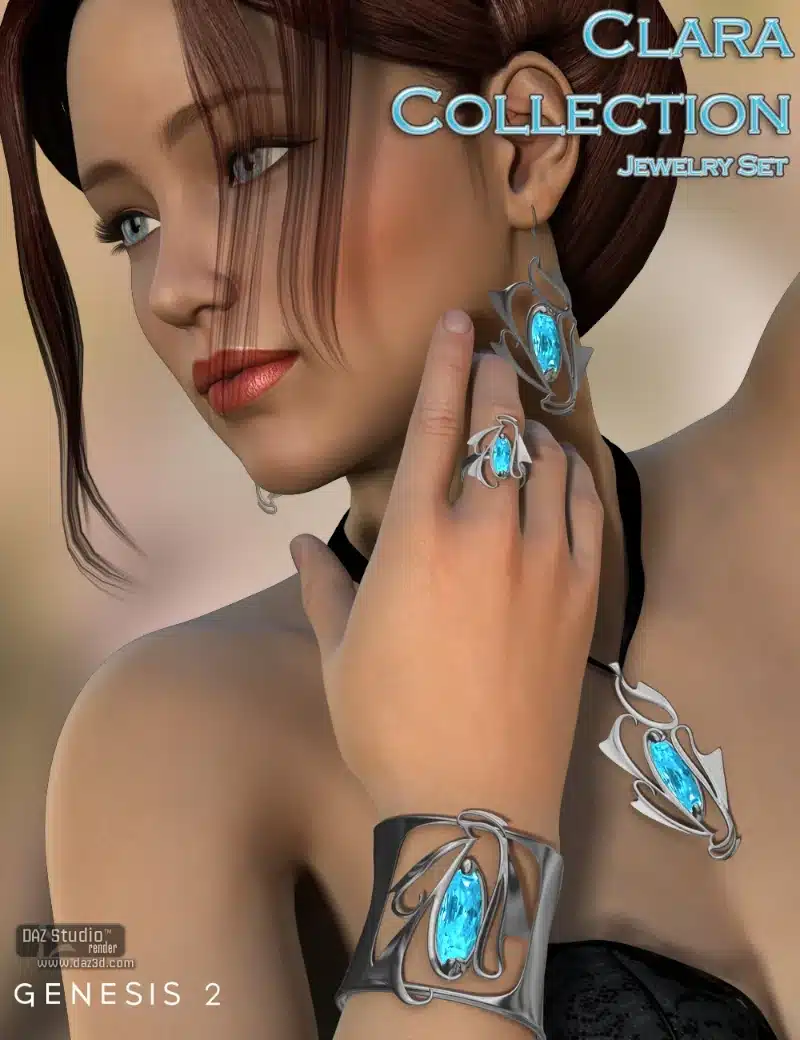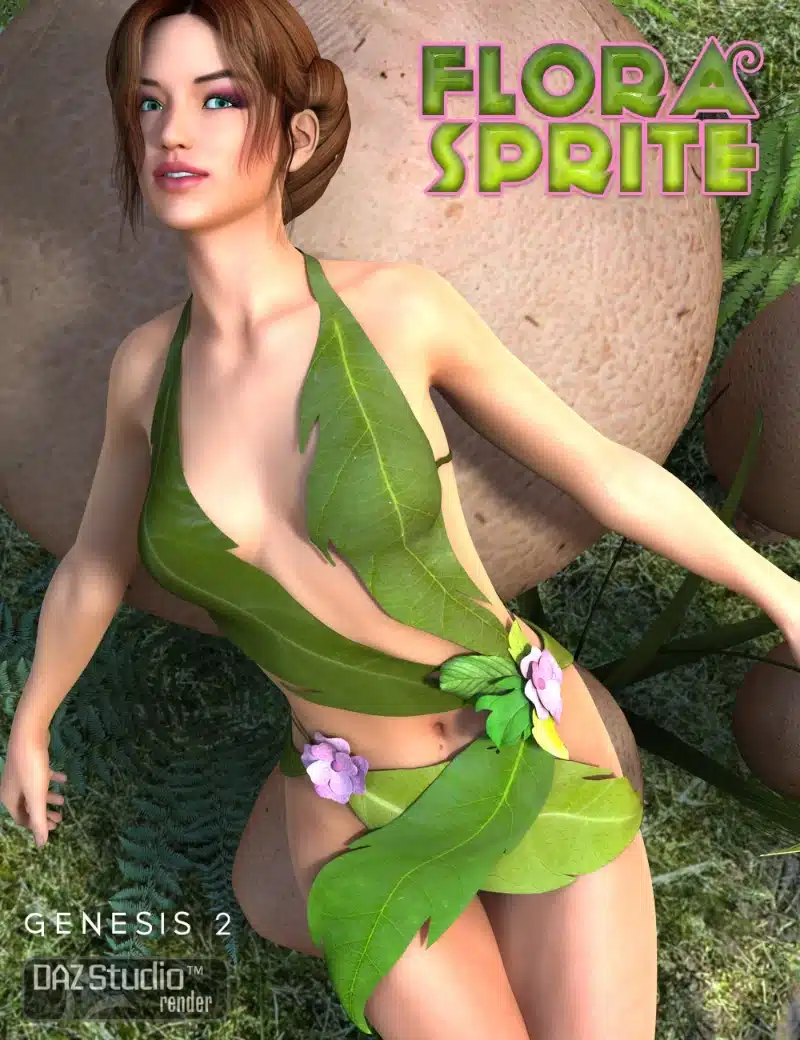 Flora Sprite for Genesis 2 Female
Enter the enchanted realms with the Flora Sprite, a whimsical floral dress designed especially for the Genesis 2 Female by the imaginative Nikisatez in collaboration with Daz 3D. You may have noted that this is the second freebie item by them this month. This garment will help you tell stories of faeries dancing in hidden glades and bestowing their blessings upon nature. Flora Sprite is perfect for scenes that exude magic, where the unseen world of faeries brushes ever so slightly against ours. Though it's primarily meant to be worn by ethereal creatures, artists can also experiment with this piece in contemporary settings for a touch of fantasy.
Key Features:
Ethereal Design: The Flora Sprite is intricately detailed, perfect for rendering scenes of faeries and other magical beings.
Adjustability: Comes with features like "Adj Back Out" and "Adj Front Out" for a better fit and flare, ensuring a dynamic look in any pose.
Broad Compatibility: Designed for various Genesis 2 Female figures, from FBMGiaBody to FBMVictoria6Body, ensuring a seamless fit.
High-Quality Textures: Equipped with 3 texture, bump, and transparency maps (3000 x 3000) for a realistic and magical appearance.
Capsces Poses Mei Lin 6
Dive deep into the world of martial arts with Capsces Poses for Mei Lin 6. Drawing inspiration from traditional Chinese martial arts, each pose is designed to radiate grace, strength, and fluidity.
Moreover, the versatility of the poses makes them suitable for a range of scenarios, from intense action sequences to serene meditative moments. Whether Mei Lin is leaping into the air or poised in a crouching stance, every pose embodies authenticity and emotion. Combine these poses with the right backdrop and attire, and the result is a vivid portrayal of martial arts in all its glory.
Key Features:
Martial Arts Inspiration: 25 poses rooted in the traditions of Chinese martial arts, capturing the essence of each movement.
Diverse Set: The collection boasts a mix of crouching, jumping, kicking, sitting, and standing poses, ensuring versatility in your storytelling.
Designed for Mei Lin 6: Tailored specifically for the Mei Lin 6 figure, each pose brings out the unique features and spirit of the character.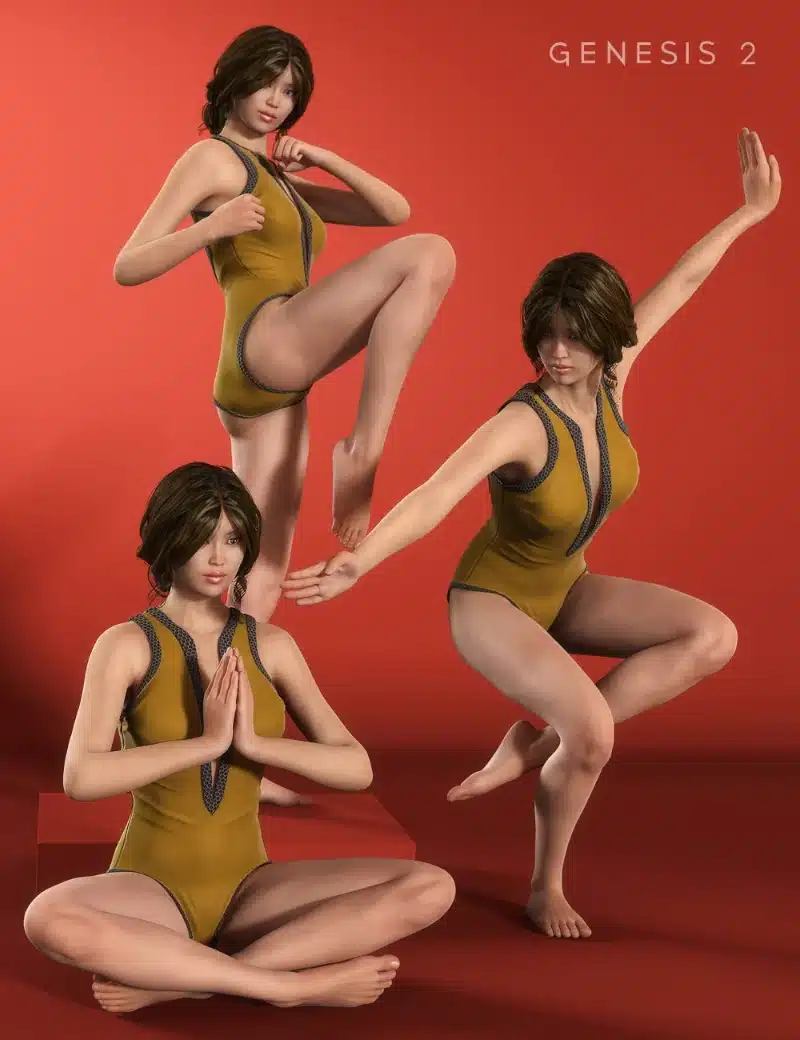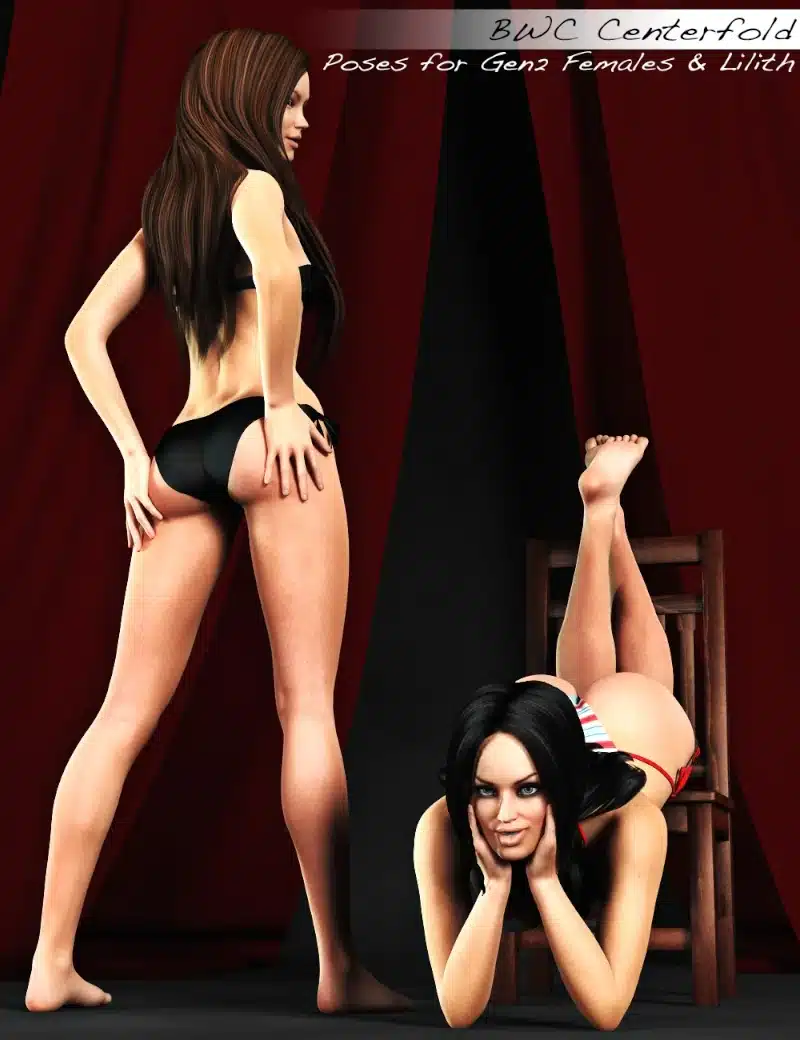 BWC Centerfold – Poses for Genesis 2 Female and Lilith 6
Here's a pose set for artists who want to add a sprinkle of vintage flair and sensuality to their renders, "BWC Centerfold – Poses for Genesis 2 Female and Lilith 6" by Sedor. Drawing inspiration from classic centerfold and pin-up aesthetics, this set delivers an alluring combination of elegance, allure, and playfulness. While it's clear that Sedor has paid tribute to the iconic era of pin-up photography, they've also offered a contemporary twist, making it versatile for modern scenes as well.
Sedor's expertise shines through in how each pose effortlessly captures the essence of the centerfold genre. From reclined sultry looks to playful seated stances. Ideal for those wanting to infuse a bit of vintage sass into their renders.
Key Features:
Classic Inspiration: 17 original poses (and their mirrored versions) inspired by timeless centerfold and pin-up styles.
Adjustable Flexibility: While the poses are tailored for specific characters, with minor adjustments, they can be adapted for other Genesis 2 Female figures.
Mirrored Options: Every pose comes with its mirrored counterpart, doubling the creative possibilities.
CommSaber Satellite Dish
Here's something completely different! If your story needs some espionage action this satelite should do the trick!
Key Features:
Intricate Design: Nightshift3D has intricately designed this model, encompassing 25 body parts that include every minute detail from rotating platforms to movable computer covers.
High Functionality: The satellite dish is not just a static model; it is engineered for motion and adaptability. Features like the pivoting dish, auto-adjusting pistons, rods, and support shocks, emphasize its dynamic nature.
Compatibility: Given its compatibility with a vast range of 3D modeling software like Unreal, 3ds Max, Maya, Cinema 4D, and Blender, it offers a wide canvas for artists to incorporate it into various projects.
Realism: The inclusion of various texture maps, from 256×52 to 2048×2048, ensures that the dish does not just have a realistic shape but also a tangible texture. The creators have made sure that every aspect of the dish is covered, from the broad panels to the minute computer keyboard details.
Versatility: Whether you are creating a futuristic city, a space mission base, an espionage scene, or a high-tech laboratory, the CommSaber Satellite Dish seamlessly fits in, enhancing the authenticity of the render.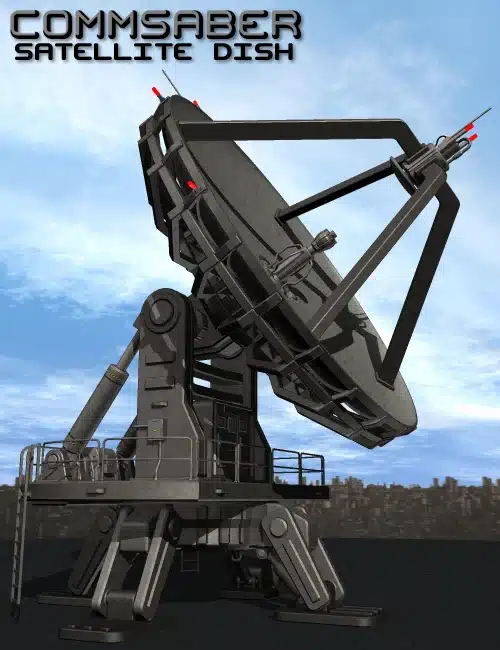 More September 2023 Freebies from Daz3D.com: