Limited Time Freebies for June 2023 – Get these while they last!
Welcome to this months freebies selection. We have a few nice items to start with Including the Lady of War outfit which is one of the more unique clothing sets we have seen! There also some lovely honey bun expressions to enhance your renders. We also like the jewelry boxes and very futuristic looking bike! We're sure you'll be able to craft some very unusual scenes with this ensemble! Enjoy your free stuff 🙂
*Please note item prices are correct as of the date of this article.
Honey Bun Expressions for Girl 7
Fresh from the artistic genius of Daz Originals and Lunchlady, Honey Bun Expressions for Girl 7 is a charming collection of expressions that adds a dollop of cuteness to your 3D creations. Compatible with Genesis 3 Female, this product is also compatible with the Daz Bridges, making it a versatile tool in your 3D toolbox. Last month, we had the pleasure of using the Honey Bun Pose & Expression Bundle for Girl 7, and this set of expressions is a perfect complement to that collection.
This delightful product offers a set of 20 adorable expressions for Girl 7, each one designed to bring your characters to life in the most engaging way. With expressions ranging from joy and surprise to curiosity and playfulness, these additions bring dynamism and emotional depth to your creations. Also included is a Zeroed Expression, providing you the freedom to reset and create a new expression from a clean slate.
Key Features:
Comes with 20 unique expressions for Girl 7.
Includes a zeroed expression for resetting your character's face.
Perfect for mixing and matching with Honey Bun Poses for Girl 7.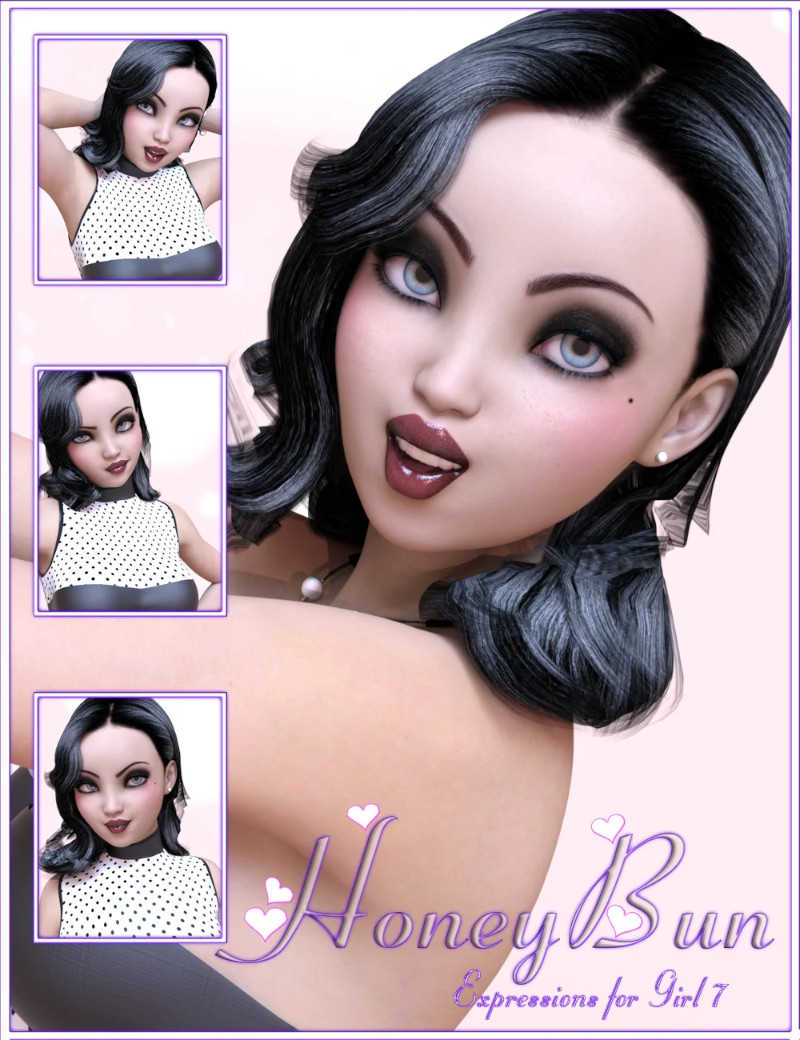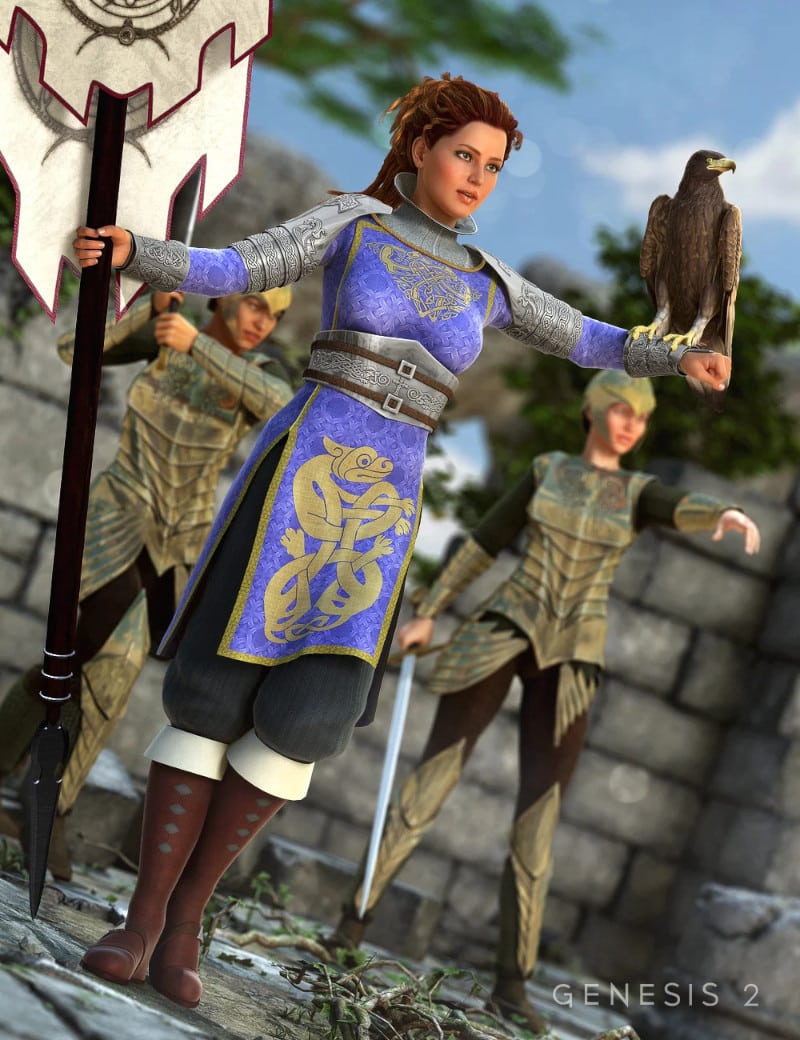 Lady of War for Genesis 2 Female
A true embodiment of female strength and prowess, the "Lady of War for Genesis 2 Female(s)" is an outstanding addition to your Daz Studio collection. This product breaks away from the stereotypes of women in combat, by offering a set of armor that is both practical and aesthetically pleasing. It is an emblem of female warriors who are smart, powerful, and capable of rising to the top of any command structure​​.
What sets the Lady of War apart is the attention to detail that is evident in every piece of the armor set. The package includes a meticulously designed coat with a range of customizable features, boots, gauntlets, pants, pauldrons, and a waistplate. The armor set has been designed to be compatible with a range of Genesis 2 Female shapes including Aiko 6​.
Key Features:
A comprehensive armor set including a coat, boots, gauntlets, pants, pauldrons, and waistplate​.
Compatibility with a variety of Genesis 2 Female shapes for maximum flexibility​.
High-quality textures and a range of material presets for detailed and realistic rendering​.
Bike Eleo
This cutting-edge motorcycle, Bike Eleo, is sure to be a thrilling addition to your Daz Studio collection. This 3D model brings an original sci-fi aesthetic to life, with a design that reminds is of the iconic bikes from the groundbreaking movie, Akira or maybe even the Tron cycles! Two wheel-embedded electric motors propel this machine, giving it a sleek, streamlined look that's perfect for your superhero scenes. It's a futuristic ride that's ready to rocket through Neo-Tokyo, or wherever your imagination takes you!
It comes in five striking colors, allowing you to match it to the mood of your scene or the personality of your rider. Furthermore, it features three driver poses for Genesis and Michael 4, making it a cinch to get your 3D characters in the saddle and on their way.
Jump on, rev up, and prepare to ride into a world of endless possibilities with Bike Eleo!
Key Features:
Comes with five color options to suit various scenes and characters
Includes three driver poses for Genesis and Michael 4
Ideal for superhero and futuristic scenes​.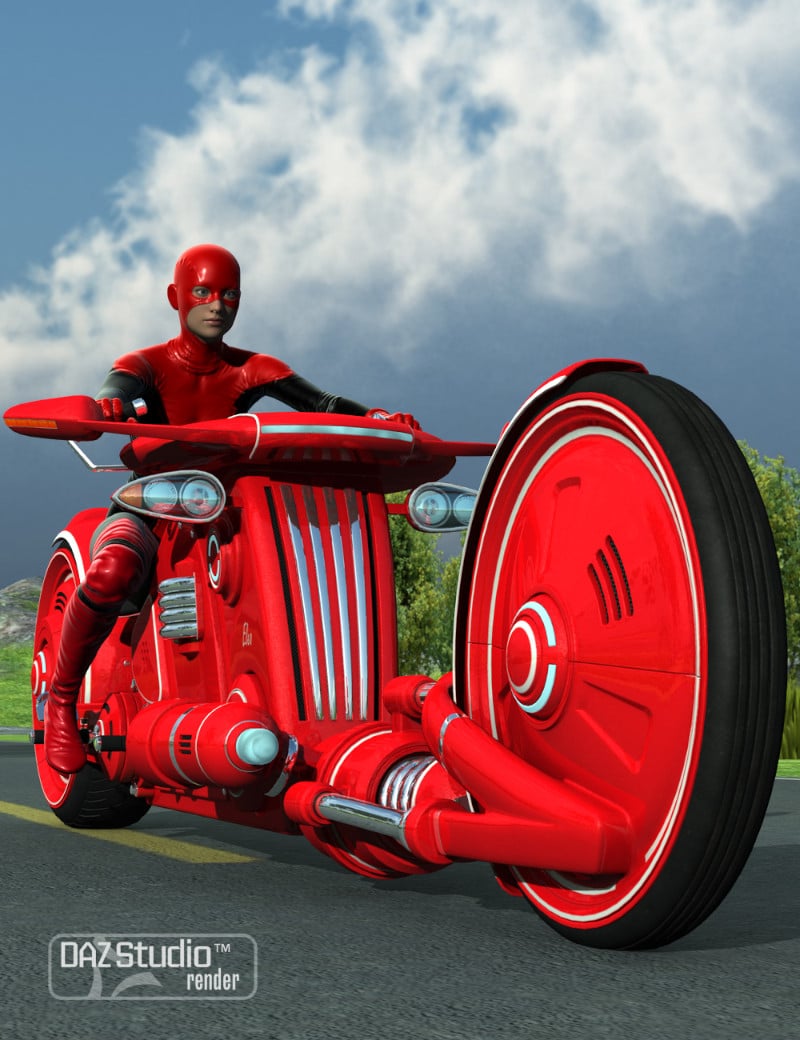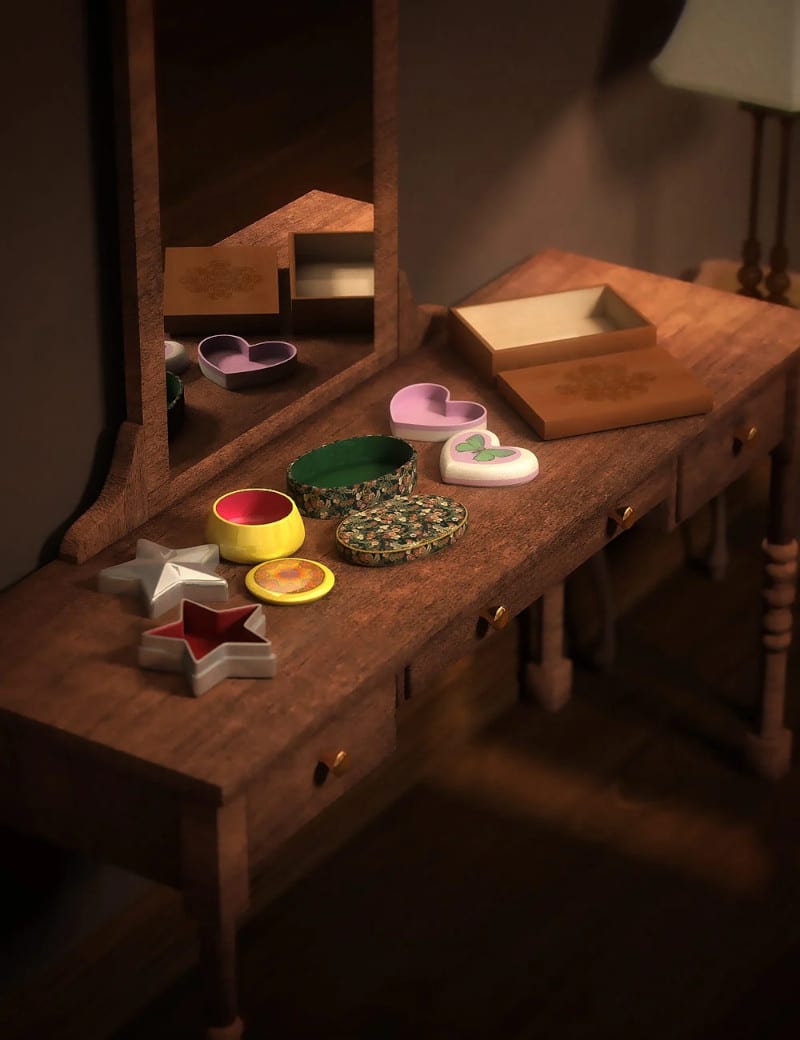 Perfect Jewelry Boxes
The "Perfect Jewelry Boxes" by 3dLab is a quintessential addition to your Daz Studio props collection. This product is an elegantly crafted set of ornamental jewelry boxes, perfect for enhancing the realism and finesse of your 3D sce​nes.
The beauty of these jewelry boxes lies in their intricate detailing and versatile design. Each box carries a distinct charm that's versatile for a variety of environments, be it an opulent mansion, an antique store, or a humble vanity. These boxes are designed not merely as containers, but as artistic objects that can stand alone as a centerpiece in your scenes. The textures, colors, and materials used are top-notch, lending a high degree of realism to your 3D artwork​.
Key Features:
Highly detailed and realistic design
Versatile for various settings and scenes
Ability to open and close boxes
Excellent textures, colors, and materials.
RenderStudio P8-2014 Modular 9 – HDR-Lighting FX 2
This product provides a comprehensive set of HDR lighting effects that are both versatile and easy to use.
The genius of the RenderStudio P8-2014 lies in its modularity. With this product, you can craft an almost infinite variety of lighting environments for your scene. Whether you're aiming for a soft, ambient atmosphere or the stark contrasts of a high-drama setting, this suite has you covered.
One of the main attractions of RenderStudio is its HDR functionality. High Dynamic Range (HDR) lighting simulates the wide range of light intensities found in real-world environments. This results in images with a high level of detail and realism, giving your scenes a professional edge.
Key Features:
Versatile modular system allows for an extensive range of lighting setups.
High Dynamic Range (HDR) lighting for enhanced realism and detail.
Suitable for both novice users and experienced Daz Studio artists seeking to upgrade their lighting game.
Offers a significant improvement to your scenes with minimal effort.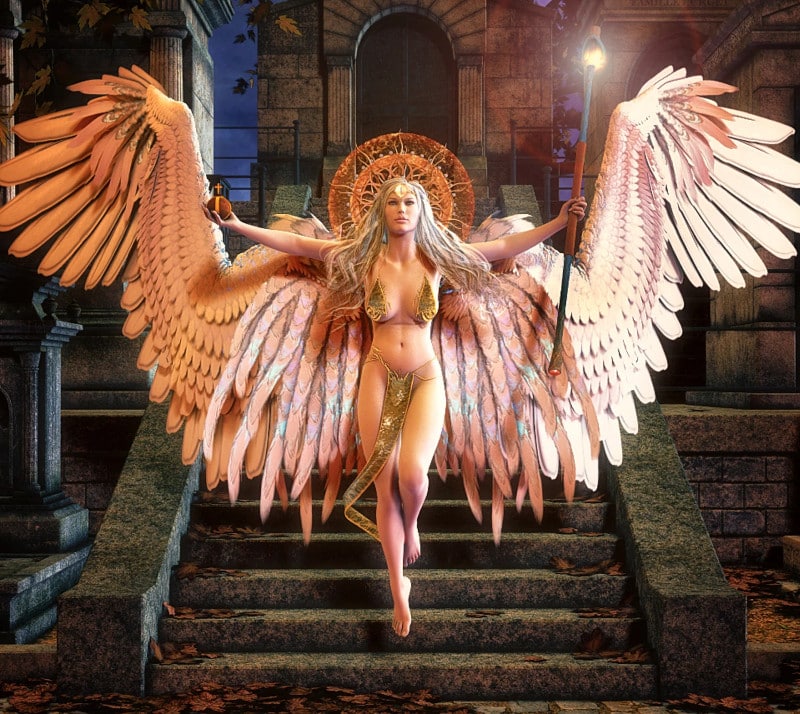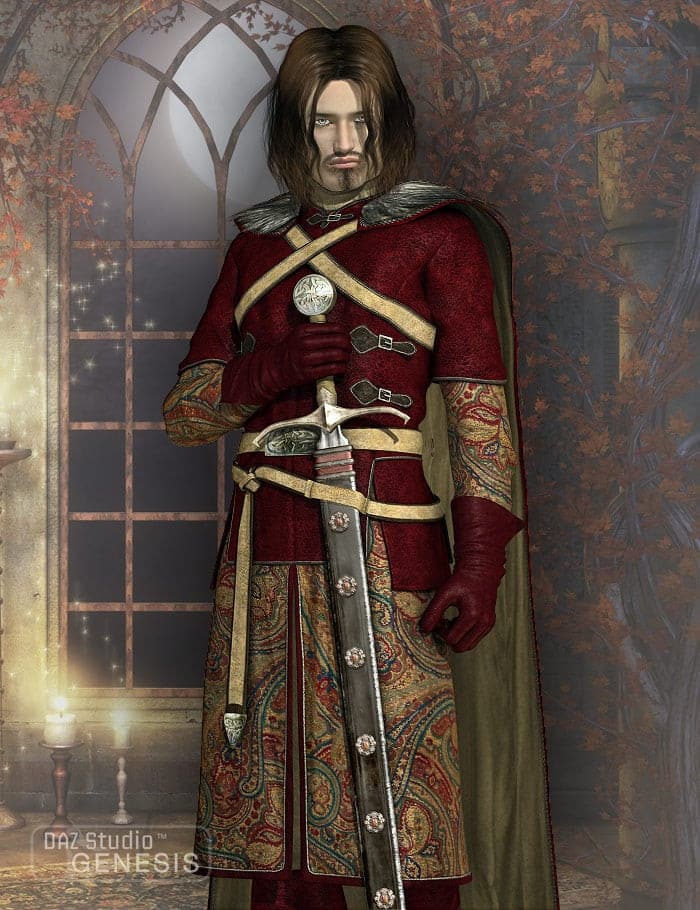 Ranger and Regal for Night Guard
his product, crafted by talented artists Daz Originals and Sarsa, enhances the capabilities of the Night Guard for Genesis Male model. The package provides two distinct yet equally impressive looks that are sure to breathe life into your 3D scenes​.
The first theme is the Ranger look, a representation of rugged wilderness expertise. It is characterized by muted earthy leather tones that evoke the spirit of a woodland protector. Alternatively, the Regal look can make your Night Guard model exude majesty and power. This theme is marked by rich scarlet brocades, symbolizing the pomp and grandeur of nobility. To complete the aesthetics, both options come with matching fur-trimmed cloaks, enhancing the realism and texture of the models​.
Key Features:
Two complete texture sets for Night Guard for Genesis Male: Ranger and Regal
Poser 6+ Material presets (MC6)
DAZ Studio Material presets (DUF)
Includes optional Interactive and 3D printing licence​.
Wicker Park for Effortless Cool
Another freebie this month crafted by the talents of Daz Originals and Sarsa. "Wicker Park for Effortless Cool" adds new looks to the 3D male Effortless Cool outfit. It also brings a dazzling array of sunglasses colors and other accessories, providing an easy way to create dynamic and stylish scenes. The textures, bump, displacement, and transparency maps are of high quality, offering up to 2500 x 2500 resolution, ensuring that your 3D characters look their best.
Adding a touch of urban chic to your Genesis Male, Wicker Park for Effortless Cool is a must-have if you own the Effortless Cool for Genesis Male outfit. Compatible with a wide range of software including all Daz bridges , this product provides exceptional flexibility and versatility. The design is fresh and modern, giving your Genesis Male characters a trendy and fashionable look that is perfect for contemporary urban settings.
Key Features:
Adds two complete texture sets for Effortless Cool outfit
Includes 19 texture maps
Comes with DAZ Studio Material Presets (DSA, DUF)
Compatible with a wide range of software including Daz to Maya Bridge
Optional Interactive and 3D printing licenses available​.