Limited Time Freebies for August 2023 – Get these while they last!
Welcome to our line up of daz freebies for August . We have 9 items to start with this month. Our favorite so far is the DAZ Piglet. This little guy is sure to add some cute variety to your scenes! We also have a 3D Bass for all you fisherman out there to hook. Our other top pic this month is i13's dark vision poses. This seductive set of 40 poses is outstanding!
Keep checking back for more summer updates as there is sure to be more freebies coming later this August.
*Please note item prices are correct as of the date of this article.
DAZ Piglet
Who doesn't want a cute little piggy, especially for free! DAZ Piglet is a wonderful addition if you need farm animals in your scene. The Pig is highly realistic. There's a nice set of morphs to convey everything from happiness and surprise to sadness and anger. Furthermore, with eight diverse and lifelike poses included, it's simple to set up your piglet in a variety of environments, whether it's a farm scene or a playful storybook setting.
The piglet also comes with detailed textures, enhancing its realism even further. Included are four body maps that range from dark and light to spotted and Hampshire styles, which adds a significant level of versatility when setting the piglet's appearance. The product also includes a DAZ Piglet.dmc Mimic Configuration File, providing additional convenience for those who use Mimic in their workflow.
Key Features:
Extensive Morph Options: With morphs covering the piglet's face, ears, tail, and body, the customization possibilities are good. The wide variety of expressions makes it simple to convey emotions like happiness, sadness, and surprise.
Variety of Poses Included: With eight distinct poses like Pig Curl Tail, Pig Jump, and Pig Lay Flat, you can effortlessly bring your piglet to life in numerous ways.
Mimic Configuration File Included: A bonus for users of the Mimic plugin, allowing for seamless integration of the piglet with lip-sync and facial animation functionalities.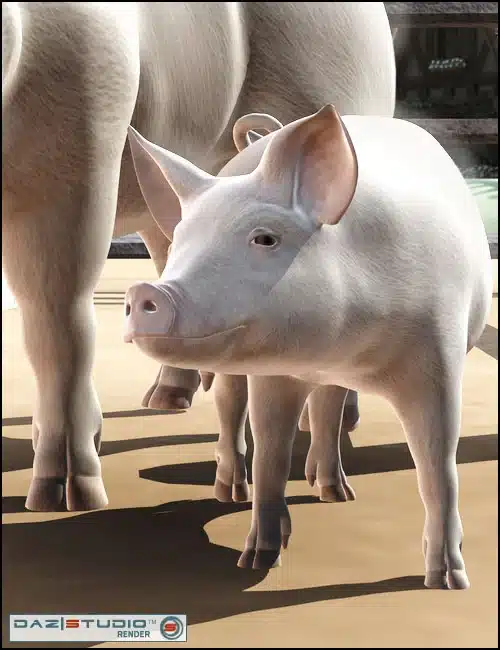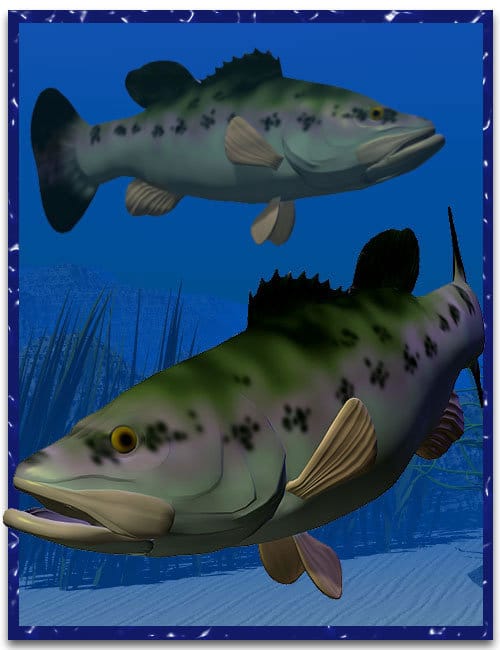 Bass 3D Model
You've had a pig so why not have a free bass too? Looks like daz3d really wants to enrich your outdoor or wildlife scenes this month! This is a nicely detailed Bass Model. Whether you're working on an animation of a serene fishing scene, this virtual Bass Model serves as a great prop to enhance the realism of your settings. The model's featuring high quality texture maps that make the fish appear vibrant and lifelike within your renders.
The 'Open' and 'Closed' mouth morphs provide flexibility in posing, whether you need the bass to appear as if it's gasping on a fisherman's line or calmly swimming in a pond. The 'Gill Spread' morph adds an extra touch of realism. However, it's worth noting that the eyes of the bass model are not articulate, meaning they are fixed and do not move, which may limit the expressions you can achieve.
Key Features:
Detailed Bass Model: A well crafted 3D Fish model that serves as a perfect addition to your virtual wildlife or outdoor scenes.
The perfect meal for your virtual bear!
i13 Dark Visions Poses – A Touch of Elegance for Genesis 2 Female(s)
From the collaborative genius of Daz Originals and ironman13 comes the i13 Dark Visions pose collection, designed for the Genesis 2 Female(s). This set brings a touch of elegance and sensuality to your 3D art, with each pose crafted with attention to human references, ensuring authenticity and a naturalness. Whether you're working on a dark and moody fantasy scene or a romantic artwork, these poses are great!
This collection includes 40 distinct and dynamic poses specifically designed to complement the Genesis 2 Female model and Victoria 6. Each pose, from the subtle grace of a relaxed stance to the dramatic action, has been created to add depth and realism to your renders.
Key Features:
40 Premium Poses: A diverse collection of 40 poses designed to bring elegance, sensuality, and realism to your Genesis 2 Female(s) and Victoria 6 characters.
Human Reference Crafted: Each pose is crafted from human references, ensuring the poses are natural, realistic, and highly detailed.
Optimized for Victoria 6: While these poses are designed for Genesis 2 Female(s), they are particularly suited for Victoria 6
Adjustment May Be Required: For use with shapes other than Victoria 6, some tweaking and adjustments might be necessary to achieve the perfect fit.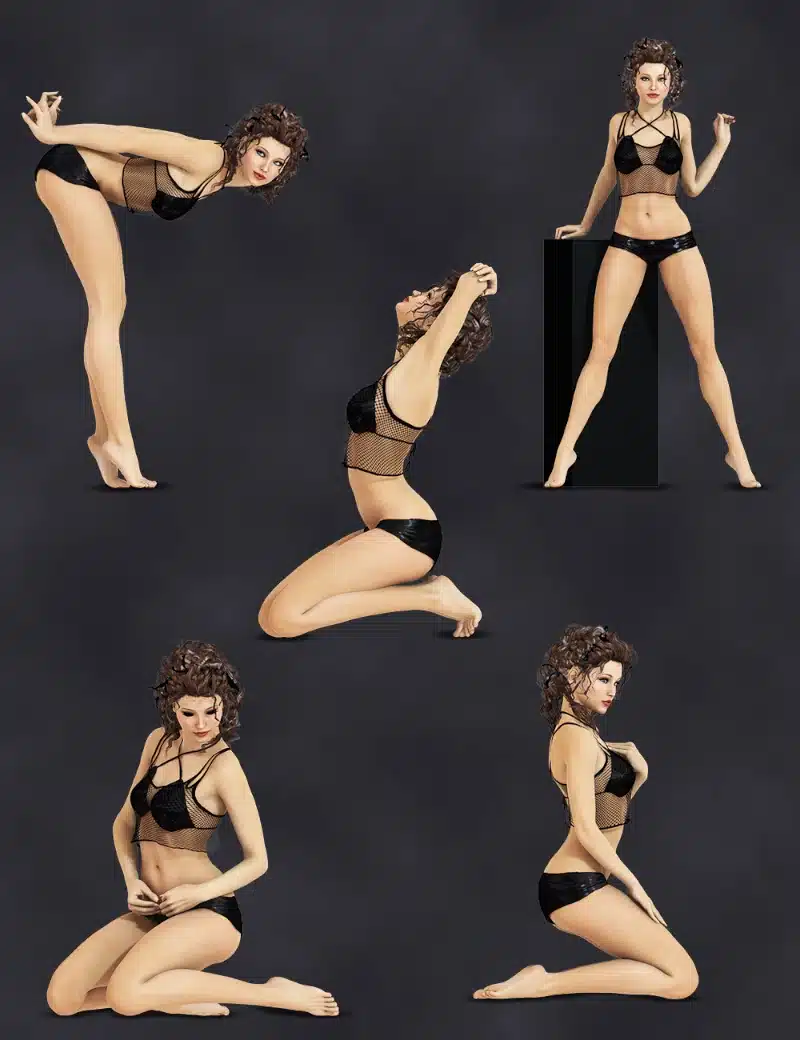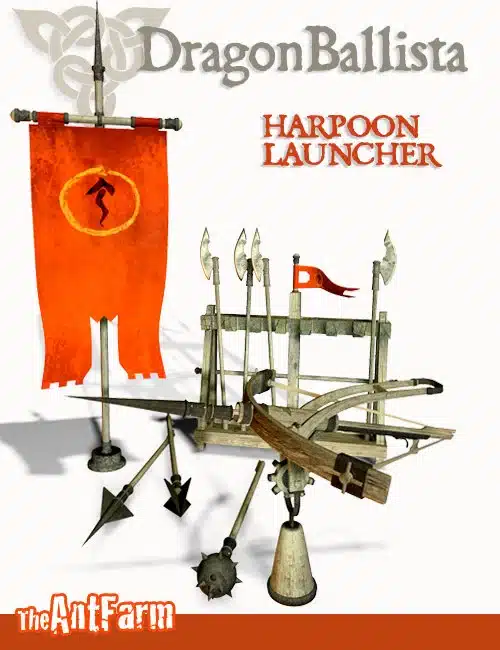 The AntFarm's Medieval Harpoon Launcher – A Tactical Arsenal for your Scenes
Unleash the medieval spirit in your Daz Studio environments with this Medieval Harpoon Launcher. This launcher is intricately designed, resembling the siege weapons used in medieval warfare, and it comes with four distinct harpoon head styles. Whether your scene is a dramatic castle siege or a quiet moment in a soldier's life, this launcher will add a significant level of authenticity and detail, and it's perfect for ensuring your virtual kingdom is prepared for any neighborly disputes!
The set includes the harpoon launcher and an array of associated props including a poleaxe and weapons rack. The high-resolution textures for each component ensure that your renders will be visually stunning.
Key Features:
Versatile Harpoon Launcher Figure: A CR2 and OBJ format harpoon launcher with adjustable band settings ('relaxband' and 'looseband') for depicting the weapon in different states.
Rich Array of Props: This set includes 9 additional props, such as four distinct harpoon styles, all adding to the realism of your medieval scenes.
Dynamic Banner Movements: Banners come with options for different wind movements for a more lifelike and dynamic scene.
Pandora X for Victoria 4
Introducing PandoraX for Victoria 4. This is an older character but still a great freebie. PandoraX is sculpted using Poser magnets and finely refined in Z-Brush.
PandoraX comes with a wealth of customization options. From her 8 makeup choices and 10 lipstick variations to the natural eyeliner texture, you are in complete control of her appearance. Also includes two sets of second-skin lacy underwear and stockings, designed to complement PandoraX's body perfectly. Additionally, the package includes an exquisitely detailed vanity necklace with mat poses designed for both Poser and Daz Studio. The character comes with even more body shapes, allowing further options for customization to suit your artistic vision.
Key Features:
Variety of Customization Options: With 8 makeup and 10 lipstick options, plus a natural eyeliner texture, artists have a plethora of choices to make PandoraX uniquely their own.
Second Skin Lingerie and Stockings: Two sets of beautifully designed second skin lacy underwear and stockings that flawlessly fit and complement PandoraX's body shape.
Complimentary Vanity Necklace: The package includes a stunning vanity necklace, complete with mat poses compatible with both Poser and Daz Studio.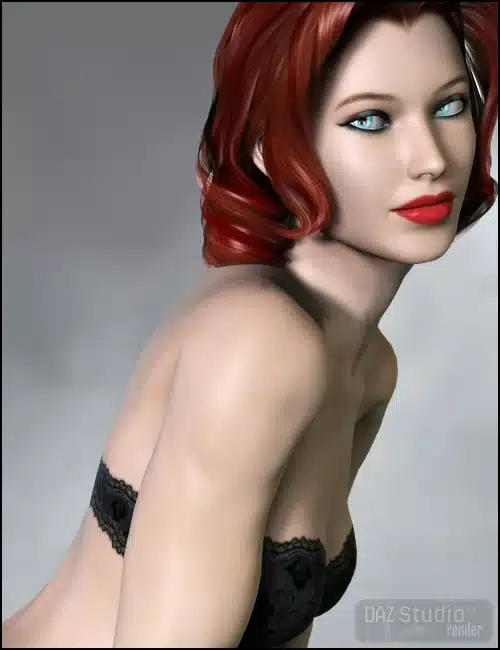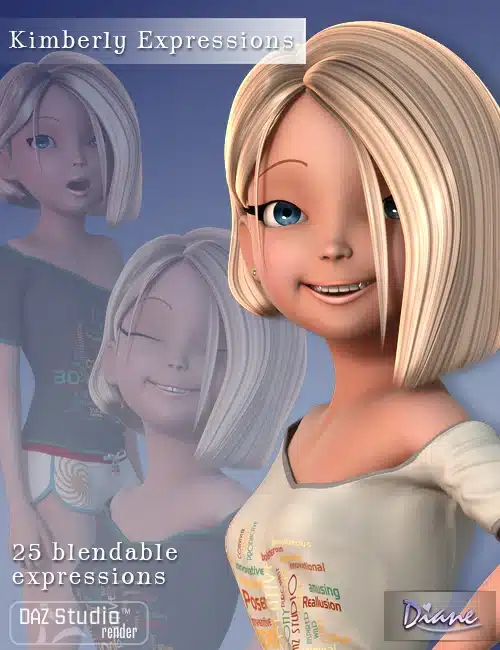 Kimberley Expressons for Genesis
Add some depth and emotion to your Kimberly for Genesis Character – features a set of 25 expression morph dials. These morphs are designed to infuse your Kimberly character with a wide range of emotions, from blissful contentment to fiery anger!
The true beauty of this set lies in its blendability. Each expression can be mixed and matched, allowing you to dial in the perfect emotion for your scene with ease. Need a character that is subtly disappointed or brimming with joy? How about a teasing smirk or a look of genuine shock? With these morphs, your Kimberly character becomes a living canvas, ready to portray a vast spectrum of emotions that will bring your stories to life in stunning detail.
Key Features:
25 Diverse Expression Morphs: From 'Kimberly Angry' to 'Kimberly Bliss' and 'Kimberly Worried,' these morphs offer a rich palette of emotions for your character.
Blendable for Custom Expressions: The expression morphs are completely blendable, allowing for a limitless combination of emotions tailored to your storytelling needs.
Instant Emotional Depth: Easily breathe life into your Kimberly for Genesis Character, making her more than just a figure, but a vivid, expressive character in your scene.
More August 2023 Freebies from Daz3D.com:
Previous daz3d.com Freebies – Check to see if they are still free